The Mandalorian Has A Plan For The Massive Hole Left By Gina Carano's Cara Dune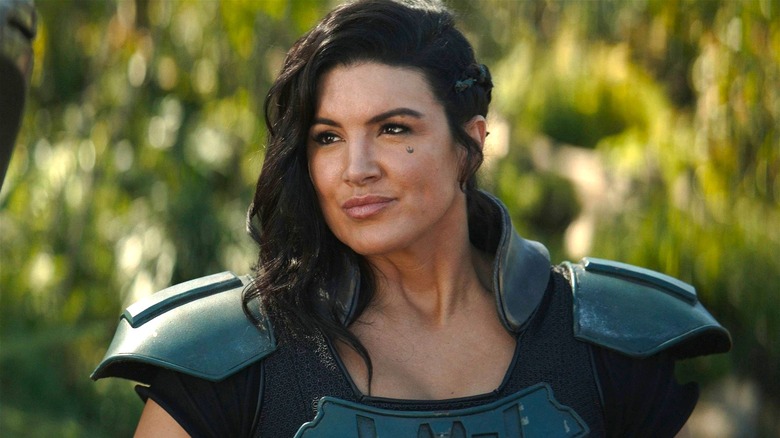 Disney+/Lucasfilm
The third season of "The Mandalorian" is bearing down on "Star Wars" fans everywhere, and even as they gear up for the latest adventures of Grogu and Din Djarin (Pedro Pascal), one particular plot thread continues to dangle in the air, unsolved in the wake of a major controversy. 
Cara Dune (Gina Carano) was last seen back in the second season of "The Mandalorian," where she helped Djarin rescue Grogu from Moff Gideon (Giancarlo Esposito). She was slated to continue her work as a marshal for New Republic forces, which would have lent itself easily to a Dune-centered spin-off. "Rangers of the New Republic," however, will apparently never see the light of day. Everything changed when Gina Carano was fired by Lucasfilm in February 2021 in the wake of a series of Twitter and Instagram posts in which she made controversial statements regarding the COVID-19 pandemic, masking, pronoun usage, and The Holocaust, among other topics. That left Dune's fate unresolved, and fan speculation ran rampant. Would the character be killed off? Recast? Or would she continue to exist in the ether of the larger "Star Wars" world, alive but never spoken of again?
After months of speculation, fans finally have an answer to their simmering questions. Now, "The Mandalorian" executive producers Dave Filoni and Rick Famuyiwa have spoken out about Dune's status within the "Mandalorian" world and the "Star Wars" universe.
Cara Dune still seems to exist, but Lucasfilm has no plans to use her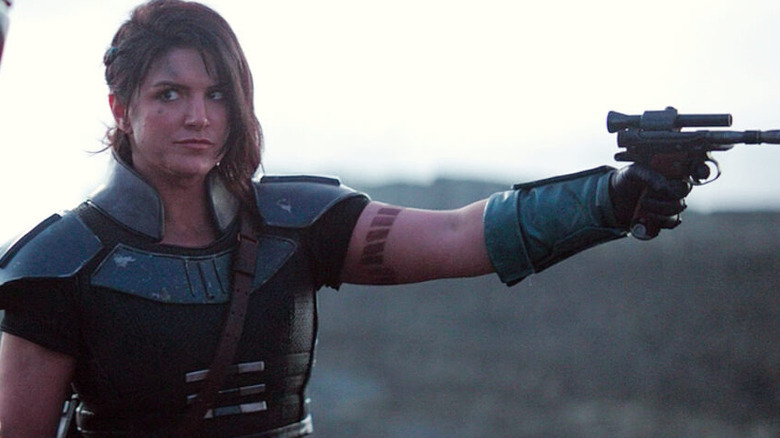 Disney+/Lucasfilm
Speaking to Deadline ahead of the release of "The Mandalorian" Season 3, Rick Famuyiwa, who also directed the first episode of Season 3, admitted that he and series creator Jon Favreau approached the subject of Cara Dune's existence carefully. "Cara was a big part and continues as a character to be part of the world. It had to be addressed in the creative and [Jon Favreau] took the time to think about that." And yet they weren't overconcerned about the topic of Dune because the show's two central characters — Din Djarin and Grogu — are still in place.  "Ultimately it felt like a servicing of that, and around the Mandalorians."
When asked about Dune's exact whereabouts in the larger "Star Wars" world, Dave Filoni said, "It's a big galaxy and we have many characters in it — many characters are fighting for their screen time. We'll just have to see as the season unfolds what the adventures are." Filoni added that Dune was a good character, but while she was vital to Djarin's formative years, the series is currently concerned with his growth beyond that period of time. So it appears that there are no plans to revive Dune as a character, but that she will continue to exist in the general cosmic soup that is the extended "Star Wars" universe.
Dave Filoni's focus is on Grogu and Din Djarin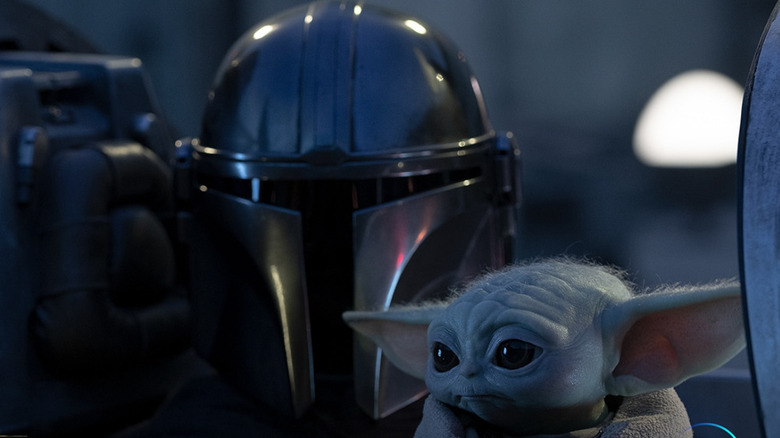 Disney+/Lucasfilm
Dave Filoni also noted that something even more important is afoot in "The Mandalorian" Season 3; it will be about the Mandalorian world, at large. "Now Season 3 is mainly dealing with Mandalorians and the Mandalorian saga, the Mandalorian tale," he explained. It also appears that Din Djarin's world will generally be broadened to include a larger number of people, folks he's met between adventures.  "(There's) different characters he's met since Bo-Katan (who) take a lot more prominence, which makes sense where his arc is going, the story of him and Grogu specifically." 
When asked if they've gotten requests to return Cara Dune to "The Mandalorian," Filoni said, "I get requests across the board for all types of characters. I've been with Star Wars, it's coming on 20 years. It's a great galaxy. The hardest thing is finding time and space for everyone out there." He added that there are so many characters battling for screen time within the universe, but — much as George Lucas felt he had to tell Luke Skywalker's (Mark Hamill) story — he feels like the purpose of "The Mandalorian" is to tell Djarin and Grogu's stories.
That's a lot of words to say that there are no apparent plans to use Dune in this season, but it will be quite interesting to see what — if anything — transpires in a galaxy far, far away in the near future.