Star Wars Franchise Alum Freddie Prinze Jr. Alleges That Dave Filoni Directed An Iconic Rogue One Scene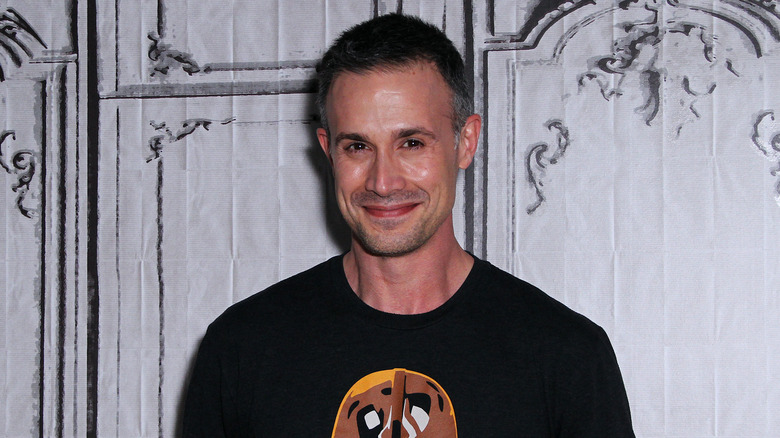 Donna Ward/Getty Images
Dave Filoni has long been one of the key creatives managing the vast "Star Wars" universe. He is now an Executive Creative Director at Disney subsidiary Lucasfilm. His work has spanned from the animated "Star Wars: The Clone Wars" to the Disney+ megahit "The Mandalorian" starring Pedro Pascal. But it turns out there may be one piece of work in Filoni's "Star Wars" repertoire for which he was never credited.
Over his "Star Wars" career, Filoni has worked several times with actor Freddie Prinze Jr., who most recently voiced the character of Caleb Dume on "Star Wars: The Bad Batch" and had previously voiced Kanan Jarrus in "Star Wars Rebels." Being in proximity to one of the chief architects of the galaxy far, far away has given Prinze Jr. a look behind the scenes of the "Star Wars" universe, giving him access to some of the franchise's closely kept secrets. And in a new interview, Prinze Jr. spilled the details on a previously unknown Dave Filoni directing credit from "Rogue One: A Star Wars Story."
Freddie Prinze Jr. reveals Dave Filoni directed Rogue One's iconic Vader scene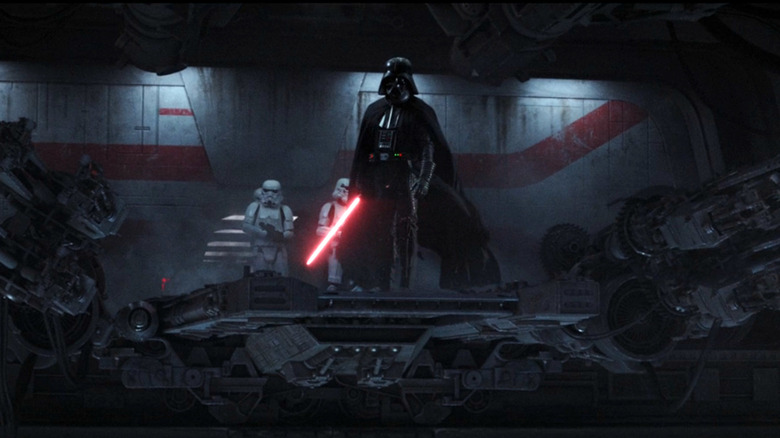 Lucasfilm
Out of pitch-black darkness, we hear the familiar hiss of a breathing apparatus. A red lightsaber flashes to life with a sizzling hum. Then the killing begins. The end of "Rogue One: A Star Wars Story" gave fans perhaps the most electric appearance of Darth Vader in the franchise's history, showing just why he was so feared across the galaxy. In the span of a minute and a half, sci-fi's most famous villain tears through a hallway of Rebel fighters like he's strolling the aisle at a grocery store, and according to Freddie Prinze Jr., Dave Filoni was the uncredited director of that harrowing sequence. While the sequence was known to be a reshoot, the reveal that Filoni was possibly in the director's chair is new information.
"I don't know if people know this," Prinze Jr. said on a new episode of the "Lights, Camera, Barstool" podcast. "Maybe I'm not allowed to say this, but I don't care anymore. [Dave Filoni] directed that scene in 'Rogue One' where — well, basically the whole end of the movie — where Vader comes through, and you see what's going to happen in 'A New Hope.' He directed all that."
Prinze Jr. continued by revealing that Filoni recast the actor who originally played the Sith lord in addition to directing the scene. According to the "Rebels" voice actor, Filoni noticed that the actor first assigned to the role of Vader was talking too much with his hands. That was important because, according to Prinze Jr., "Vader only moves when it's necessary. That's what makes him such a frightening menace."