Dylan McDermott Has Conquered Law & Order, Now He's Ready For One Chicago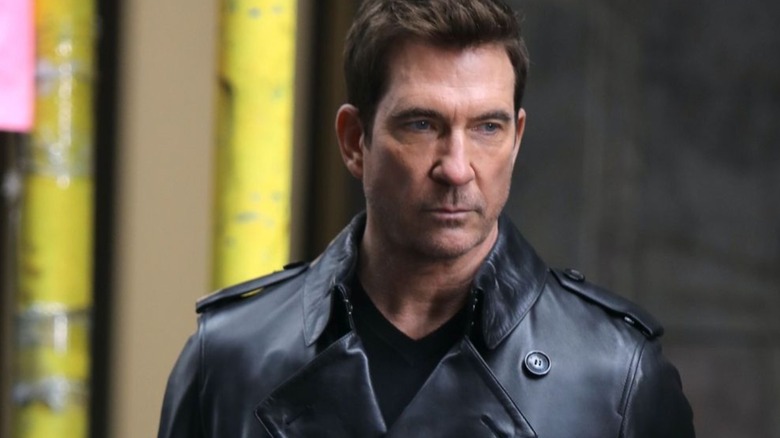 NBC
When you work regularly as a television actor — like, for example, if you're Dylan McDermott — there's a very good chance that one of Dick Wolf's shows is on your bucket list. In the world of TV producers and creators, Wolf is pretty close to the top of his game, particularly when it comes to procedurals. Since its initial premiere in 1990, his iconic "Law & Order" has been spun off no fewer than six times, and been adapted for French, Russian, and British audiences. And it's far from the only franchise Wolf has under his belt.
McDermott had an impressive career even before he landed the part of crime boss Ben Wheatley on "Law & Order: Organized Crime." Still, he can definitely count himself as someone Wolf's franchises have been good to. After his character's arc ended on "Organized Crime," he accepted a part on Wolf's "FBI: Most Wanted" — itself the first spin-off in a franchise of three — as Agent Remy Scott. That role is ongoing.
This doesn't mean that McDermott is by any means sick of working in Wolf's ever-expanding universe. In fact, from the sound of a recent interview, if he had his druthers, he'd just be getting started. 
McDermott would 'love to combine the entire universe'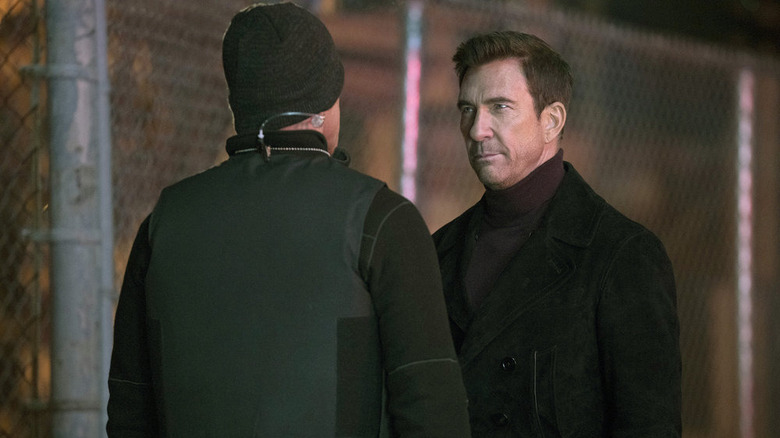 Virginia Sherwood/NBC
In an exclusive interview with E! News, Dylan McDermott made it clear that he's game for becoming a staple in the worlds of Dick Wolf. E! asked McDermott if he would have any interest in returning to "Law & Order," specifically the revived flagship show on which is old co-star from "The Practice," Camryn Manheim, currently stars. "I would love that," he replied. "I would love to combine the entire universe of Dick Wolf." 
Just how broad he considers this universe isn't clear. Shows in the "Law & Order" franchise are known for cross-overs — not just with other shows in the franchise but in the "One Chicago" franchise too. Those started with a spate of episodes early in the run of "Chicago P.D." that crossed over with "Special Victims Unit" and established that the two franchises exist in the same universe. Nor would the death of McDermott's original character on "Organized Crime" necessarily preclude him from playing another character. After all, S. Epatha Merkerson still portrays Sharon Goodwin of "Chicago Med," despite having famously spent 17 seasons playing Lieutenant Anita Van Buren on "Law & Order." 
"I could show up on all the Chicagos!" said McDermott excitedly, referring to the "One Chicago" franchise. He doesn't say exactly what kind of character he'd like to play, of course, but one would imagine Dick Wolf is taking notice.