Early Roles From The Mandalorian Cast That They Probably Want You To Forget About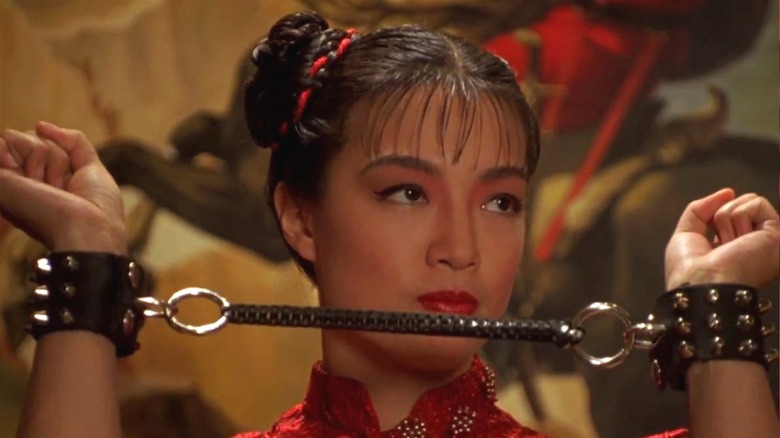 Universal Pictures
When Disney first bought the "Star Wars" franchise, many thought it would be a new renaissance for the saga on the big screen. But, while the films they've released have been massive blockbusters, reaction has been divisive. "Solo: A Star Wars Story" failed to meet box office expectations, and "Star Wars: Episode IX – The Rise of Skywalker" didn't exactly wow the critics. It's on the small screen that "Star Wars" has shone brightest in recent years, led by "The Mandalorian" on Disney+.
Launching in 2019, the series stars Pedro Pascal as the masked bounty hunter Din Djarin, who takes it upon himself to protect a mysterious alien child that fans have lovingly nicknamed "Baby Yoda." A swaggering space Western, the series surrounds Djarin with allies and enemies that populate the darker underbelly of the "Star Wars" universe, played by a who's who of well-known stars, rising newcomers, and veteran character actors.
While the series can be counted among some of the best work in their respective resumes, each member of the cast of "The Mandalorian" probably has a part in their past they're not so proud of. From Pascal on down, we've gone hunting and found some of the unfortunate movies and TV shows they've appeared in that they might not want you to know about. 
Rosario Dawson - The Adventures of Pluto Nash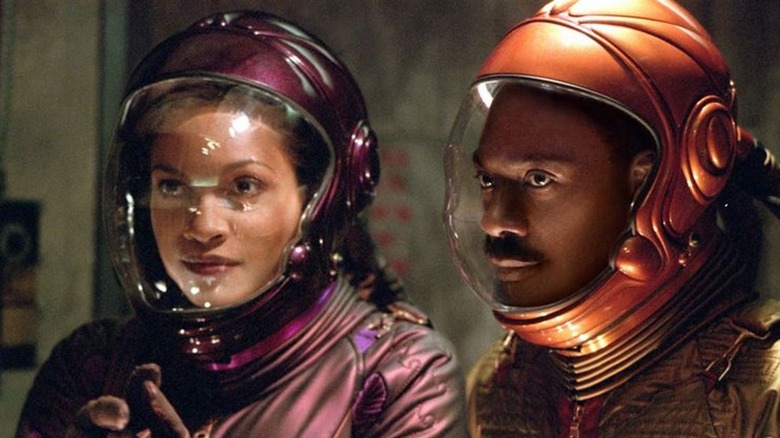 Warner Bros.
Set to get her own series on Disney+, Rosario Dawson made her "Star Wars" debut as the live-action version of her previously animated character Ahsoka Tano in the second season of "The Mandalorian." A self-described "hot geek," Dawson has snagged roles in everything from Marvel's Netflix shows to Kevin Smith's "Clerks" films and Frank Miller's "Sin City." She has even voiced Wonder Woman in several animated features. But they can't all be winners.
Back in 2002, Dawson appeared alongside Eddie Murphy in one of the sorriest sci-fi flicks of the decade, "The Adventures of Pluto Nash." A woeful action comedy, the film centers on interstellar rogue Pluto Nash (Murphy), who buys a space night club and gets caught up in a plot between gangsters on the moon. They work for a devious criminal named Rex Crater (also Murphy), who has a sinister scheme and wants the night club for himself. With the help of singer Dinah Lake (Dawson) and his detective mother Flura (Pam Grier), Nash must fight back to save his business — and the moon — from Crater's evil plan.
From its premise alone, it should come as no surprise that "The Adventures of Pluto Nash" never became a classic, and its abysmal 5% on Rotten Tomatoes confirms just how bad it is. Looking back on the role of Dinah, Dawson said that she couldn't turn down the chance to work on a big Hollywood film. "I was 19 and I wanted to get off my mom's couch," she told Entertainment Weekly. The real wonder is that she was able to recover, as she also starred in the disappointing "Men in Black II" the same year. 
Katee Sackhoff - The Last Sentinel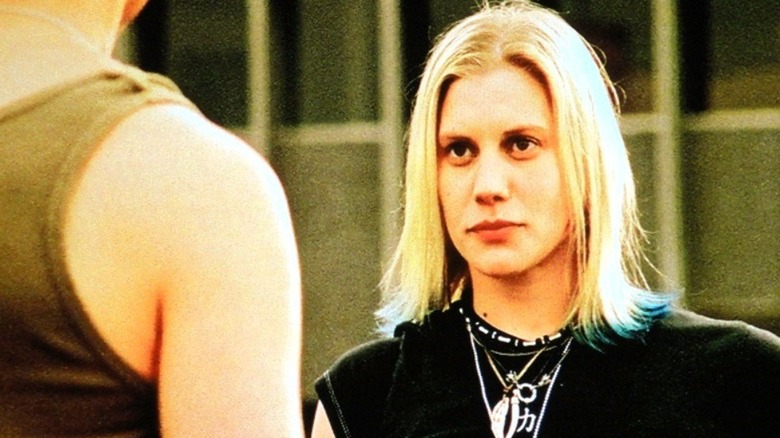 The Sci-Fi Channel
Katee Sackhoff gained notice in the 2000s for her role as the fiery pilot Kara "Starbuck" Thrace in the rebooted "Battlestar Galactica," a role she'd play until the series' conclusion in 2009. She later joined "Star Wars" in the "Clone Wars" animated series as Bo-Katan, a Mandalorian bounty hunter, and in "The Mandalorian" she reprised the role in live-action. Sackhoff has long been recruited for movies and TV shows in the sci-fi genre, but not all of them have been hits. Among her more awkward entries is the 2007 Sci-Fi Channel film "The Last Sentinel."
A questionable adventure to put it mildly, "The Last Sentinel" is a generic, made-for-cable space marine adventure about a group of deadly drone police that predictably turns against humankind. This weaponized army becomes the deadliest threat the world has ever faced, and it's up to elite super soldier Tallis (Don Wilson) to lead a group of fighters against them. Katee Sackhoff co-stars as a beautiful young rebel recruited to join the fight to save the world.
An uninspired movie with no real plot to speak of, "The Last Sentinel" is a low budget sci-fi stinker with bad action and lousy FX even for the day, prompting High Def Digest to call it "more akin to fan fiction than legitimate cinema." Why Sackhoff even did the film at all when she was already starring in the universally acclaimed "Battlestar Galactica" remake is the real question.
Temuera Morrison - Barb Wire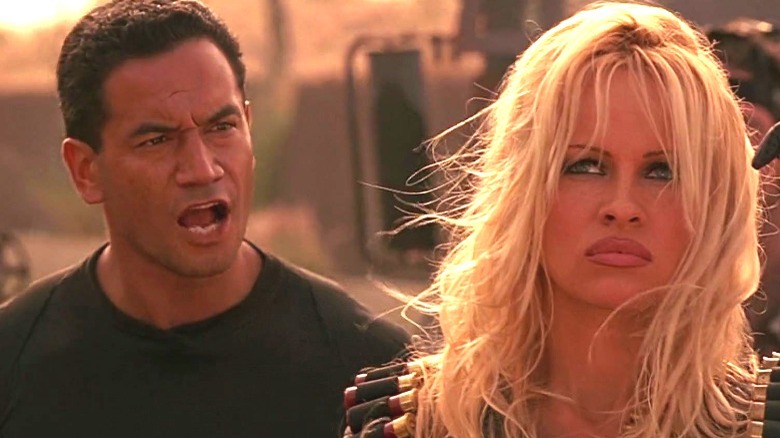 Gramercy Pictures
"Star Wars" fans got a gift when one of the franchise's most iconic characters in Boba Fett returned for Season 2 of "The Mandalorian." While this was technically Temuera Morrison's first time playing the character, it was also a return to the role in a way, because he portrayed Jango Fett — the infamous bounty hunter that Boba was cloned from — in "Star Wars: Episode II – Attack of the Clones." A native of New Zealand, Morrison has a long career in low-budget movies, but few are quite as bad as 1996's "Barb Wire."
A vehicle for model-turned-actor Pamela Anderson, "Barb Wire" tried to turn the "Baywatch" beauty into a movie star, and suffice to say it didn't work. Based on a '90s comic book of the same name, Anderson plays the titular character, a soldier-of-fortune and nightclub owner in the distant future of 2017 when America is engulfed in a Second Civil War. When her former lover Axel Hood (Morrison) turns up with his new wife — government scientist-turned-fugitive Dr. Corrina Devonshire — in tow, he asks for her help in stopping a fiendish plot by enemy agents. 
"Barb Wire" is a mess of a film with over-the-top action, plenty of skin, and not much else. Anderson isn't especially proud of it (she admitted in Netflix's "Pamela: A Love Story" that she still has "no idea what that movie is even about," per Flicks), and it remains the lowest point in Morrison's career. It has a worse rating than subpar sequels "Speed 2: Cruise Control" and "The Scorpion King 3: Battle for Redemption" — both of which feature Morrison in prominent roles — on IMDb.
Timothy Olyphant - No Vacancy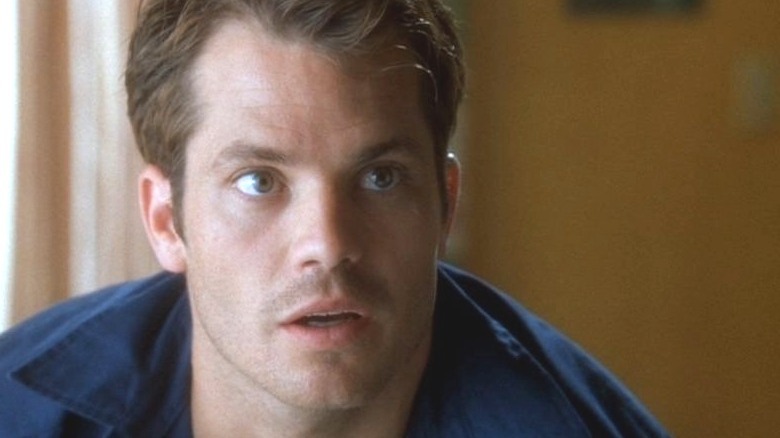 Lionsgate
There's nobody better in Hollywood to cast in the role of a sharp-shooting marshal than Timothy Olyphant. After all, he starred as Seth Bullock in HBO's "Deadwood," as Raylan Givens in "Justified," and as Dick Wickware in "Fargo," all marshals. So when the creators of "The Mandalorian" needed a space marshal, they knew where to turn, hiring Olyphant to fill the boots of Cobb Vanth. But the actor didn't always play sarcastic, gunslinging lawmen. Back in 1999, he starred in the abysmal rom-com "No Vacancy."
The film follows Lillian (Christina Ricci), a bohemian woman who lives at a place called the Pink Motel in a rundown area of Los Angeles. One morning, Lillian is surprised when she wakes up and finds Luke (Olyphant) laying next to her: He's a brash, boozy hothead. Through a series of interconnected stories surrounding various other eccentrics who live at the hotel, their contentious relationship blossoms.
Perhaps trying to be the rom-com equivalent of "Pulp Fiction," the film flits between different oddball characters, including a pair of stoners and an aspiring violin ace. But without the sparkling dialogue of Tarantino, it's just groan-worthy, and even its talented roster of stars can't help save it. Part sex comedy, part slice-of-life drama, "No Vacancy" fails at being both. It tries to spice things up with quirky characters and multiple storylines, but it feels so forced. Unsurprisingly, the majority of viewers disliked this little-seen dud.
Carl Weathers - Hurricane Smith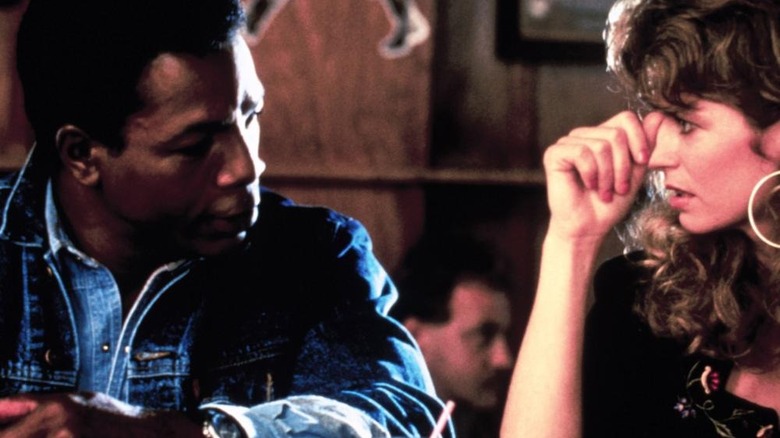 Warner Bros.
In "The Mandalorian" we meet a number of mercenaries and bounty hunters doing their business on the fringes of the galaxy. One such warrior is Greef Karga, played by "Predator" and "Rocky" star Carl Weathers. In between those iconic roles and his casting in "The Mandalorian," Weathers had trouble finding blockbuster success. Though underrated gems like "Action Jackson" gained him some measure of notoriety, he also starred in several duds in an attempt to find another franchise. One of them was the misguided 1992 action movie "Hurricane Smith."
Made in Australia, the film has Weathers in the familiar role of a trigger-happy hero: Billy "Hurricane" Smith, an American who arrives Down Under looking for more than sunshine and surfing. Smith is there on a personal rescue mission because his sister Julie has gone mysteriously missing. When he arrives, he discovers she's been caught up in a plot involving a dangerous drug smuggler. He also meets a gorgeous female counterpart (Cassandra Delaney) because this is an action movie made in the 1990s.
Had it been better executed, "Hurricane Smith" could have become an action classic. Unfortunately, the finished product is sorely lacking. It's painfully boring at times, and the action isn't even very good. Though we'll never know how his career might have gone if he'd chosen some better films, "Hurricane Smith" seemed to kill any notion of Weathers becoming a leading man. Instead, he branched out and took on roles like Chubbs in Adam Sandler's "Happy Gilmore," and he's been working steadily as a dependable character actor ever since. He's also been working behind the camera — Weathers directed a Season 2 episode of "The Mandalorian."
Amy Sedaris - Dance Flick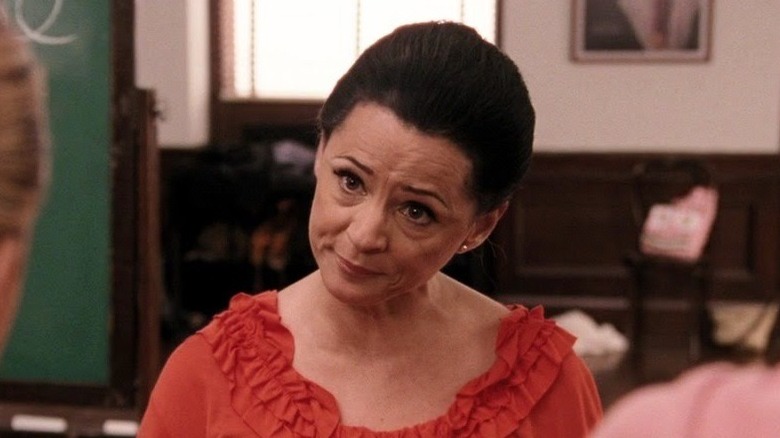 Paramount
Amy Sedaris, who plays quirky mechanic Peli Motto on "The Mandalorian," is probably best known for her role as hard-drinking middle-aged high school student Jerri Blank in the Comedy Central series "Strangers with Candy." She later landed the part of Princess Carolyn in the animated sitcom "BoJack Horseman," another well-known character on her resume. When it comes to roles she might not want to revisit, there's one that stands out from the crowd: Ms. Cameltoe in the 2009 comedy "Dance Flick."
Written, directed, and starring the many fabulous Wayans brothers, the movie is a farcical look at musical dramas. While the Wayans are a talented bunch, this is not one of their better works. A flimsy spoof movie, it focuses on aspiring dancer Megan White (Shoshana Bush) and her attempts to make it big after moving to the city from the suburbs. The film's gags move fast, probably hoping you don't realize they're not funny. "Dance Flick" is capable of making only a grade schooler chuckle with its low-hanging fruit approach to getting laughs. "Most of the comedy involves exaggerated pratfalls and puerile sex gags," said Time Out. "That there's a teacher called Ms Cameltoe says it all."
Ming Na-Wen - Street Fighter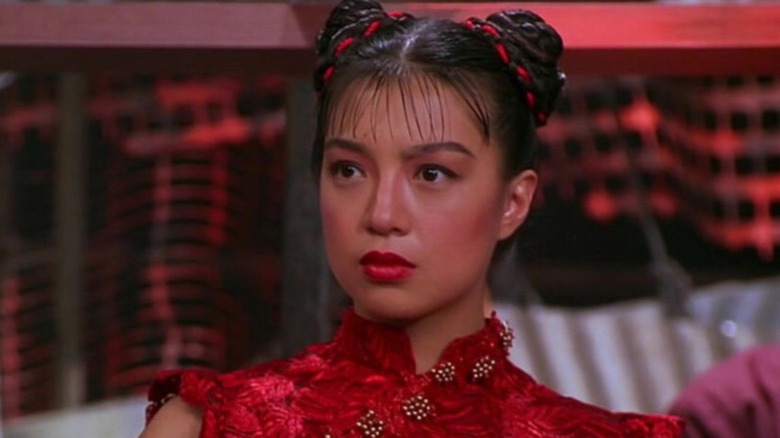 Universal Pictures
Ming-Na Wen stars in both "The Mandalorian" and sister series "The Book of Boba Fett" as the fan favorite Fennec Shand, a ruthless cyborg bounty hunter and assassin. Wen came to prominence in the 1990s when she starred as Dr. Jing-Mei Chen in "ER." More recently, she had a good run on Marvel's "Agents of SHIELD," appearing in over a hundred episodes as veteran agent Melinda May, a skilled pilot and soldier. When it comes to roles she might regret, look no further than her turn as Chun-Li in the 1994 video game adaptation "Street Fighter."
Starring Jean-Claude Van Damme, the film was released just a year after "Super Mario Bros.," the first video game adaptation ever put to film and a huge stinker. Van Damme plays Colonel Guile, who's sent to depose a foreign warlord named General M. Bison (Raul Julia). He isn't the only one after Bison — the villain was behind the death of intrepid reporter Chun-Li Zang's father. She has her own crew, and she's looking for revenge.
Cheap, cheesy, and ridiculous, there's very little to love about "Street Fighter" unless you're fond of a mindless B-movie. A flimsy plot, bad performances, and some of the worst dialogue you'll ever hear, "Street Fighter" doesn't live up to its lofty ambitions. That Wen's role as Chun-Li came on the heels of her part in the acclaimed "Joy Luck Club" makes it all the more regrettable.
Omid Abtahi - Boys of Abu Ghraib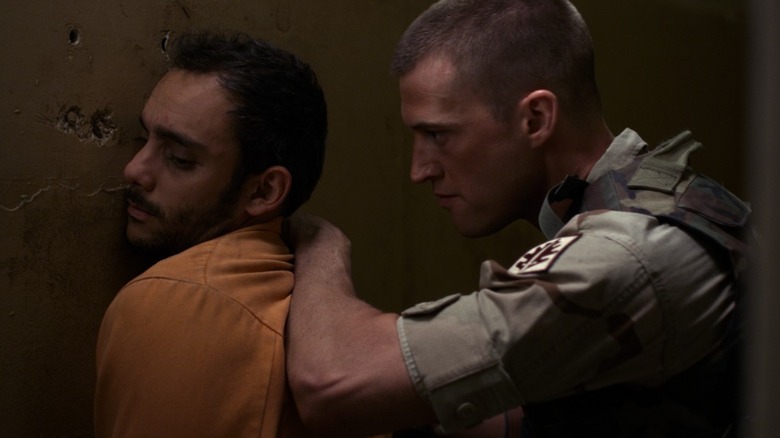 Vertical Entertainment
In "The Mandalorian," Dr. Pershing is the mysterious Imperial scientist who kicks off the story by putting a bounty on Grogu, who he needs for an unknown experiment. Pershing is played by Omid Abtahi, who in recent years has found success in shows like "American Gods" and "Fear the Walking Dead." Unfortunately, he'd once been victim to Hollywood typecasting, only able to obtain jobs playing terrorists or Middle Eastern stereotypes. It was a frustrating experience, but things slowly got better. "I've gotten to play some really wonderful Middle Eastern characters, and I've gotten to play some characters who are not ethnically defined," he told ComicBook.com. "So yeah, I feel very blessed that society and this industry is moving in that direction."
One early stereotypical role that Abtahi probably wishes he never took on is detainee Ghazi Hammoud in the maligned 2014 War movie "Boys of Abu Ghraib." An apparent passion project for writer, director, and star Luke Moran, it's about the story of Baghdad's Abu Ghraib prison, which became the subject of much controversy during the Iraq war. In 2004, photos of prisoner abuse at the hands of American soldiers emerged, causing widespread outrage.
Critics agreed that Moran failed to properly explore the complex issues behind this shocking story with his film. "A halfhearted attempt at truly getting inside these men's and women's heads to make sense of their actions, which is ostensibly the purpose of dramatizing such a recent and shameful ordeal," said The Village Voice, while the Los Angeles Times wrote, "The film hardly scratches Abu Ghraib's surface."
Nick Nolte - Intimate Affairs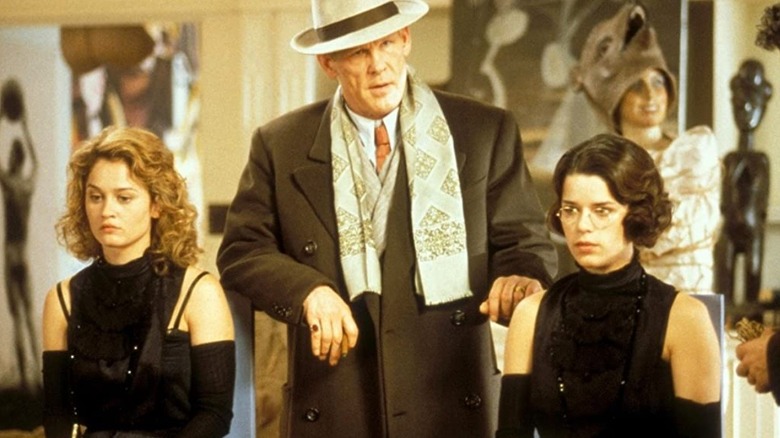 Universal
Nick Nolte has appeared in a number of iconic films, from buddy cop comedy "48 Hrs" to the 1991 Martin Scorsese remake of "Cape Fear." In "The Mandalorian," he voices local vapor farmer and Ugnaught Kuiil. Nolte's career has been a long and fruitful one, but his biggest lament might be his part in the 2001 drama "Investigating Sex." Also known as "Intimate Affairs," the film stars Dermot Mulroney as Edgar, a teacher in the 1920s who wants to perform a groundbreaking study on the taboo subject of sex. He assembles a group of participants — including Alan Cumming, Jeremy Davies, and Terrence Howard — to probe their most intimate thoughts on the subject.
The heat gets turned up thanks to the presence of a pair of alluring young women (Neve Campbell and Robin Tunney), and things get more contentious when Edgar's older, more experienced father (Nolte) butts in on their work. Intended to be a steamy sex comedy about the love lives of a good looking group of men and women in a prudish era, the film — whatever title you want to call it by — is just cringe-inducing. With enough gratuitous nudity you'd be forgiven for thinking you'd walked into an adult film, it completely wastes its talented cast.
Bill Burr - Perfect Fit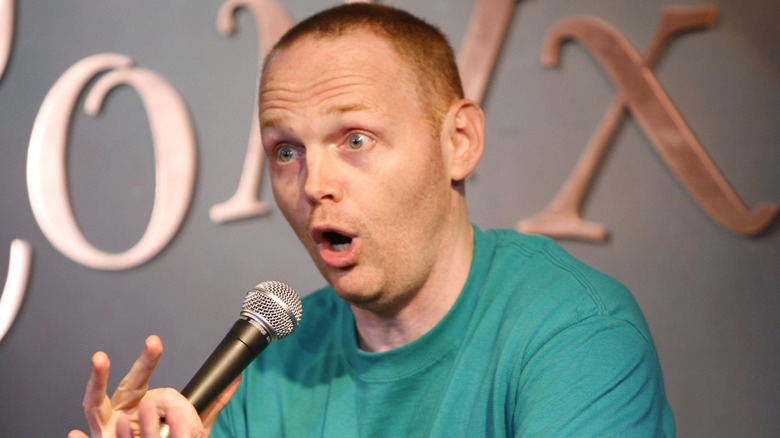 Amy Sussman/Getty Images
Comedian Bill Burr isn't afraid to poke fun at fandoms, "Star Wars" included. He has joked about fans of the franchise on several occasions, not holding back in his assessments. Oddly enough, it was his mockery that got the attention of director Jon Favreau and led to his casting as mercenary Migs Mayfeld in "The Mandalorian." During an interview on the podcast "Your Mom's House," Burr revealed that Favreau said it would be "funny" if he came aboard after dunking on the fandom. "My wife was kicking me under the table and I was like, 'All right, I'll do it,'" Burr said (via The Hollywood Reporter).
Though he's always been more prolific as a stand-up comic, Burr does have some acting roles to his name, including parts in shows like "Breaking Bad" and "New Girl." One project he's probably not so eager to revisit is the 2000 comedy "Perfect Fit." In this offbeat romantic crime caper we meet Dick (Alexander Polinsky), who abandons his friends and becomes obsessed with a sexy but dangerous woman named Perry (Maria Ford). Dick soon becomes involved in her murder spree, the result of her obsession with blue denim pants and her quest to find the perfect pair of jeans.
It sounds ridiculous on paper, and it proves to be just as baffling on the screen. A bottomless well of atrocious acting punctuated by a perplexing plot, the movie's attempts at stunning twists fall flat and the characters are beyond bland. Thankfully, Burr only has a minor role as a doorman, so he gets off relatively easy. Still, this definitely isn't his finest hour.
Giancarlo Esposito - Stardust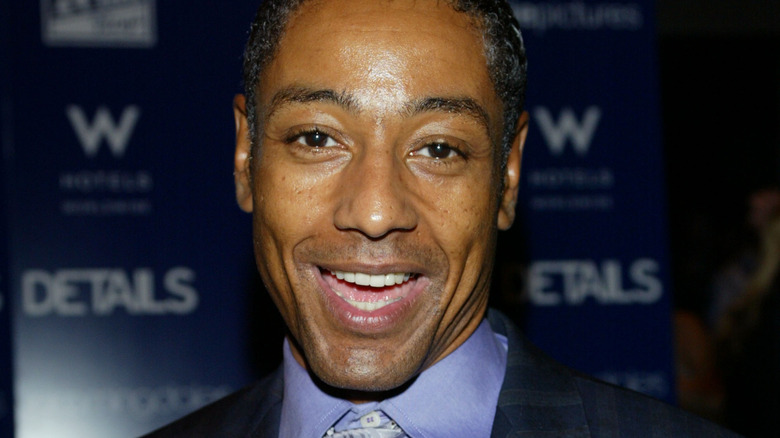 Matthew Peyton/Getty Images
Giancarlo Esposito plays arch villain Moff Gideon in "The Mandalorian," but you've no doubt seen him elsewhere. He's one of the big bads in "The Boys," and he has appeared in hits like "Westworld," "The Get Down," and, of course, as Gus Fring in "Breaking Bad." But with a career that stretches back to the '70s, he also has a few roles he probably wants swept under the rug now that he's a big star. Perhaps chief among them is "Stardust."
Not to be mistaken with the Matthew Vaughn fantasy film from 2007, this kids movie has to be seen to be believed. Jumping on the kids-stopping-crooks bandwagon set in motion by "Home Alone," 1998's "Stardust" follows a child named Charlie whose father invents an artificial intelligence housed in a microchip. When he learns of his company's dark designs for his invention he tries to hide it from them, only for it to be sucked up into his wife's 1960s vacuum cleaner, turning it into a sentient robot. Now it's up to the trouble-making Charlie and his robot vacuum cleaner to thwart an evil scheme.
That's right, "Stardust" is about a boy and his super-intelligent crime-fighting vacuum cleaner. Esposito pops up as Mr. Peavey, another ally of Charlie's. Make no mistake, this one is every bit as terrible as it sounds, and we're betting that if it were up to Esposito, it would disappear from existence.
Pedro Pascal - Earth vs. the Spider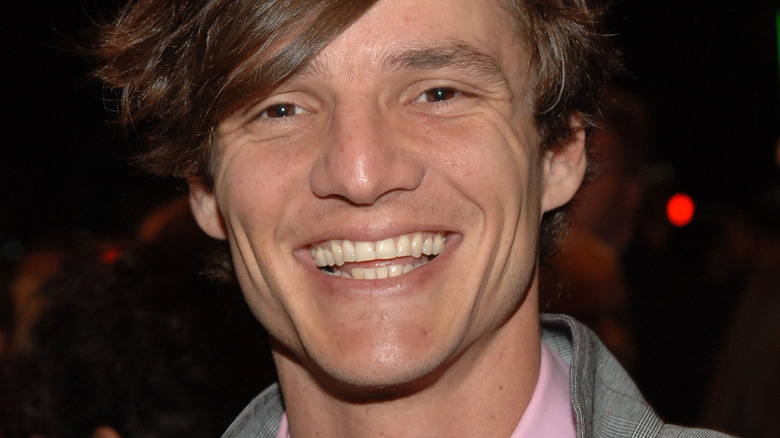 Brad Barket/Getty Images
It seems like Pedro Pascal is everywhere these days, from playing the title role in "The Mandalorian" to starring in HBO's critically acclaimed zombie drama "The Last of Us." Before that he was in the popular crime drama "Narcos" on Netflix and had a recurring role in "Game of Thrones." You might think Pascal can do no wrong, but not everything he touches turns to gold. Back in 2001, he was in a terrible made-for-TV sci-fi horror called "Earth vs. the Spider," the title of which is a tribute to Bert I. Gordon's 1958 film of the same name. This isn't a remake, however.
The plot of 2001's "Earth vs. the Spider" is more like the "Spider-Man" movies made by Sam Raimi in its set up. It's about a shy kid called Quentin Kemmer (Devon Gummersall) who injects himself with experimental spider-derived serum in the hope that it will make him like his comic book hero The Arachnid Avenger. He does get some new abilities, but his life doesn't become the dream he always imagined. In fact, it quickly becomes a nightmare.
Quentin's body continues to change and he slowly becomes a danger to the public. Pascal plays a goth guy in the wrong place at the wrong time — he gets attacked by Quentin in a convenience store. All he can do is deliver the line "What the f***" before he gets slammed through a bunch of bottles, leaving him with grave injuries. It's not the most convincing of scenes, and it's a role that Pascal probably wants to forget about.