How Sylvester Stallone Flexed His Writer-Director Experience On Tulsa King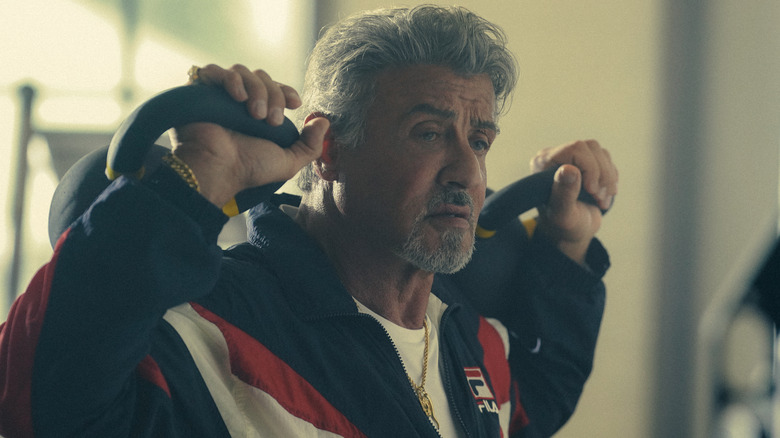 Brian Douglas/Paramount+
Sylvester Stallone has proven his exceptional abilities in the acting game many times over the years, taking on iconic roles such as Rocky Balboa and John Rambo. More recently, the veteran actor has portrayed Dwight 'The General' Manfredi in nine entries of the hit series "Tulsa King."
But while Sly is notorious for being a powerhouse on screen in various roles, he has substantial experience serving as a writer and director, and he has been forced to carefully remind others he has successfully attained such attributes when necessary.
While some fans may not be sure whether the show is good or bad, "Tulsa King" has been a success with viewers according to its audience score on Rotten Tomatoes, thanks mainly to the excellent efforts of those working in front and behind the camera for the Paramount+ series. According to Variety, the show didn't take long to receive a second season order, and there is even a chance that a shared "Tulsa King" universe could potentially happen.
None of this could have occurred had it not been for the many talented individuals involved. One of which is none other than Stallone himself, who has not only many years of experience acting but also penning screenplays and sitting in the director's chair. During that time, he has retained a lot, and the wisdom he has acquired has given him a keen sense of knowing when something is working and when it just isn't. To get things back on track, there have been times when his past accomplishments had to be used to sway naysayers that doubted some of his decisions while making the show.
Stallone knows a thing or two about how his characters should walk and talk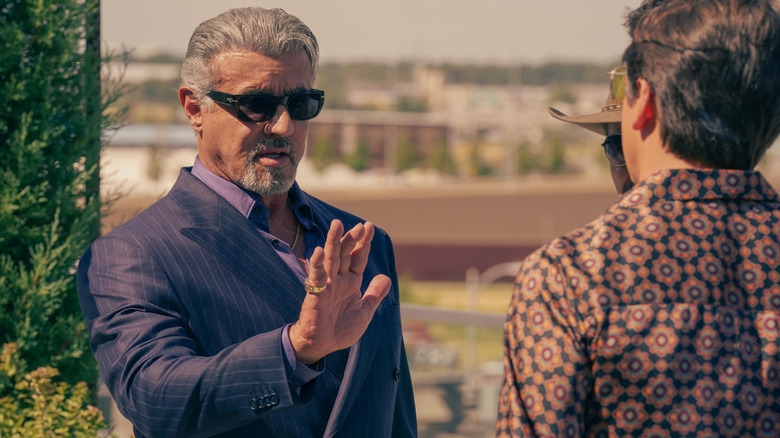 Brian Douglas/Paramount+
Sylvester Stallone did not write or direct any episodes of the first season of "Tulsa King." However, despite having acclaimed individuals like Taylor Sheridan and Terence Winter in the mix, Stallone's many years of experience as a writer-director didn't stop him from making necessary changes, whether with the writing or the direction, to perfect his performance. "I spoke primarily with Taylor, but more with Terry. I say, 'Look, I understand what you're trying to convey here,' but quite often I have to put it in my own words. It helps me memorize it, but also there's a certain cadence that everyone has," Stallone said during an interview with Collider. "So when you see some of these little ad-libs and asides, that to me is what makes it... it just seems spontaneous rather than overly rehearsed." When asked if he would like to sit in the director's chair for the second season of "Tulsa King," the veteran actor admitted that he would direct the first episode.
Getting an authentic portrayal of a character that doesn't seem rigid and stale is not easy. While Sly's way may not be what others initially planned, it does help that he knows how to adjust on the fly, which is a great quality for any director. In 2015, IndieWire probably put it best when they wrote, "Stallone's directorial style may not be as sophisticated as some of the world's finest, but his work is perfectly suited for the stories he's telling." Whether he's flexing his writing skills to change his persona's dialogue or making sure his directing prowess isn't slept on, there is no denying Stallone has mastered the art of perfectly portraying a Stallone character.