Tulsa King's Sylvester Stallone Flexed His Writing Skills By Ad-Libbing In Scenes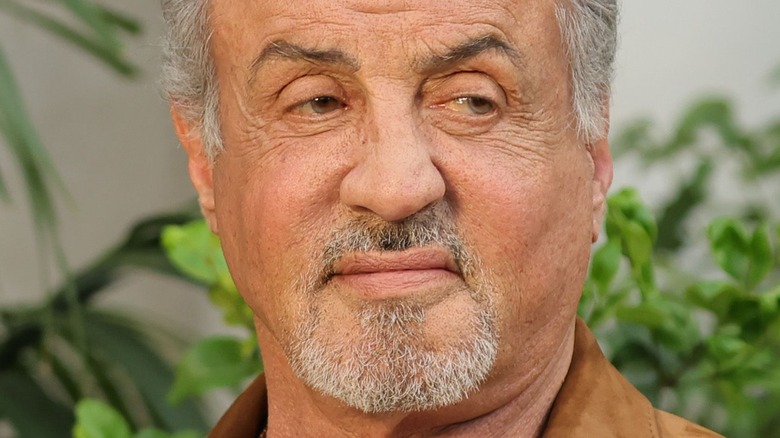 Amy Sussman/Getty Images
We may receive a commission on purchases made from links.
Sylvester Stallone has starred in a vast array of films over the years, and many might forget that he is also an established writer, having been nominated for the Academy Award for Best Screenplay in 1977. The underappreciated scribe is so confident in his writing abilities the infamous actor wasn't afraid to throw in his own spin on the dialogue for his "Tulsa King" character Dwight "The General" Manfredi.
There is no denying that Stallone has been a powerhouse on the big screen, having starred in a chart-topping motion picture consistently across six decades (via Deadline). The talented actor has won a highly coveted Golden Globe accolade for Best Supporting Actor for his turn in "Creed" and an Oscar for Best Picture for his work on "Rocky." It's safe to say it's a big deal when a star like Stallone makes the jump to the small screen, and that's why fans had a lot to say about him making his scripted series debut in "Tulsa King." The crime drama stars Stallone as a loyal mob figure released from jail only to be sent to Tulsa for keeping his mouth shut and doing serious time for his crime family associates. The series showcases Stallone in the tough guy role he is notorious for playing as a man looking to become a kingpin of sorts while in exile.
The Paramount+ exclusive was created by Taylor Sheridan, with Terence Winter serving as writer and showrunner. But despite having these names in the lineup, Stallone still felt the need to give the script the Sly treatment at times.
Sylvester Stallone's writing skills are criminally undervalued at times
Writer James Hibbard believed a line in the pilot sounded very Stallone-esque, and the "Tulsa King" star was asked if he had anything to do with that. "Yeah. Usually, they're very strict about adhering to what's written on the page. But I tend to go off the page and throw in ad libs," Sylvester Stallone said during the interview with The Hollywood Reporter. "They were a little disturbed at first, but then I said, 'Guys, I know what I'm doing, I'm a writer.' You'll find a lot of Terry's writing, and mine intertwined. It's primarily his." While it may come off as nerve-racking for some when an actor goes off script, Terence Winter and the rest of the staff shouldn't worry too much, as Stallone has always had a way with words, especially when it comes to writing screenplays.
The over-the-top action star is undoubtedly an experienced Hollywood scribe, and Sean Tuohy from WritesBone.com arguably put it best when he said, "We all forget that Sylvester Stallone is a writer and an incredibly underrated one at that. He has 27 accredited scripts to his name and several of those are considered American classics." And if that isn't enough, there is even an entire book dedicated to the subject published on August 11, 2017. The eye-opening piece of literature by author Travis Cody is appropriately titled "The Inherent Genius of Sylvester Stallone: Hollywood's Most Under Appreciated Writer."
It would seem like fans are getting the best of both worlds from the star of the Paramount+ series, and Sylvester Stallone is most assuredly bringing decades of writing and acting experience to the table for "Tulsa King."