Rick And Morty Fans Think Dan Harmon Is The Natural Choice To Take Over Justin Roiland's Roles
The start of 2023 has seen a major shake-up for the cast and crew of "Rick and Morty."  In January 2023, NBC News reported that "Rick and Morty" co-creator Justin Roiland facing domestic felony charges stemming from an incident in 2020. This and Roiland's inevitable removal from the show by Adult Swim sent shockwaves throughout the fanbase. While removing Roiland was absolutely necessary, his exit has nevertheless left the adult animated sci-fi comedy series in a strange place. 
While Roiland's involvement in the series has lessened over the years, the cartoon nevertheless originated from him, starting off as a series of crude animated shorts entitled "The Real Animated Adventures of Doc and Mharti." On top of this, he also provides the voice of both Rick and Morty, amongst other characters. The voice of both characters and their memorable banter are some of the most distinct aspects of the show. But perhaps the team behind "Rick and Morty" don't need to look very far for a new main star, as the show's second-in-command can perform both characters with surprising ease.
If you or someone you know is dealing with domestic abuse, you can call the National Domestic Violence Hotline at 1−800−799−7233. You can also find more information, resources, and support at their website.
Some fans aren't sure if Harmon would want to do it or not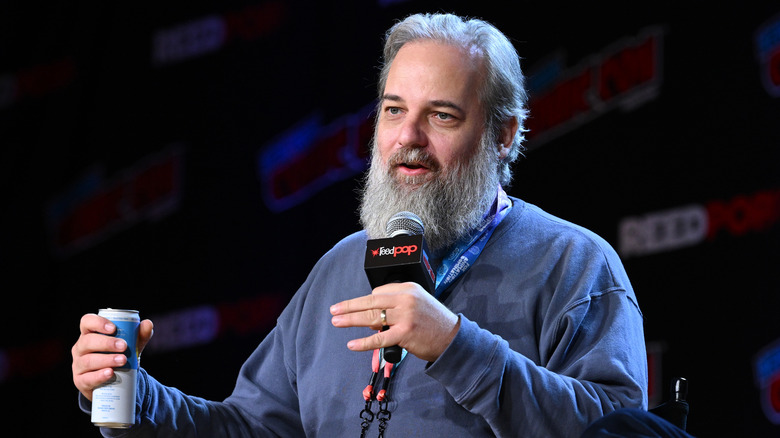 Bryan Bedder/Getty Images
With the removal of Justin Roiland from "Rick and Morty," many fans feel that the other co-creator of the hit Adult Swim series, Dan Harmon, might just fit the bill as the new voice for the titular characters.
While Redditor u/therealjameswood kicked off the debate by asserting that "Archer" and "Bob's Burger" actor H. Jon Benjamin would work for the voices, u/pizzaguyjb instead believed the "Community" creator was the better option. "Dan can play Rick," the user commented. "He did it multiple times on HarmonTown and he has filled in on some episodes as Rick ... " Watching episodes of the live podcast, HarmonTown, it's hard to distinguish Harmon's voice as the titular characters from Roiland's. 
Others commended the idea, such as u/wolferoad who noted that much of Rick's personality reflects that of Harmon's. But there are others who question Harmon's future involvement with the show. Redditor u/FreddyMerken believes that while Harmon would be a good fit, " ... he's been consistently trying to be less involved with the show ... " Similarly, u/chase2020 comments that, "The fewer distractions Dan has to deal with the better for the show."
Harmon certainly has a lot on his plate as he picks up the pieces left behind by Roiland. But whether he chooses to voice the characters or not, "Rick and Morty" is in good and caring hands.