Whatever Happened To The Cast Of Orange Is The New Black
Netflix
When Netflix first announced "Orange Is the New Black," they had only recently entered the industry as an original series producer, and this was only their second series. Fortunately, hiring exceptional talent behind the camera compensated for their lack of experience. Jenji Kohan was slated to be the show's showrunner, and she had chosen to adapt a novel about a young suburban woman who spent a year in a minimum security prison.
In a later interview, Jenji Kohan revealed how moved she was by the material in the memoir. Kohan stated that when she met the memoir's author, Piper Kerman, she was more interested in learning about the book than in selling herself as the right person to bring the story to the screen. Although Kohan originally felt she messed up that encounter, apparently that's exactly what drew Kerman in, and she eventually gave her approval.
Kohan went on to use Piper's story as a Trojan horse, allowing her to focus on characters whose identities had previously rendered them invisible onscreen. This turned out to be a wise decision: The show was an instant success and nearly every audience member could relate to at least one member of the ensemble cast. Believe it or not, it's been a few years since the series ended in 2019. Let's look at what the actors who played these characters are doing now that the show is concluded.
Taylor Schilling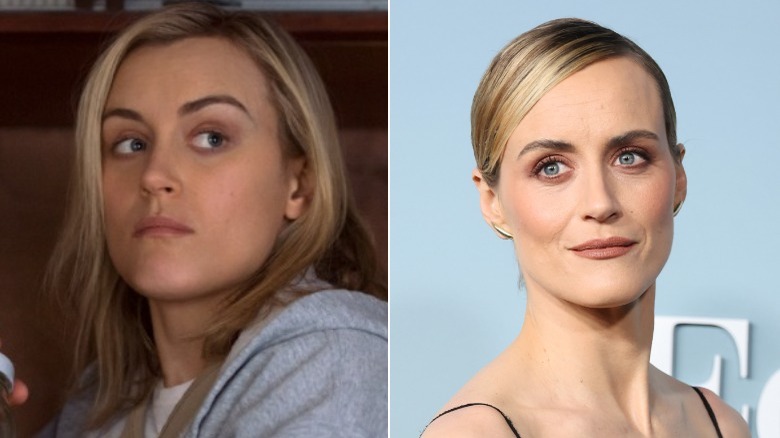 Amy Sussman/Getty & Netflix
Taylor Schilling portrayed Piper Chapman, the central character in "Orange Is the New Black." Jenji Kohan notably considered Katie Holmes for the part, but Holmes had to decline due to prior commitments, according to the New York Post. Schilling was a rising star at the time, having acted in the NBC medical drama "Mercy," as well as the romantic drama "The Lucky One," opposite Zac Efron, and in the Academy Award-winning "Argo."
Schilling was the ideal choice for Piper Chapman. Chapman had a wealthy upbringing and would frequently irritate both the inmates and the audience with her out-of-touch antics. Chapman is so unpleasant that she was oftentimes named amongst the most hated protagonists of all time by critics. Even if Schilling pondered why her character was so obnoxious at times, that didn't stop her from delivering a believable performance. In recognition, Schilling received nominations for Best Actress at the Golden Globes and the Emmys.
Schilling has continued to work in both film and television since the show's conclusion. Notably, in 2023, she stars in the Apple TV drama "Dear Edward," playing a character who becomes the primary caretaker for her young nephew after a tragic accident claims his parents' lives. She also played a supporting role in the Pam Anderson-centered "Pam & Tommy" and the lead in the horror film "The Prodigy."
Laura Prepon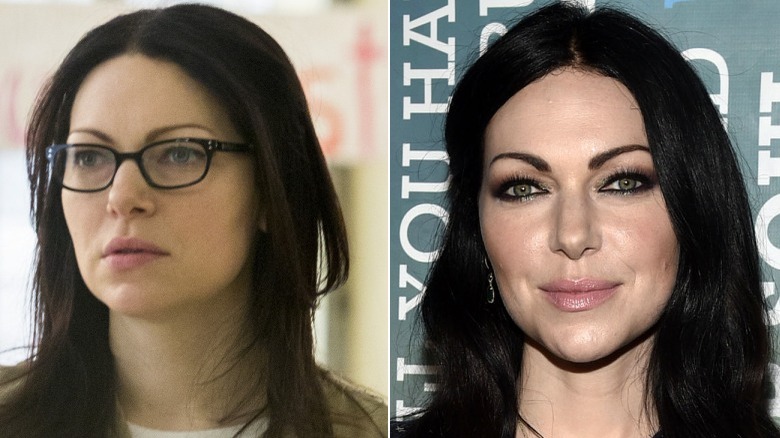 Bryan Bedder/Getty & Netflix
In "Orange Is the New Black," Laura Prepon portrayed Alex Vause, Piper's on-again, off-again girlfriend during her 20s. Prepon had already played a significant role on "That 70's Show" long before Kohan cast her in the series. After the show ended, she concentrated on her directing career while occasionally guest-starring in episodes of shows like "Men at Work" and "Castle." She also had a recurring bit as one of Ted Mosby's love interests in "How I Met Your Mother."
Vause was the one who landed Piper in jail. When Piper was a recent graduate, she was seduced by Vause's enticing lifestyle and charm. In an interview with People, the character's real-life inspiration said that the only similarity between her and her fictionalized counterpart was her pair of black glasses. Kohan and Prepon constructed the character entirely on their own. Prepon possesses a charisma that keeps audiences interested and rooting for her even when her character does heinous deeds. This attribute made her an ideal choice to play Vause because Piper repeatedly going back to her had to be believable.
Prepon's acting career has slowed down significantly in the aftermath of the show's finale. She has only featured as a guest on Netflix's revival of "That 70's Show," appropriately titled "That 90's Show." She has now concentrated on her writing career, publishing two lifestyle books that have reached the New York Times bestseller list.
Uzo Aduba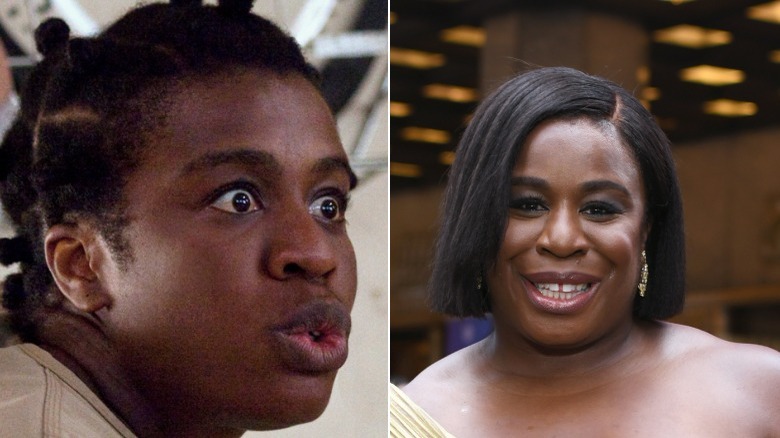 Jenny Anderson/Getty & Netflix
Uzo Aduba worked her way up the theatre ladder in the 2000s before making her screen debut. Her breakthrough performance was in the play "Translations of Xhosa," for which she received a Helen Hayes Award nomination in 2003. She followed that path until she finally made it to Broadway with the play "Coram Boy." As the new decade began, she began her career on television, making her debut on "Blue Bloods."
They say film is a medium for directors, and television is a medium for writers, but the stage? That is the realm of the actor. This was especially true for Aduba, whose role was by far the most complex of any on the show. Aduba portrayed Suzanne "Crazy Eyes" Warren, who has a mental health condition and an insatiable desire to establish true friendships, only to be taken advantage of by the other inmates. Uzo Aduba's performance was so impressive that she remains one of the only actors to have won an Emmy for the same role in both the drama and comedy categories.
When "Orange Is the New Black" ended, Aduba's career soared. She's since acted alongside "Tár's" Cate Blanchett in Hulu's miniseries "Mrs. America," for which she earned another Emmy. She also featured in Pixar's "Lightyear" and was cast as the new lead in HBO's "In Treatment," a show whose premise is entirely dependent on Aduba's incredible talent as an actor.
Danielle Brooks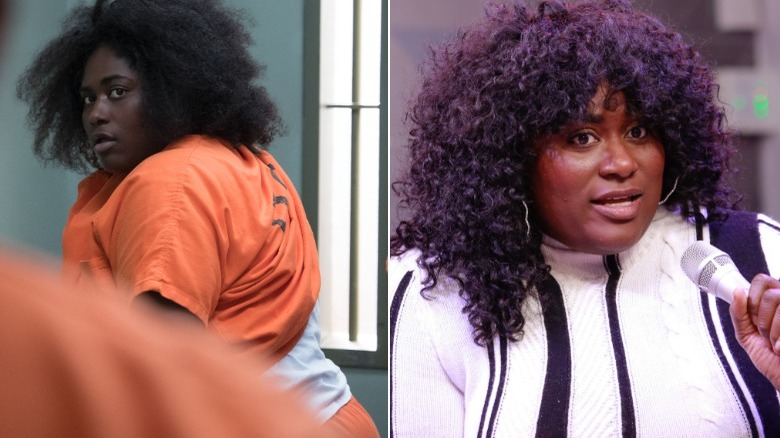 Jason Mendez/Getty & Netflix
Danielle Brooks graduated from the esteemed Julliard School of Drama. Brooks was slated to star in two separate plays immediately after graduating, but when the opportunity to guest star on "Orange Is the New Black" presented itself, she chose to focus on the series instead. Her position was originally intended to be a two-episode arc, but she dazzled so much that her character evolved into a longer plot, as in many cases in television history.
In the series, Brooks portrayed Tasha "Taystee" Jefferson. Taystee's narrative emphasized the various disparities of the American justice system; in the last season, fans got a glimpse of her life outside the jail and how difficult it was for her to entirely leave a life of crime while still having a roof over her head. Inside the prison, she is quirky and has natural leadership qualities. Her character's story forced audiences to swallow the bitter pill that society does not empower everyone to succeed in life.
Brooks' performance captivated people from all walks of life, including James Gunn, who wrote a character for her on his DC series "Peacemaker," in which she co-starred with John Cena. She also competed against her co-star Uzo Aduba in Spike's "Lip Sync Battle," which she won. In late 2022, she finally got the chance to star in a major Broadway production, "The Piano Lessons," opposite Samuel L. Jackson and John David Washington.
Samira Wiley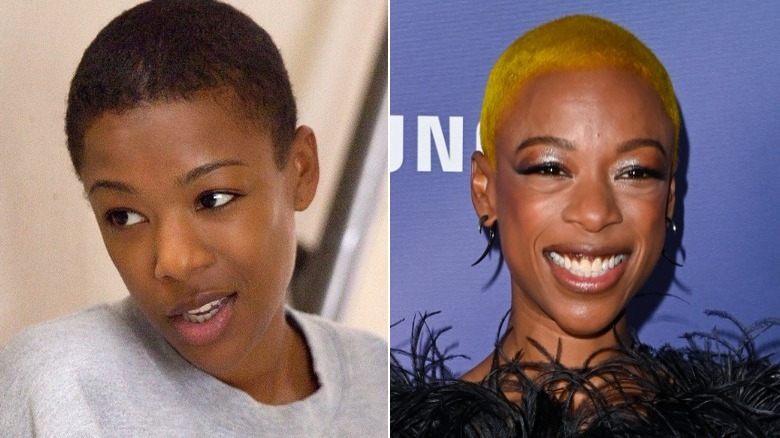 Kate Green/Getty & Netflix
Another Julliard Drama School alum on the series is Samira Wiley. She initially learned about "Orange Is the New Black" through a writer and former classmate, Marco Ramirez, who worked on the show. When she learned that Danielle Brooks had been cast in a part of the series, she enlisted her assistance in rehearsing the dialogue for the character who would eventually serve as her best friend, Poussey Washington. Wiley went on to secure the role.
When "OITNB" was at its best, the creators consistently came up with inventive ways to humanize those whom society had deemed outcasts for whatever reason. Poussey was one such character. While it was never explicitly stated why she ended up in jail, there were numerous flashbacks to her past. The episodes were mainly about her effort to get people to accept her sexuality. Poussey is the most endearing of the lot; every time she appeared on screen, it was a treat. She rapidly became a fan favorite, and her death still saddens fans to this day.
Wiley has since acted in Kathryn Bigelow's prestige drama "Detroit," which has received critical acclaim. She's also starred in "Drunk History" and "Will & Grace." She had a memorable guest appearance in the dark dystopian Netflix animation "Love, Death & Robots." Her career highlight since leaving the series, however, has been becoming a prominent cast member in Hulu's award-winning drama "The Handmaid's Tale."
Natasha Lyonne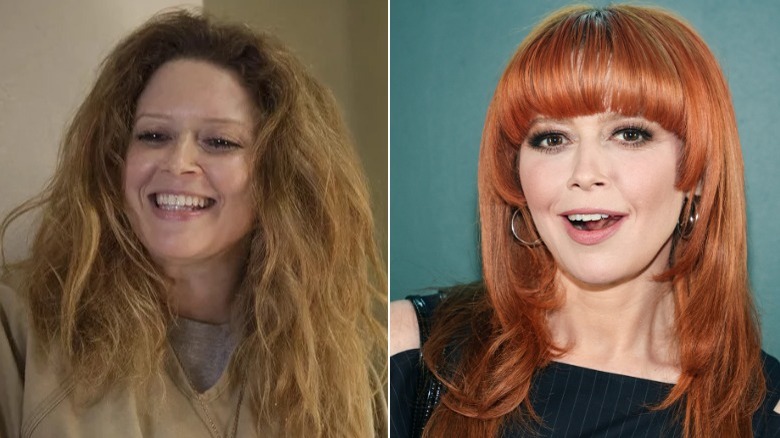 Jamie Mccarthy/Getty & Netflix
Natasha Lyonne has been acting since she was a little girl, most memorably sharing the screen with Meryl Streep and Jack Nicholson in the late Hollywood great Michael Nichols' "Heartburn." Despite battling addiction, she was able to expand on her childhood acting credits and get roles in numerous teen films like "American Pie." Later, she periodically secured guest parts on series, most notably "Will & Grace" and "Weeds," both of which were written by Jenji Kohan. Naturally, she ended up on Kohan's next show, "Orange Is the New Black."
Natasha Lyonne portrayed Nicky Nichols, an outspoken, brash, but caring individual who struggles with substance abuse. "Believe me, there's no shortage of things for me to draw on when it comes to Nicky's past," Lyonne remarked in a later interview with People, referring to her character's struggles with substance abuse. The character's arc centers on her learning how to moderate her impulses, and by the end, Nicky has found a means to do just that, providing an unusual ray of optimism for the series. Natasha Lyonne was nominated for an Emmy for her depiction of the character.
Since "OITNB," Lyonne has arguably had the most impressive career. She stayed with Netflix and created her own show, "Russian Doll," which was also nominated for an Emmy. She has hosted "Saturday Night Live" and is currently the star of the Peacock series "Poker Face." 
Taryn Manning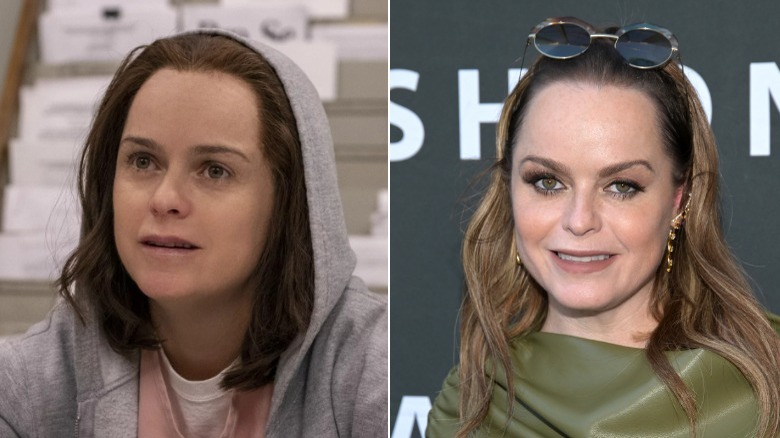 Michael Tullberg/Getty & Netflix
Taryn Manning endured a rough childhood to create one of the most intriguing filmographies among her contemporaries. She grew up in a trailer park with her single mother and brother. The family budget was constantly tight but her mother was nevertheless able to pay for extracurricular activities such as acting classes. This paid off when Manning began making guest appearances on David E. Kelly productions like "The Practice" and "Boston Public," the latter of which was written just for her. She acted in movies such as "8 Mile" and "Hustle & Flow" before getting a longer-term role in "Orange Is the New Black."
On the show, Manning plays Tiffany Doggett. Tiffany is the show's closest thing to an antagonist. Tiffany is a vexing Christian zealot who never lives her own life according to the standards she sets for others. Tiffany's interactions with the other convicts are frequently violent and erratic. Nevertheless, as the series progresses, she gains self-awareness and gradually shifts her attitude and how she acts toward the other convicts.
In a regrettable case of life imitating art, Manning has also had difficulty getting along with others off-screen. Manning has had many run-ins with the authorities (via New York Daily News). She even brutally trashed her former "OITNB" castmates on social media before claiming she was hacked (per E! Online). She's still acting, however, and can be found in the critically panned movies "Karen" and "The Gateway."
Dascha Polanco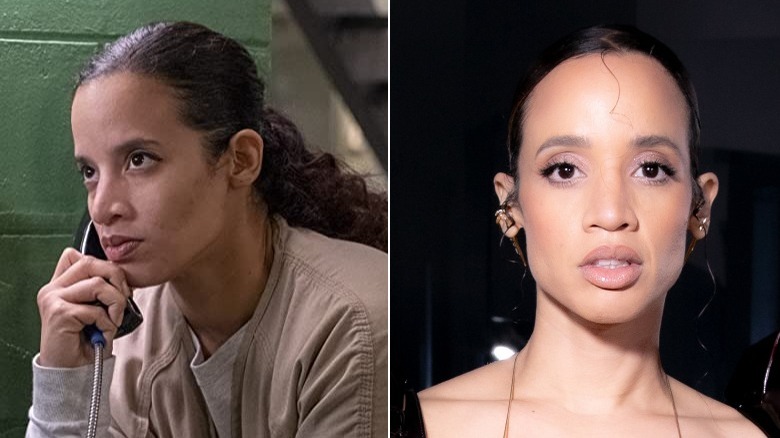 Hippolyte Petit/Getty & Netflix
Dascha Polanco dreamed of becoming an actor since she was a child. She was concerned that her weight would prevent her from attaining her dream, so she decided to seek a career in nursing (via Huffington Post). Still, the acting bug never left her, so she enrolled in an acting studio and eventually landed a small role on "Orange Is the New Black," a role that grew with each season until she eventually became a member of the main cast.
In the series, Polanco played Dayanara "Daya" Diaz. Daya exemplifies how the criminal system sometimes exacerbates criminals rather than rehabilitating them. Daya is a hopeless romantic who loves her family when the audience first meets her. Toward the end of the show, all Daya cares about is her drug empire, which she constructed with the help of her family. Polanco portrays this character's journey with sincerity. The tragedy of Daya's arc is undoubtedly one of the show's highlights.
Since then, Polanco has continued to appear in films and TV shows. She has been a recurring guest on fellow "Orange Is the New Black" alumnus Natasha Lyonne's show "Russian Doll" and in Jon M. Chu's "In the Heights." In probably her career peak since leaving the show, she appeared alongside Robert De Niro as a nurse in the last scene of Martin Scorsese's "The Irishman."
Pablo Schreiber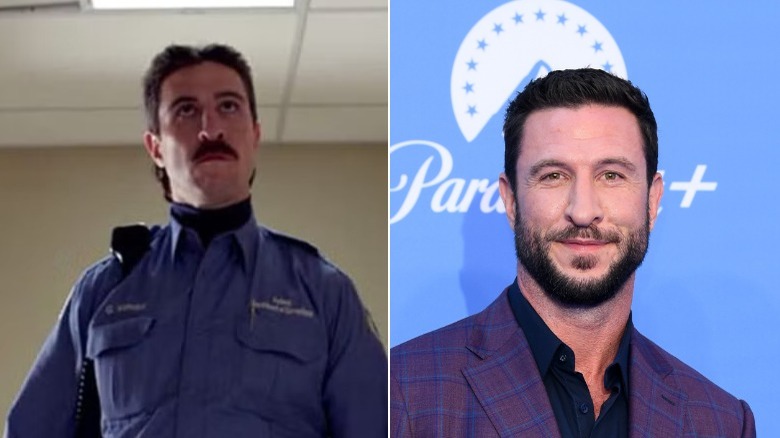 Joe Maher/Getty & Netflix
Pablo Schreiber is a character actor par excellence. This simply means that Schreiber is always ready to be a tool of the narrative rather than the star of the show. Schreiber's credits are numerous and diverse, including "The Wire" and "Weeds." Like many other cast members in this series, his previous connection to Kohan's work drew him back to work with her on "OITNB" (per Deadline).
Schreiber portrayed George "Pornstache" Mendez in the show. Mendez is an eccentric and sadistic correctional officer at the facility where the inmates are serving their sentences. He largely lacks empathy and regards all of the convicts solely as objects of his sexual desire. When Daya becomes pregnant with another correctional officer's child, she realizes that framing him for sexually abusing her will solve most of her problems, so she does, and Mendez is imprisoned. Fans get to see a more vulnerable and delusory side of Mendez while he is in jail. Schreiber was ultimately nominated for an Emmy for his performance.
Pablo Schreiber has remained one of the most prolific actors of his generation since leaving the show. He starred in "American Gods" and played a supporting role in Damien Chazelle's biopic of Neil Armstrong, "First Man." He also recently made the switch to playing the lead in the Paramount+ TV adaptation of the video game "Halo."
Laverne Cox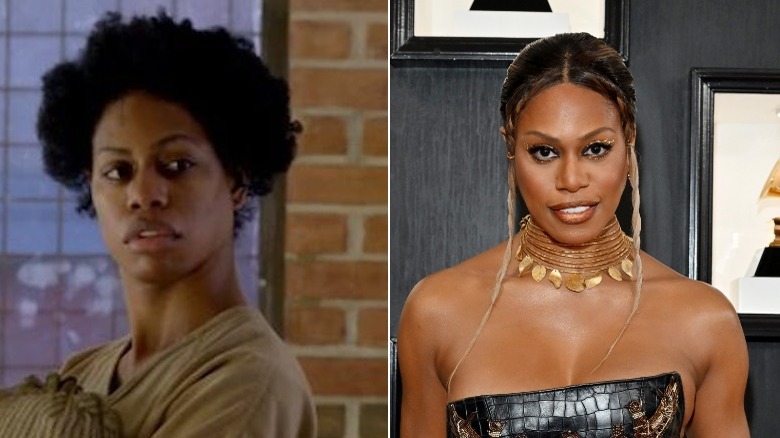 Lester Cohen/Getty & Netflix
Laverne Cox began her on-screen career as a participant on the Sean "Diddy" Combs-centered reality show "I Want to Work for Diddy." From there, she created the VH1 show "TRANSform Me," in which three trans women delivered a makeover to a different woman in each episode. Her passion, though, was always acting. When the opportunity to act on "Orange Is the New Black" came up, she pounced. 
Cox's character, Sophia Burset, is an inmate jailed for the credit card fraud she committed to fund her transition. Her biggest issue throughout the show is how others treat her. Her child resents her decision to transition, and her family has effectively ostracized her for it. As the show progresses, it becomes evident that Jenji Kohan is utilizing the jail as an allegorical purgatory for women rejected by society, including trans women. The show raised Cox's profile for her representation of trans issues. She eventually became the first transgender person to appear on the cover of Time Magazine.
Laverne Cox has been in the Academy Award-nominated film "Promising Young Woman" and Larry David's ever-hilarious mockumentary "Curb Your Enthusiasm" since the show ended. However, fans nowadays usually see her anchoring red-carpet interviews for E! Channel.
Jason Biggs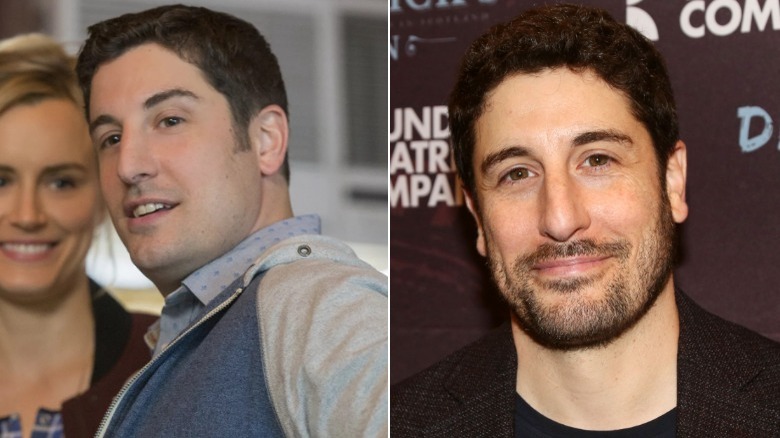 Bruce Glikas/Getty & Netflix
Leading up to the release of "Orange Is the New Black," Jason Biggs was the biggest name attached to the project. His fame stems from his lead role in the "American Pie" franchise. Even beyond that, he is a genuinely gifted actor with multiple roles on television, film, and stage. 
Biggs plays Larry Bloom, who proposes to Piper right before she begins her sentence. Biggs was cast well for this character given his innate boyish charm. As with many characters on "OITNB," Larry is complex. He originally seems like a caring and loving partner, but his vindictive and controlling character emerges soon when he feels wronged. Whatever quality he criticized Piper for, he wound up demonstrating himself. 
Larry's story quickly faded into the background, and by the conclusion of the second season, Biggs had all but disappeared from the show. Since then, he's returned to the franchise that made him famous with "American Reunion." He's also appeared as a guest on "Law & Order: Special Victims Unit" and even guest-hosted "The Wendy Williams Show."
Matt McGorry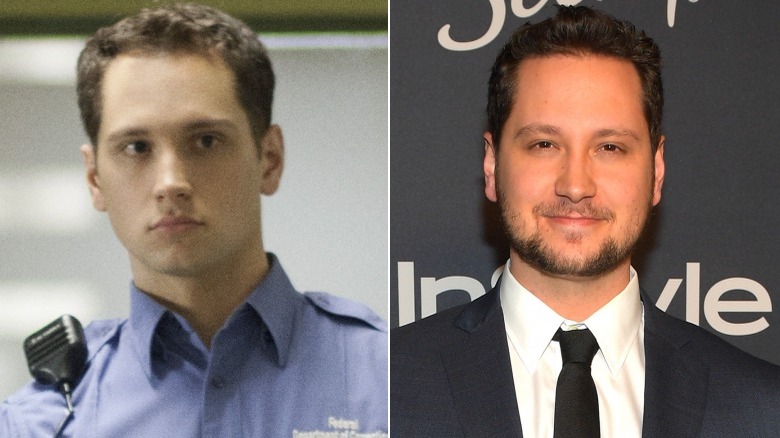 Matt Winkelmeyer/Getty & Netflix
Matt McGorry is known for more than just his performance on screen; he is also an outspoken activist on a variety of social issues and a proud feminist. He began his career as a bodybuilder performing in College Humor videos. Despite being promised an eternal role on the platform, he felt he needed to take a step back or else he'd be typecast in his acting career. Soon after, he was cast in "Orange Is the New Black."
In the show, McGorry plays correctional officer John Bennet. Although Bennet appears to have a strong moral compass at first, once his affair with Daya becomes serious, he abandons his ethical code and makes several blunders with their child that may have long-term consequences. Bennet's function in the show was to deconstruct the nice guy archetype, and McGorry is the perfect actor for such a part.
McGorry was only on the show for around three seasons before moving on to the Viola Davis-led series "How to Get Away With Murder," where he truly established himself. He's also done outstanding work in films such as "How He Fell In Love" and "Step Sisters."
Lauren Lapkus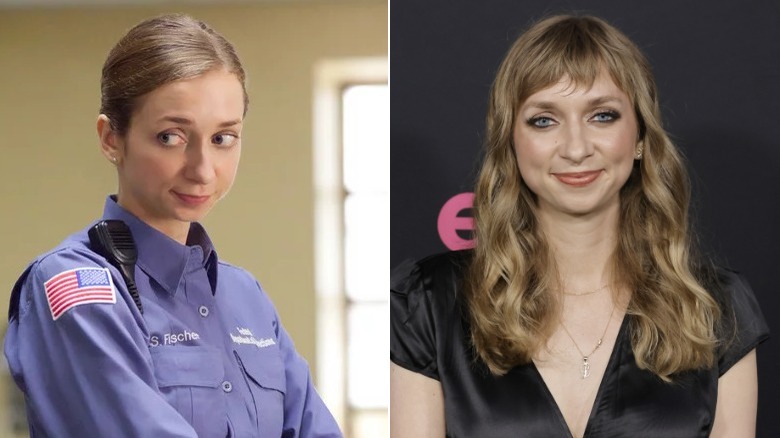 Kevin Winter/Getty & Netflix
Lauren Lapkus began performing at a young age, frequently filming sketches with her brother in high school. She was a fan of comedy shows like "Saturday Night Live" and hoped to create similar shows when she grew older. After graduating from university, she enrolled in a theatre school and improv classes, which resulted in guest appearances on "Jimmy Kimmel Live!" and "Are You There, Chelsea?" It was her role in "Orange Is the New Black" that catapulted her to stardom.
Lapkus plays Susan Fischer, an affable correctional officer. Susan is the only member of the prison staff who consistently treats the inmates as equals, though this occasionally causes prisoners to lose respect for her. Lapkus portrayed the role excellently but only stayed on the show for two seasons, with her character getting sacked from the prison for advocating for the inmates.
Since then, Lapkus has had other career highlights, including appearances alongside Will Ferrell and John C. Reilly in "Holmes & Watson," the film adaption of "Between Two Ferns," and as a regular on "Good Girls." Her weekly podcast "Newcomers" is where fans can find her most often these days.
Francesca Curran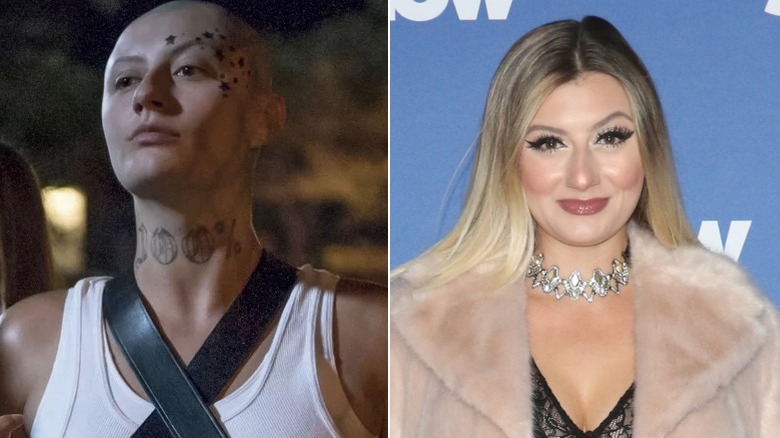 Jim Spellman/Getty & Netflix
Great shows always have a knack for discovering new talent and nobody fits the bill like Francesca Curran. When she first joined "Orange Is the New Black" midway through Season 4, she was virtually unknown. She played a frightening white supremacist. It's only when fans started seeing her outside the confines of her character that they realized just how impressive her transformation really was.
She's had the least work since the show ended, but hopefully, she's still developing her career and voice, and fans will get to see her in roles that allow her to develop her range. She appeared in the 2019 arthouse film "Seneca," in which she also performed admirably. Curran's future appears bright, and fans should keep an eye out for what she does next.
"Orange Is the New Black" is one of those rare series that managed to maintain its quality while never losing sight of what the narrative thread was trying to convey. It's just a bonus that it has produced so many stars for fans to follow in the future.