How To Get Away With Murder's Viola Davis Admittedly Conversed With The Writers To Make Annalise Feel Human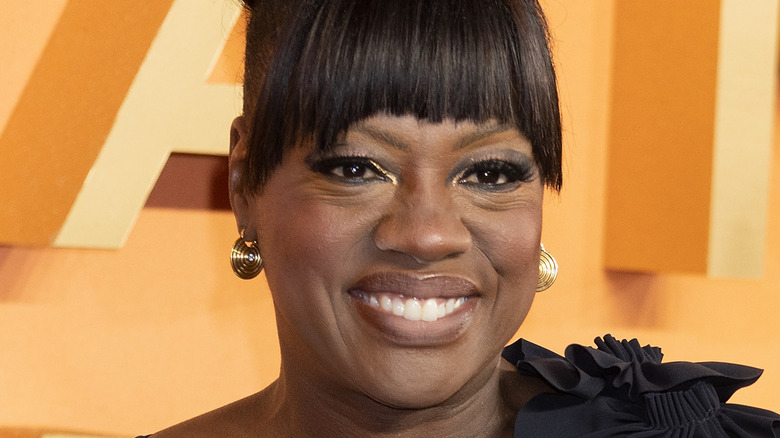 Dave J Hogan/Getty Images
Viola Davis is easily one of the most acclaimed and celebrated actors working today, as she has found success across multiple mediums — film, television, and stage (via IMDb). Davis has been acting since the '90s and has racked up nearly 100 screen credits since then — as well as several prestigious award nominations. For example, she won the Tony for her performance in the stage production of "Fences," then won the Academy Award for playing the same role in the film adaptation. And in the realm of TV, Davis received four nominations for her performance as Annalise Keating on "How to Get Away with Murder" (as well as a fifth for playing the same character in a guest appearance of "Scandal"), winning one.
"How to Get Away with Murder," which was created by Shonda Rhimes, follows defense attorney and law professor Annalise Keating who becomes involved in a murder plot alongside a handful of her students. The drama series ran for six seasons from 2014 and 2020.
The series was undeniably a vehicle for Davis and many fans would agree that she was the driving force behind the show's success. And, as it turns out, Davis worked behind the scenes with the writers to make Annalise the most compelling character she could be.
Davis didn't believe the initial version of Annalise
Viola Davis appeared as a guest on "Hot Ones" in October 2022 and, during the discussion, host Sean Evans brought up a quote that Davis had made in the past in which she admitted that she will continue bothering the director if she is unable to find answers to questions that she has about her character. Evans then asked Davis which of her characters had the biggest transformation from what was written in the script to what ultimately made its way to the screen and Davis's answer was easy: Annalise Keating.
Davis admitted that she had some qualms about the pilot, including the fact that she didn't feel that her character was as fleshed out as she needed to be. 
The actor explained, "No disrespect, but I didn't believe that they wrote from a perspective of making her real." So, Davis began constructing the character's background herself, beginning with the fact that she must come from a background of trauma. Davis continued, "And then, she's changed her name, why is she changing her name? Whoever she was, she hated. So there was a level of self-love that wasn't there. And juxtapose that with this badass criminal defense attorney, then you start shaping a person." She then added that, in order for her to come to these conclusions, she had to keep having conversations with the writers.
Davis has spoken before about needing Annalise, and her other characters, to be complex
In March 2020, as "How to Get Away with Murder" was coming to an end, Viola Davis spoke with Variety and reflected on her time playing Annalise. Just as in her "Hot Ones" conversation, Davis emphasized the fact that, if she was going to play a TV character (something that she never particularly wanted to do), then the character needed to be complex.
Davis said, "I did not want a character that fit into the quote-end quote network TV parameters. I wanted to be more rooted in reality and in life, and more rooted in the complexity of what it means to live a life." She added that she often doesn't believe the characters that she sees on TV because they seem to lack the "real life" factor that she is pointing to. Thus, what she likes about Shondaland (which has also been behind shows such as "Scandal" and, more recently, "Bridgerton") is the fact that they are working to create these types of dynamic characters that Davis wants to see.
In the end, Davis was extremely proud of the character that Annalise turned out to be. In another interview with Variety in September 2019, Davis said, "I still believe, and I will say this until I go to my grave, that Annalise Keating [and] Olivia Pope [of "Scandal"] are the greatest characters on TV."