Why Beth From Cocaine Bear Looks So Familiar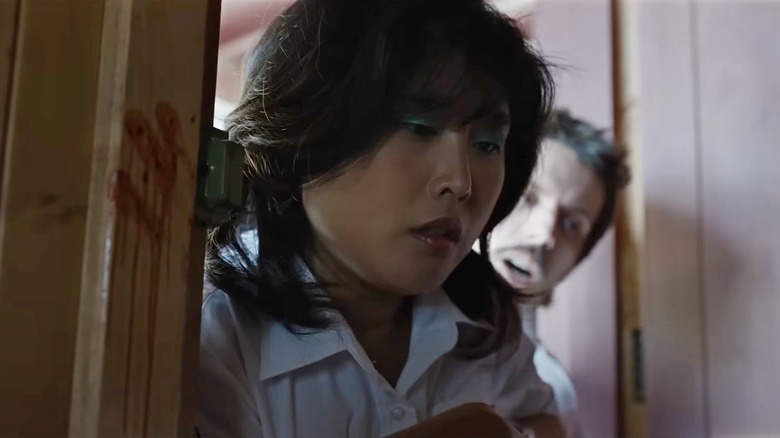 Universal Pictures
No one can stop talking about "Cocaine Bear," the new movie from director Elizabeth Banks. The movie is loosely inspired by the story of an actual female bear that was found dead in the Chattahoochee National Forest in 1985 after apparently overdosing on drug smuggler Andrew Thornton's cocaine, after he fell to his death nearby. The film, written by Jimmy Ward, is a thrilling, gory, and often humorous reimagining of what might have happened if the bear hadn't died. With a 70% rating on Rotten Tomatoes, the film is clearly hitting the right note for movie fans looking for something different. The cast also includes Keri Russell, O'Shea Jackson Jr., Alden Ehrenreich, Kahyun Kim, and, in one of his final screen appearances, Ray Liotta.
Kahyun Kim plays Beth, a medic who comes to park ranger Liz's (Margo Martindale) rescue after she's slashed by the bear. But she and her partner Tom (Scott Seiss) quickly realize there is something very wrong with the animal. With the bear chasing their ambulance, Beth tries to outrun her and get them all to safety, but the bear has other plans and launches herself into the vehicle.
"Cocaine Bear" is definitely Kim's highest profile project to date, but there's a good chance you've seen her before.
She played Sammi in The Mysteries of Laura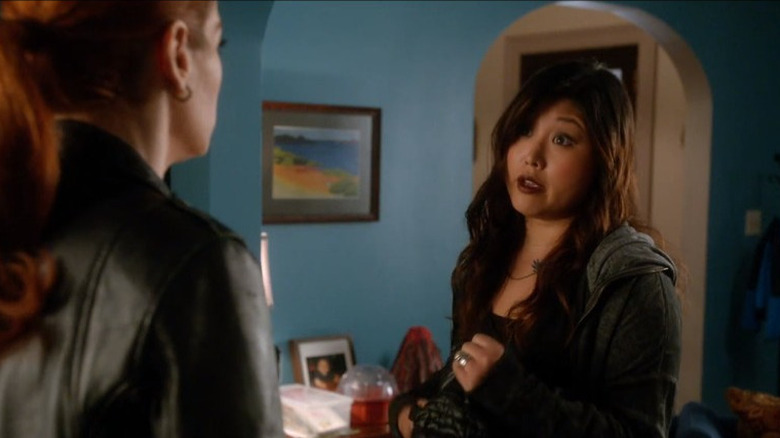 NBC
Kahyun Kim made her film debut in the indie release "Your Roommate," following that up with guest roles in short films and series such as "obSETHed" and "Everyday Lies." After being cast as "Korean Woman" in "Playing It Cool," starring Chris Evans and Michelle Monahan, she took the role in the series "The Mysteries of Laura," starring Debra Messing and Josh Lucas.
As Sammi, she's sarcastic and blunt, and is at the police station because she staged a nonviolent protest against her father. She tells Messing's character, Detective Laura Diamond, to describe herself as beautiful instead of attractive on a fake dating profile, quipping, "Attractive? Who do you want to date, my Uncle Melvin?" As she's being handcuffed she continues giving advice, even telling Laura, "Bring your gun on these dates. There are plenty of pervs out there."
While Kim's turn as comic relief was enjoyable, she was only on the show for two episodes. Laura ends up hiring Sammi to babysit her kids after she and her dad make up, but Laura's suspicious assistant keeps checking up on her. Frustrated with Laura's lack of trust, Sammi quits in Season 1, Episode 3.
Kim co-starred in the Freaky Friday musical remake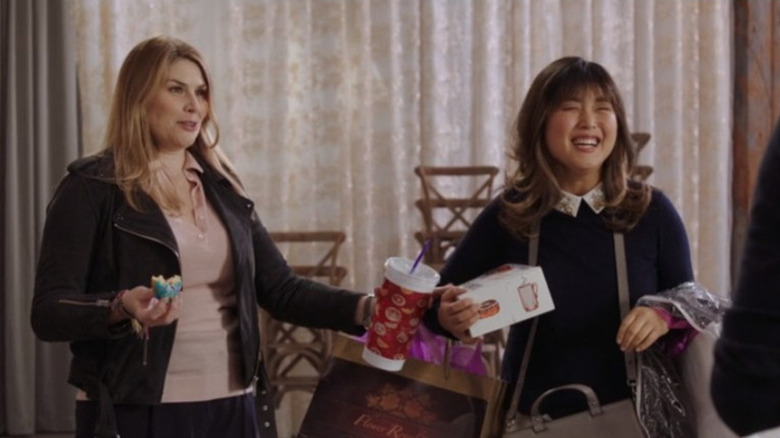 Disney Channel
In 2017 Kahyun Kim co-starred in the Disney Channel original film "Freaky Friday," alongside Cozi Zuehlsdorff and Heidi Blickenstaff. She plays Torrey Min, mom Katherine Blake's (Blickenstaff) assistant. Torrey is just as tightly wound as her boss, and works hard to impress Katherine. After Katherine and her daughter Ellie (Zuehlsdorff) switch bodies, Torrey tries really hard to keep everything on track.
At the film's New York City premiere, Kim explained that she could relate to Torrey, and also admitted that she was a big fan of the film's musical aspect. "I really loved watching Heidi [Blickenstaff] sing," she told Celebrity Haute Spot. "That was pretty epic." The remake received mixed reviews, with some critics liking the new take on the beloved film, others not so sure, and the audience score a dismal 21% on Rotten Tomatoes. "I'm from the generation that remade it with Lilo [Lindsay Lohan], so that rendition will always have a special place in my heart, but this new 'Freaky Friday' was not bad at all," wrote u/DesertBlooms on the Disney Channel's Reddit page.
She became New Media on American Gods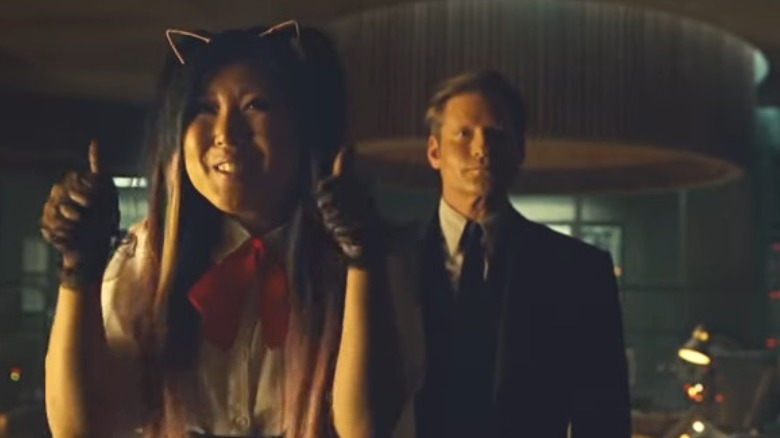 Starz
After showrunners Bryan Fuller and Michael Green announced that they were exiting because of creative differences, Gillian Anderson also announced that she wouldn't return for Season 2 of "American Gods." With Anderson's exit, the search was on for someone to take over the role of Media, and the answer ended up being a new character named New Media, played by Kahyun Kim, who was ready to take on the challenge.
"I was nervous because it was an already established character, but it was also clear to me that it was a very different character, so that made me not as nervous as I was," she told Collider. "Even if I wanted to, I wouldn't be able to recreate whatever fantastic things [Gillian Anderson] did, and so, I wasn't nervous about that." The change to a new character versus a straight-up replacement for Anderson also helped fans accept her. "We spend so much time on social media, something that wasn't around when the book was written, that the change really makes sense," u/erraticpaladin wrote on Reddit. "I don't like her as much as the old media, but it's a great re-interpretation."
Kim's last appearance in "American Gods" was the Season 2 finale. While writer Neil Gaiman hinted that the character could return in future episodes, we never saw her again in the show's third and final season.