Spider-Man: No Way Home's Deleted Matt Murdock Scene Puts Happy On The Spot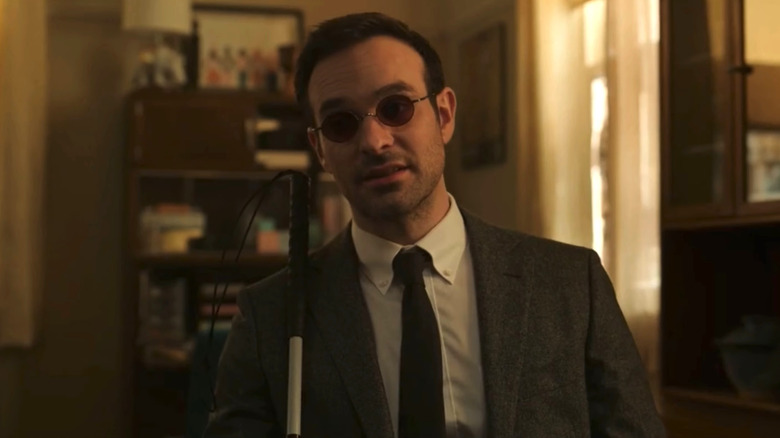 Marvel Studios/Sony Pictures
When news broke that Charlie Cox was returning as Matt Murdock and Daredevil for the MCU, fans collectively lost their minds. The British actor made a name for himself in the role on Netflix's "Daredevil," showing everyone that he was born to play the part. His surprise return came in "Spider-Man: No Way Home," signing on as Peter Parker's (Tom Holland) legal defense after Mysterio (Jake Gyllenhaal) revealed his identity to the world. Although it was only for one scene that didn't feature Cox in his Daredevil suit, his cameo was enough to excite fans for his future in the MCU.
Thankfully, it wasn't long until Cox graced the screen as Daredevil once again, appearing in the final two episodes of "She-Hulk: Attorney at Law." This time, fans saw him in all his costumed glory as he sported a new yellow and red version of the Netflix costume, showcasing the swashbuckling side of Daredevil. To make a good situation great, Marvel Studios announced that Cox and his "Daredevil" costar Vincent D'Onofrio would return for "Daredevil: Born Again," solidifying that the Man Without Fear was here to stay.
While Marvel fans patiently await Cox's next appearance as Daredevil, a deleted scene from "No Way Home" shows that the movie almost included a little more Matt Murdock, with the lawyer helping Happy (Jon Favreau) get out of a tight situation.
Matt Murdock can't get Happy to stop sweating
The deleted scene from "Spider-Man: No Way Home," courtesy of Netflix India, gives further context regarding Matt Murdock's role as Peter and Happy's lawyer. In the movie, Peter breaks the multiversal group of villains out of Doctor Strange's (Benedict Cumberbatch) prison, bringing them to Happy's apartment as he tries to cure them. The deleted scene shows that, during this time, Matt is sitting with Happy, defending his client from a board of Damage Control agents. The DODC wants to know about the missing technology, but Matt assures them his client doesn't know anything and is a law-abiding citizen. Just as Happy claims he has nothing to hide, his phone lights up with a live feed from his apartment, showing Peter entering with the villains. He immediately gets nervous, prompting Matt to urge his client to stop sweating. "How do you do that?" Happy responds.
The scene not only offers a little more comedy to "No Way Home," but it also features a small multiversal "Daredevil" reunion. While Cox is the MCU's Matt Murdock, he is still without his right-hand man, Foggy Nelson. Interestingly, Favreau played Nelson in the infamous 2003 movie alongside Ben Affleck's Daredevil, giving die-hard Marvel fans a fun Easter egg.
The scene was part of the extended version of "No Way Home," which Sony dubbed "The More Fun Stuff Version," which features more deleted scenes.