Meredith's Farewell On Grey's Anatomy Has An Iconic Season 2 Easter Egg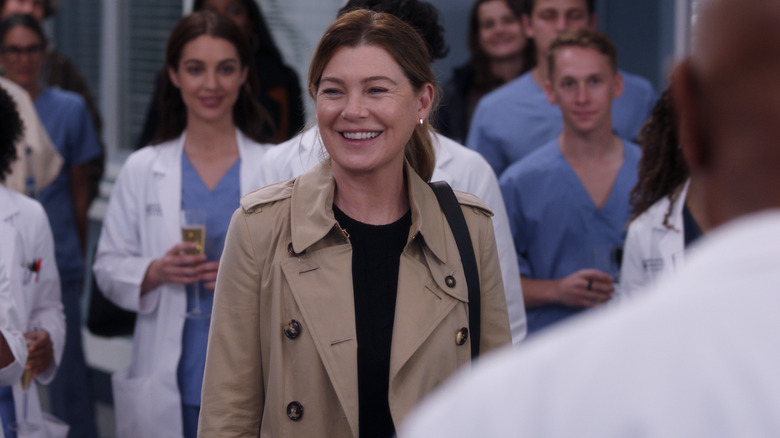 ABC
After a year of nervous and stressful anticipation, Season 19, Episode 17 ("I'll Follow the Sun") of "Grey's Anatomy" delivered on the promise of Meredith Grey (Ellen Pompeo) leaving Grey Sloan Memorial Hospital to move to Boston. While Pompeo may have never envisioned staying on "Grey's Anatomy" as long as she did, it's still shocking to fans that the show's namesake is leaving. Sure, she will make appearances, and even co-star Camilla Luddington has reassured fans that Ellen Pompeo won't be gone for good. But that doesn't make it any less emotional for fans.
When doctor-turned-bartender Taryn Helm (Jaicy Elliot) chastises Dr. Nick Marsh (Scott Speedman) for his behavior, she sums Meredith up perfectly, saying that "She's impossible, and she's perfect, and she's brilliant, and she cares. And she can be mean sometimes, but only when she needs to be, and she can be selfish sometimes, because she has earned that right." 
Fans have loved watching Meredith grow as a doctor and person, and as much as her and Derek Shepherd's (Patrick Dempsey) relationship was at the show's center for years, it's easy to see that so much of Meredith's growth and maturing happened after he died, making this Easter Egg in her farewell episode all the more perfect.
Her speech shows how much Meredith has matured and grown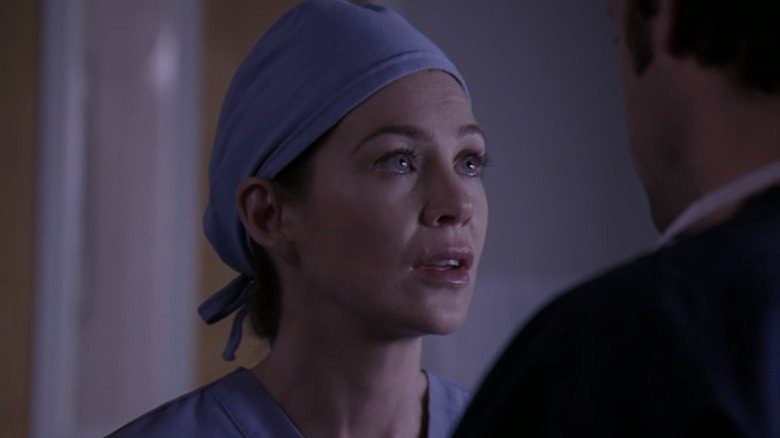 ABC
In Meredith's farewell episode, she argues with Nick about her decision to move to Boston without consulting him, with Nick incredulously telling her that he moved from Minnesota to Seattle to be with her. "I want you in my life, if you want to be in my life," she tells him. "But if I have to choose, I'm going to pick me. I pick my kids, and I pick what's best for us. And I am not going to beg you to love me." 
Her speech is a far cry from the Meredith from the beginning of the show, and this line is a beautiful Easter Egg calling back to Season 2 when she made a very different speech. Love it or hate it, longtime "Grey's Anatomy" fans all remember Season 2, Episode 5 ("Bring the Pain"), when Meredith begged Derek to choose her over his estranged wife, Addison (Kate Walsh). "Pick me, choose me, love me," she pleaded. 
"I remember the first time I watched that scene I ate it up," u/fcrryboats wrote on a "Grey's Anatomy" subreddit, while another viewer, u/fab__dady wrote "The most cringe scene ever." No matter what camp we fall in, it's hard to deny how iconic the scene is, which is why having Meredith make a similar speech with the opposite message upon her exit, where she is choosing herself this time, means so much to fans.