The 13 Best Radio Call-Ins On Frasier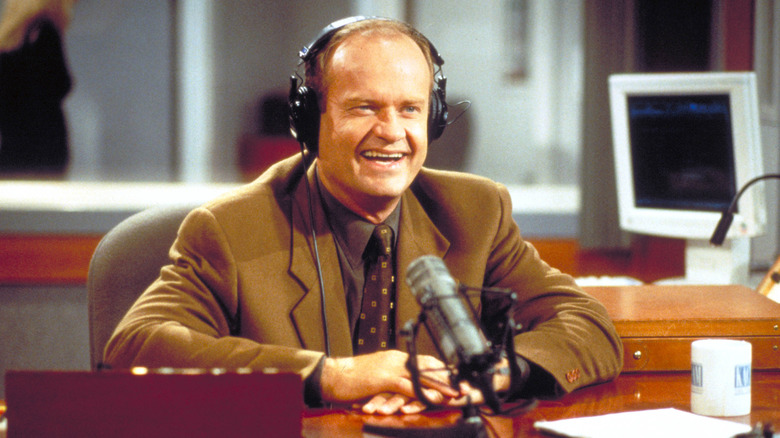 Getty Images/Getty Images
If you've got a craving for tossed salad and scrambled eggs, then chances are you are hungry for more news about the new "Frasier" reboot coming to Paramount+ sometime in 2023. Information has been limited, but that hasn't stopped fans from sharing what they really want to see in the upcoming series. 
But back in the 1990s, Dr. Frasier Crane (Kelsey Grammer) graced the fictional KACL airwaves with his soothing baritone voice. While he doles out psychiatric advice to his listeners, he often ignores his better judgment in his personal life, but that's what made the hit comedy one of the best shows on television. One of the highlights of the series was identifying the voices of the guest stars who played Frasier's callers on "The Dr. Frasier Crane Show." Big names such as Mel Brooks, Kevin Bacon, Carrie Fisher, and Mary Tyler Moore, among many others, have all called Frasier's radio talk show to ask for his guidance. But which ones stand out the most after 11 seasons of "Frasier"? Here are 13 of our favorite guest callers.
Frasier has zero interest in Roger's problem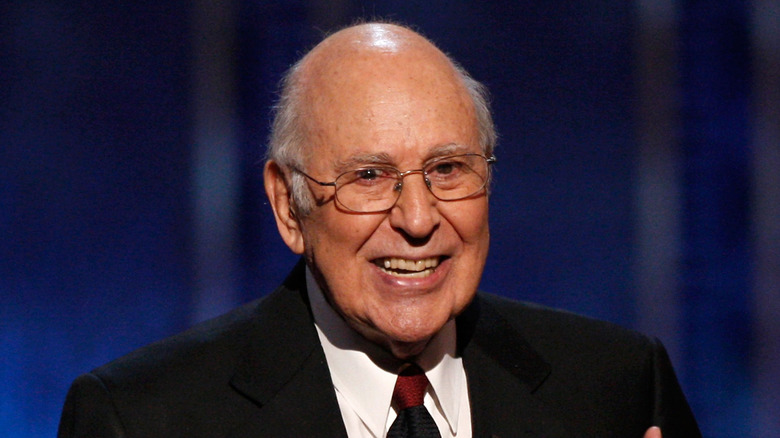 Kevin Winter/Getty Images
Lots of people call "The Dr. Frasier Crane Show" in need of advice, but sometimes the help given goes beyond the psychological. In the Season 1 episode, "Selling Out," nautical enthusiast Roger (voiced by the late comedy legend Carl Reiner) calls into the show. His problem is a disagreement with his wife in regard to a recent purchase: a new cabin cruiser boat. Roger wants to name the boat The Intrepid, but his wife likes Lullubelle. Roger asks Frasier to weigh in on what he thinks the boat should be named.
Frasier says what we're all thinking when listening to a boring story but we never have the guts to say out loud. After patiently listening to Roger's problem, Frasier begins an anecdote about a powerful microscope that can view matter down to its most basic molecular level. He ends the speech by making it clear that he really couldn't care less what the boat's name is, and abruptly ends the call. It's a hilarious scene, as Frasier uses his high education to his utmost advantage — being a first-rate king of sass.
A young genius puts Frasier in his place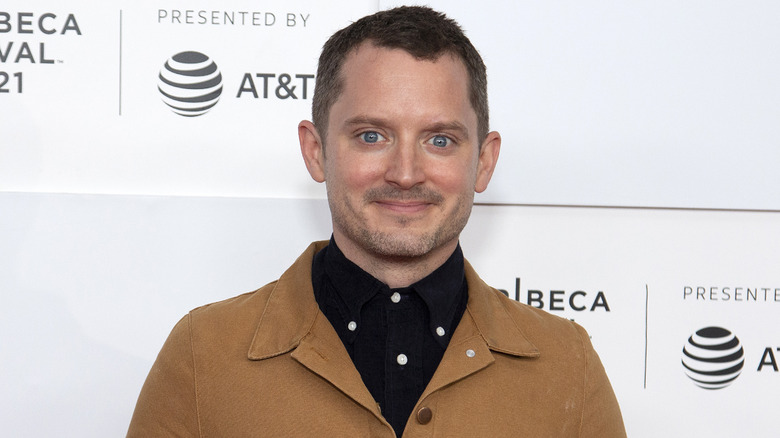 Santiago Felipe/Getty Images
Years before Elijah Wood made his claim to fame in "The Lord of the Rings" trilogy, he was a successful child actor, appearing in films such as the critically-panned "North," and the thriller, "The Good Son." In Season 1 of "Frasier," Wood's young voice can be heard as a guest caller, Ethan, in the episode, "Guess Who's Coming to Breakfast?"
Ethan calls "The Dr. Frasier Crane Show" with a problem that Frasier can relate to all too well. Kids at Ethan's school are bullying him, which he thinks is because he's too smart for his own good. Frasier assures Ethan that it's because they are just jealous and insecure with themselves, and one day he will "have the last laugh." In response, Ethan berates Frasier for his unhelpful advice, calling it "patronizing and "uninspired." Being told off by the pretentious youngster results in Frasier stooping to a low level of revenge, himself not immune to childishness when it comes to his ego.
A caller accidentally drops an urn filled with the ashes on the air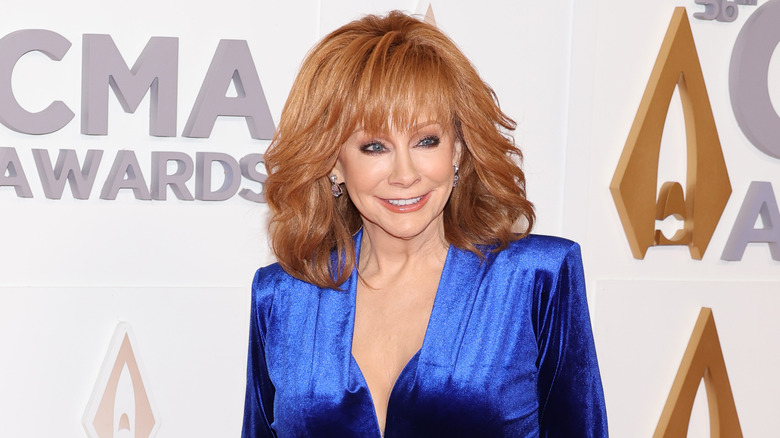 Jason Kempin/Getty Images
In the Season 1 episode, "Fortysomething," Frasier is feeling self-conscious about his age when he starts to have memory problems. Things get complicated when a younger woman asks him out, and he fears that he may be dealing with a midlife crisis. Meanwhile, on his radio show, Frasier gets a call from Rachel (Reba McEntire), who claims to be at the center of a "love triangle."
It's not what you think, though — she actually has concerns about her husband's unhealthy attachment to his late wife. Frasier agrees that keeping the urn of his wife's ashes in the bedroom is a bit extreme, and encourages Rachel to move the urn elsewhere. As she does so while still on the phone, a loud crash can be heard on the other line. Rachel announces that she has some vacuuming to do and quickly ends the call. We can guess what happened there, as can Frasier, who quickly segues into the news. 
A puppy for Rita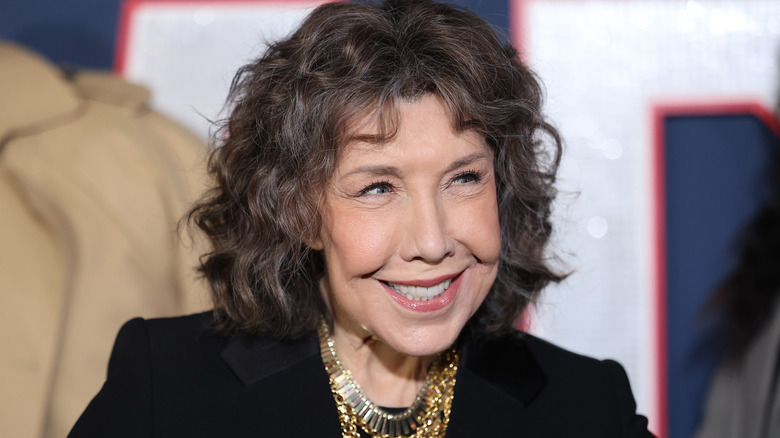 Phillip Faraone/Getty Images
Eddie the dog has been Frasier's arch-nemesis since the beginning of the series. It's almost like the little Jack Russell terrier delights in irritating the radio show host, whether he's staring at Frasier during his morning coffee or sneaking foie gras off of a party platter. In the Season 2 episode, "The Unkindest Cut of All," Frasier learns that his father, Martin (John Mahoney), was less than honest about Eddie being fixed when a neighbor brings over a box of Eddie's offspring that came from her precious Phoebe. Much to his chagrin, Frasier is now tasked with the job of getting rid of the adorable half-breeds.
Frasier goes to the radio station with the box of mini-Eddies, hoping to unload them on his coworkers. Unfortunately, no one seems able to relieve Frasier of his burden. During the radio show, Frasier gets a call from Rita (Lily Tomlin), a single mother of four at the end of her rope. In this case, Frasier's advice is self-serving, as he asks Rita if she would consider getting a puppy — as if she doesn't already have enough on her plate. He does eventually find homes for the little tykes, and the end credits scene suggests that after a few tries, Eddie does get neutered. 
Screenwriting legends play a couple in need of directions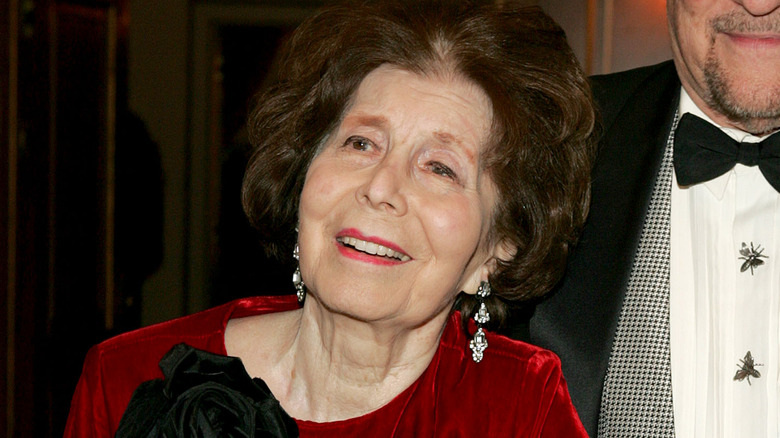 Paul Hawthorne/Getty Images
All sorts of quirky characters call into "The Dr. Frasier Crane Show" for various reasons, and it's not always about their mental health. Such is the case of Linda (Betty Comden) and Walter (Adolph Green), a couple who get lost on their way to the antique store. In Season 2's "Burying a Grudge," Linda calls in and tells Frasier that Walter refuses to ask for directions, which Frasier cites as a common problem for many males. But Linda isn't calling to ask for relationship advice — she just wants to know how to get to their destination from Cherokee and 14th Street. Although Roz (Peri Gilpin) helpfully offers Frasier a map, he predictably declines her assistance and attempts to give directions to the couple on his own.
Perhaps only the biggest fans of film and theater history will recognize the names of Comden and Green. The pair were a legendary duo of stage and screen as lyricists, playwrights, and screenwriters. They often worked closely with composer Leonard Bernstein, and together they produced many famous works over four decades of American musical theater and cinema, including "On the Town," "Singin' in the Rain," and "The Bandwagon." 
Frasier fields a prank call from the Home Alone star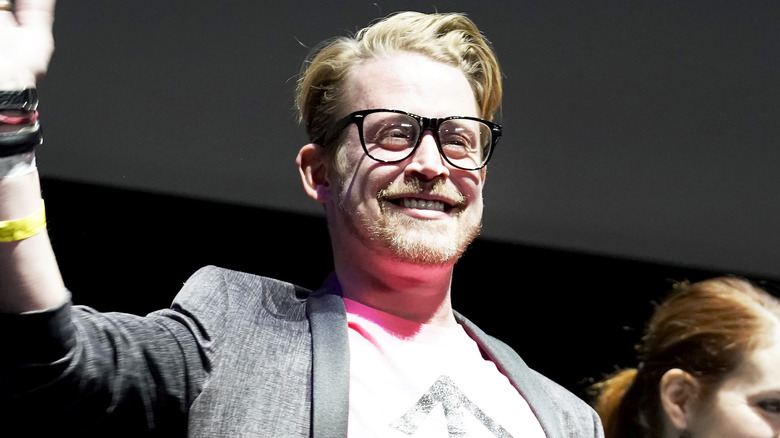 Erik Voake/Getty Images
Thanks to the success of the 1990 Christmas comedy classic, "Home Alone," actor Macaulay Culkin reached celebrity status at just 10 years old. He followed up his first starring role with another — the tear-jerker — "My Girl," the next year, and then the holiday sequel, "Home Alone: Lost in New York," in 1992. In between all of the high-demand offers, Culkin managed to squeeze in a role as a guest caller on "Frasier" in 1994.
In Season 2's "Seat of Power," in which Frasier hires two plumbers to fix a toilet only to discover that the blue-collar brothers were his and Niles' (David Hyde Pierce) former bullies from school. But first, Frasier gets a call on his radio show from Elliot (Culkin). Hearing the adolescent voice on the other line telling Frasier that he's a salesman, Frasier asks the caller his age. When the caller says that he is 43, Frasier accuses him of pulling a prank.
Much to Frasier's chagrin, the caller goes on to say that he is a 43-year-old salesman who isn't taken seriously because of his youthful-sounding voice. Frasier apologizes profusely, only for Elliot to laugh at him and confirm that it is, in fact, a prank, before hanging up. Frasier laughs away the prank, pretending to be charmed by it, but off-mic berates Roz for allowing it through.
A caller with abandonment issues is abandoned thanks to technical issues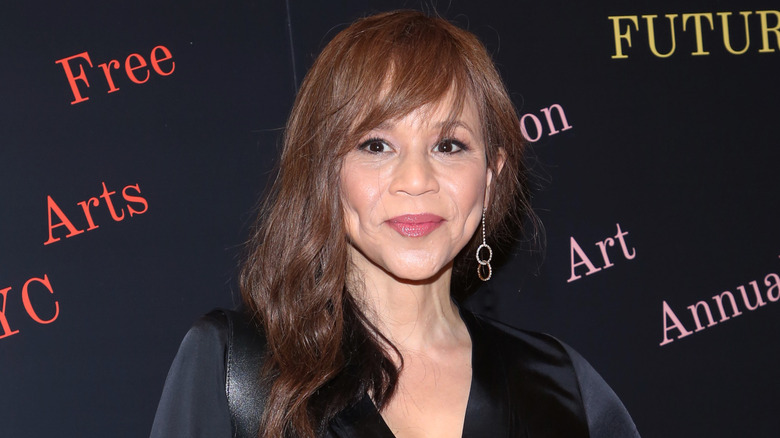 Rob Kim/Getty Images
In Season 2's "Roz in the Doghouse," Roz feels unappreciated by Frasier after he abandons her for the opera when she injures her leg, leaving her alone with a well-known lecher, Bob "Bulldog" Brisco (Dan Butler). Much to her surprise, Bulldog is actually very attentive to Roz without making any inappropriate advances — at least, not yet. Bulldog's surprising sensitivity makes Roz susceptible to his wooing her over to his show. Frasier suspects that Bulldog is only flattering Roz to get into bed with her rather than for her skills as a producer, which prompts Roz to angrily quit "The Dr. Frasier Crane Show" and join Bulldog's "Gonzo Sports Show."
Left in the lurch without a producer, Frasier has to vet out a series of under-qualified substitutes. In his first show without Roz, Frasier takes a call from Francesca (Rosie Perez), who tells Frasier about her abandonment issues. He assures her that he can help with her problem, and Francesca is relieved to have someone she can rely on — that is, until the producer, Bruce (Garett Maggart), accidentally hangs up on her in an ironic twist.
Don't look down ... or at the check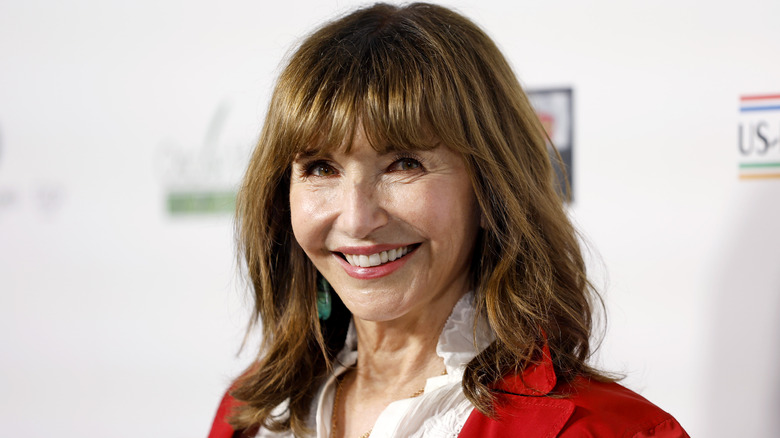 Frazer Harrison/Getty Images
While many listeners have called in seeking Frasier's advice, one guest caller even followed up with the good doctor to thank him for curing her affliction — or so she thought. In the Season 2 episode, "Retirement is Murder," Martin and Daphne (Jane Leeves) are hard at work on a cold case of a murdered woman that has haunted the retired cop for decades. Though at first Frasier thinks his father is beating a dead horse, he and his brother Niles get pulled into the conspiracy, forming their own unique conclusion (the monkey did it).
Meanwhile, on "The Dr. Frasier Crane Show," a woman named Marjorie (Mary Steenbergen) calls in to thank Frasier for helping her get over her fear of heights. Taking Frasier's advice, Marjorie is having lunch in the restaurant at the top of Seattle's Space Needle. She suddenly lets out a blood-curdling scream, which terrifies Frasier, until she confesses that she's sitting at a window table and made the mistake of looking down. Once Frasier has calmed her down, Marjorie screams again — this time because she's just had a look at her check. Frankly, an overpriced lunch can be just as terrifying as a 600-foot drop.
A guest caller suspects her husband is being unfaithful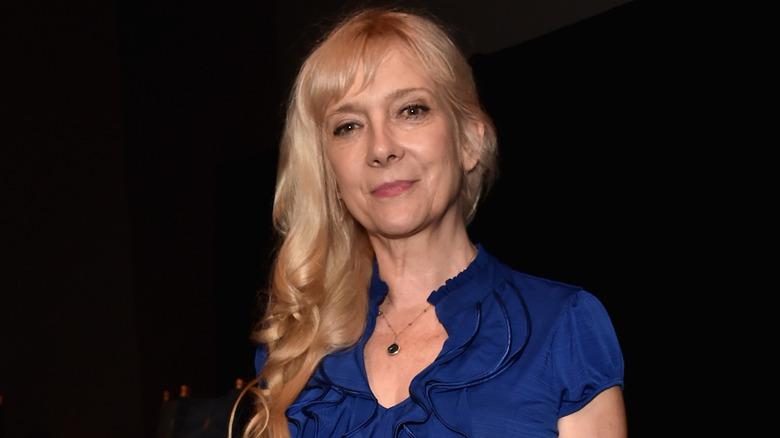 Alberto E. Rodriguez/Getty Images
One of the most popular characters in "Frasier" is, interestingly enough, never fully revealed on screen throughout the show's 11 seasons. That person is Maris, the wife of Niles Crane, who is notorious for her finicky nature and neurotic tendencies. In the Season 2 episode, "An Affair to Forget," Frasier learns of a possible infidelity by his sister-in-law thanks to a guest caller on his show.
Sporting a thick German accent, Glenne Headly guest stars as Gretchen, a woman who suspects her husband of being unfaithful. She calls into "The Dr. Frasier Crane Show" for advice, and it doesn't take long for Frasier to put two and two together. Gretchen's husband, Gunnar (Brian Cousins), is Maris' fencing instructor, and he has been spending far too much time at Maris and Niles's estate.
Gretchen calls in with evidence in the form of a love letter, in which Gunnar calls the object of his affection "thin as a sword," "white as bratwurst," and a "not quite human woman." This description all but confirms to Frasier that Gunnar's mystery woman is, indeed, Maris. After a thorough investigation, Frasier and Niles discover that although Gunnar is in love with Maris, she has only ever been faithful to Niles.
Rudy is a little too emotionally attached to sad movies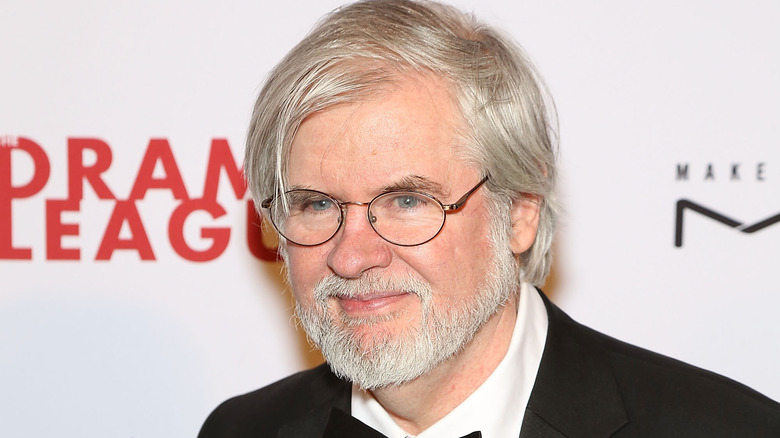 Manny Carabel/Getty Images
In this classic Season 4 episode, "The Impossible Dream," Frasier has a recurring dream about his co-worker, Gil Chesterton (Edward Hibbert), the uppity food critic and host of the KACL radio show, "The Restaurant Beat." Though Gil's sexuality has been called into question a few times in "Frasier," Gil is straight and happily married to a woman. That doesn't stop Frasier from having strange dreams in which he finds himself literally in bed with Gil, insinuating that they are romantically involved.
Between his futile attempts to decipher what the dream could possibly mean, Frasier fields his regular guest callers with their own unique troubles on his radio show. One caller by the name of Rudy (portrayed by American playwright Christopher Durang) can be heard sobbing over the phone as he describes a heart-breaking event of a loved one's final moments. Rather than being sympathetic, Frasier appears annoyed as he demands that Rudy stop crying, and then instructs him to quit watching sad movies. Hey, we all get a little emotional at the end of a good tear-jerker, but maybe Frasier does have a point.
Niles is a cat whisperer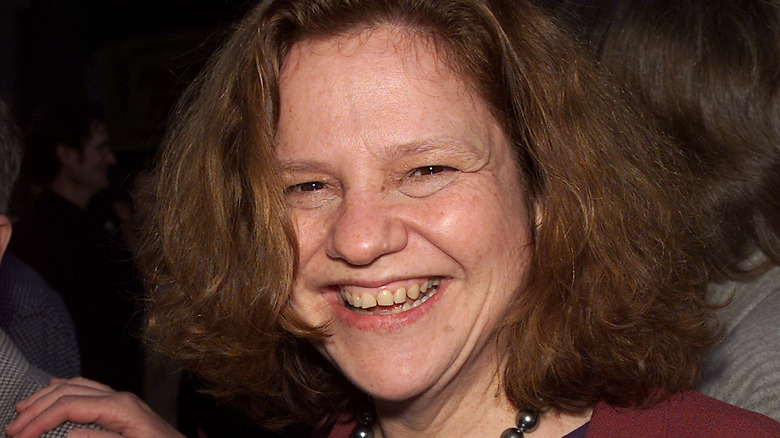 Evan Agostini/Getty Images
In Season 4's "Head Game," Niles fills in for his brother at KACL while Frasier attends a psychiatrist conference. The episode revolves around Niles's brief treatment of Seattle basketball star, Reggie McLemore (Lorenzo Newton), who has a bad case of the yips. While Niles thinks it's his expert psychiatry skills that are helping Reggie on the court, Reggie believes that Niles is actually his good luck charm. It seems that rubbing Niles's head is improving Reggie's game, much to Niles's chagrin.
It turns out that Niles is good at more than being used like an '80s troll doll. During the radio show, a caller named Linda (played by playwright Wendy Wasserstein) is at her wit's end, as she vents to Niles about a beloved family member named Murray who isn't eating properly. She begs him to have a talk with the said family member, and Niles does, albeit begrudgingly. We soon learn why after Niles gives Murray a proper scolding and Murray replies to Niles over the phone with a plaintive meow. Linda delightedly notes that her pet cat has suddenly begun eating, and asks Niles what he said to him. Of course, being an ethical practitioner, Niles refuses to break doctor-cat confidentiality.
A man hears voices coming from his radio, and another doesn't appreciate Frasier's act of kindness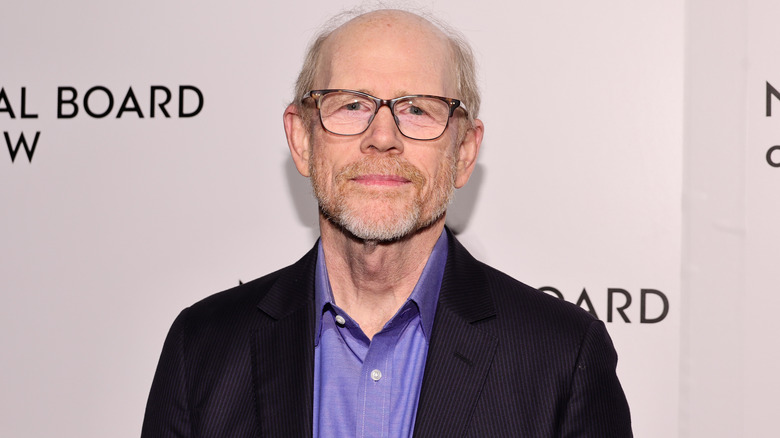 Jamie Mccarthy/Getty Images
In the Season 6 episode, "Good Samaritan," Frasier struggles with abject cynicism when he tries to do a series of good deeds that backfire on him. First, he returns a lost wallet and is accused of stealing the cash inside. Then he agrees to cover a late slot for Bulldog, who lies about his mother having surgery. Later, he offers a woman a ride in his car to get out of the rain, only to be arrested for solicitation when it's revealed that she's a sex worker.
On his radio show, Frasier gets a call from Stephen (Ron Howard), a man who claims that voices on the radio are speaking to him. Frasier tells him to turn his radio off, which disturbs Stephen even further. After the call, Frasier attempts to inspire his listeners by listing his random acts of kindness, including helping a motorist with a flat tire. Much to his surprise, the same motorist — a man named Ralph — calls to complain that Frasier's cufflinks scratched up his car and threatens to sue. Ralph is voiced by none other than William H. Macy, in a role not unlike his "Shameless" character, Frank Gallagher.
A case of cold feet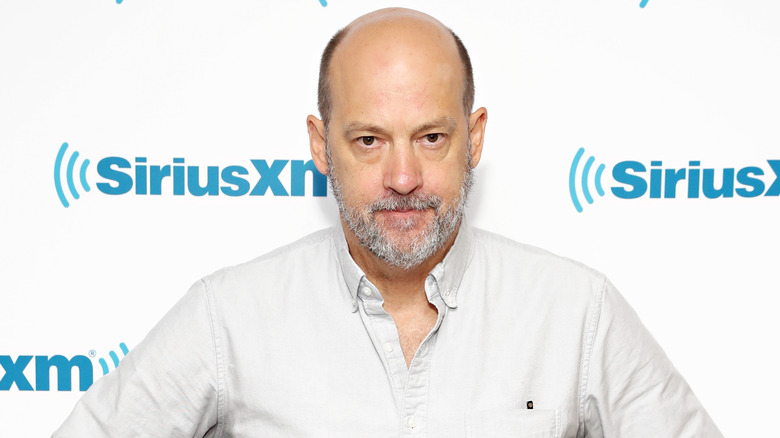 Cindy Ord/Getty Images
Marriage is, of course, a huge undertaking — one that a person should consider carefully before committing fully to the idea and to their partner. Hopefully, all of that consideration has been done long before the big day comes. Though wedding day jitters are totally normal, it's a bad time for one to be second-guessing their choices.
In the Season 9 episode, "The Return of Martin Crane," Frasier fields a call on his radio show from Tom (Anthony Edwards), who anxiously tells Frasier that he's having second thoughts about getting married. Frasier goes into the intricacies of relationships, indicating that Tom needs to be certain about entering into this life-long endeavor. A moment later he hears an orchestra strike up "The Wedding March" over the line. Tom hurriedly announces that he has to go so he can tell someone named Monica the bad news. Horrified, Frasier asks anyone who knows Monica to have her call the show first thing on Monday.