What Frasier Fans Really Want To See In The Reboot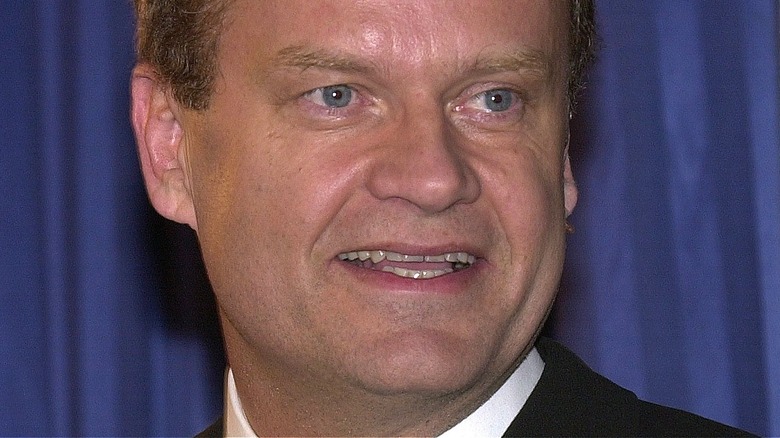 Vince Bucci/Getty
Start a conversation about the best sitcoms of the 1990s and early 2000s, and it will only be a matter of time before "Frasier" gets mentioned. The iconic "Cheers" spin-off starring Kelsey Grammer as the sophisticated radio host Frasier Crane ran for a whopping 11 seasons between 1994 and 2004, leaving behind a lasting legacy and a dedicated fanbase that persists to this day.
While "Frasier" never really left the cultural zeitgeist, the series is set to achieve renewed relevance by way of an upcoming revival on the Paramount+ streaming service. So far, Grammer has been confirmed to be returning, while the new episodes will be executive produced by Chris Harris ("How I Met Your Mother") and Joe Cristalli ("Life in Pieces"), alongside Tom Russo and Jordan McMahon from Grammer's production company Grammnet Productions (via The Hollywood Reporter).
Unfortunately, aside from some of its creative talent, the breadth of information that we know so far for the "Frasier" reboot is still relatively slim, and the new series has no set release date. However, this lack of information has given dedicated fans the space to discuss some of the elements they really want to see when "Frasier" finally makes its long-awaited return.
Fans want references to the original show
One of the things that "Frasier" fans want most out of the revival is to have it be a proper continuation, chock-full of references to the original series. "I hope Frasier makes casual mention of some of his antics perhaps as he reflects on how much he's changed over the years," u/FamilyForceQuartet wrote in a post on the r/Frasier subreddit.
Commenters agreed, giving their own examples of some possible references to the old show. u/Beanopatch noted several fun ideas, such as Frasier still having the infamously ugly armchair that his father, main character Martin Crane (played by the late John Mahoney, one of several "Frasier" actors who have since passed away) brought to his apartment when he moved in with him early on in the series.
While connections to the old series would be appreciated, fans should expect the series to pave a new direction for Frasier, as the new season will not take place in the character's old haunt of Seattle. "There's some surprises there," Grammer said in an interview with WNBC New York. "He thinks he's going to go off and do one thing, and sure enough, his life takes him in another direction — and he ends up rich beyond his dreams."
With such a fresh direction for the character, it's unclear just how much the "Frasier" revival will delve into the events of the original series. For now, fans will simply have to keep their fingers crossed.