Sons Of Anarchy Fans Don't Think The Abel's Health Was Taken Seriously
When fans of "Sons Of Anarchy" first started watching the series back in 2008, many of them probably had no idea how emotionally attached they would get to many of the show's characters, with some "Sons Of Anarchy" scenes bringing fans to tears. The series mainly follows "Jax" Teller (Charlie Hunnam), who is desperately trying to find a balance between his criminal and family life. 
Fans quickly learn Jax has an infant son with his ex, Wendy (Drea de Matteo), named Abel. Wendy is a drug addict and forfeited full custody to Jax, who plans to raise Abel with his current girlfriend, Tara (Maggie Siff). Unfortunately for Abel, Wendy's drug use during pregnancy caused heart complications. 
This health condition forces Able to be in an incubator for a portion of his infancy. Eventually, by the time he enters his toddler phase, he is no longer connected to any machines. This doesn't mean Abel is in the clear, though. With the heart condition he has, the boy is always susceptible to complications, which makes his grandmother, Gemma (Katey Sagal), over-protective of his health and well-being. 
On top of that, the kid lives amongst a criminal organization that comes with plenty of drama and murders. Recently, some fans pointed out one specific action that Jax's family and crew does around the boy that has caused some rightful frustrations.
No one put up a No Smoking sign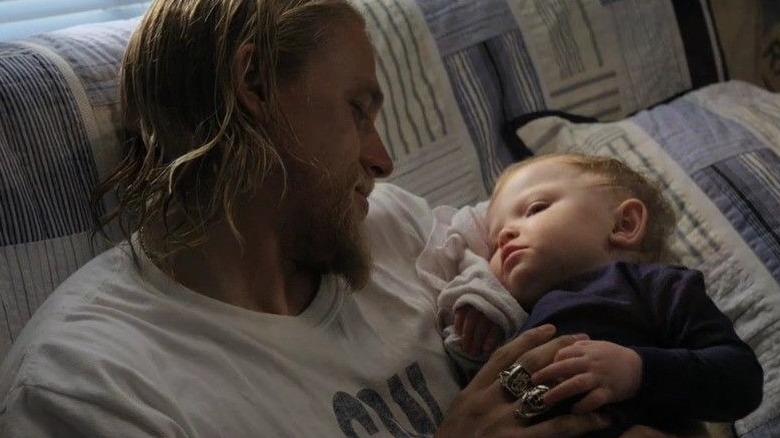 FX
Jax's first born son, Abel, on FX's "Sons Of Anarchy," does not have a typical childhood. Most notably, his heart condition forces his family to make sure the boy stays as healthy as possible. Despite this, a Reddit user recently brought up an observation of a bad habit that goes against this health scrutiny. 
"If Abel's family is so concerned about his health, maybe they wouldn't fill his house up with cigarette smoke," u/mathewmrw posted. "Mostly Jax, but Gemma and others too." In addition to this solid point is the fact that Abel has Tara in the house, who is a doctor and knows better.
Not only do fans agree with this misjudgment, but some write about how this ignorant behavior could be connected to Jax's criminal life. 
"I mean it's pretty apparent that while Jax loves Abel, he's not actually too concerned with his well-being," u/whatsnotclicking posted. "He's like Gemma in what matters most is control, not what's best." 
Over on YouTube, some declare that it isn't fair to raise an innocent children in a dangerous environment like this, especially when watching the show's final outcome. 
"The kids did not have a happy ending," Anthony Campos posted. "Both Thomas and Abel lost their mother and father." Other fans are hopeful that if there ever is a spinoff featuring Abel, then viewers could see him successfully running the club, despite his difficult childhood.