The Moment Evan Peters Realized How Desensitized He Was To AHS' Brutal Material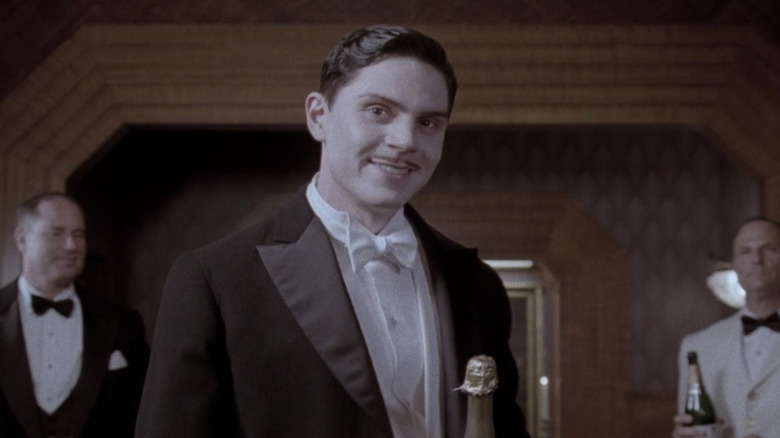 FX
"American Horror Story" allows actors like Sarah Paulson, Lily Rabe, Frances Conroy, Denis O'Hare, and Evan Peters to portray new characters with each new story, though every season offers its own unique flavor of horror. It's always fun to see who will be a hero and who will be cast as a villain, though it's hard not to enjoy Peters' performance regardless of which side he's on. He fully commits to the role no matter what, whether he's playing a man wrongly convicted of a crime, the ghost of a school shooter, a circus performer, a cult leader, or an undead frat boy.
Although "AHS" can be unnerving to watch, viewers can take comfort in knowing that the supernatural creatures and acts of violence depicted on the show are simply a product of all the hard work going on behind the scenes. Each of Peters' characters is faced with violence and trauma in one way or another, and after so many years on the series, it makes sense that the actor would be accustomed to the brutality he's expected to depict. However, there was one role in particular that made him realize just how desensitized he had become to the show's horrific subject matter.
Playing James March in AHS: Hotel made Evan Peters take pause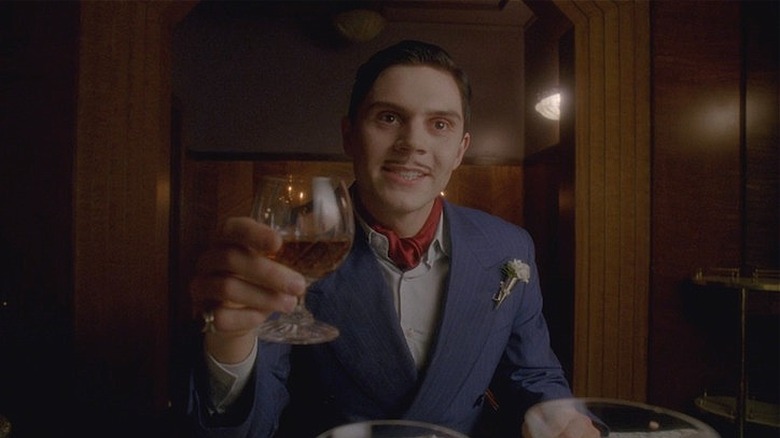 FX
Evan Peters was scared to film "AHS: Hotel" and he definitely had good reason to be. The show is known for introducing characters who are based on real people and Season 5 is no different. "AHS: Hotel" includes representations of real killers, but the setting draws from reality, as well. The minds behind the show were inspired by a serial killer known as H.H. Holmes, who lured women into a deadly hotel of his own design during the late nineteenth century. In "AHS: Hotel," Peters portrays James March, the dapper but sadistic designer of the titular hotel. During an interview with GQ, Peters revealed that playing Mr. March made him take a hard look at his surroundings. 
"I remember in Season 5 when I was Mr. March, I was sawing body parts off. And then The Countess comes in and I'm like 'Darling!' and this whole thing. And it was just, it was one of those moments where I stepped outside of myself to look at what I was actually doing and was kind of disgusted and horrified," Peters explained. "I'd become kind of desensitized to this stuff, which is really weird and kind of gross, so it was one of those weird, surreal moments."
When there are demons, ghosts, and vampires running around, a couple of fake body parts are probably just another day at the office over at "AHS."