The Solo: A Star Wars Story Scene That George Lucas Changed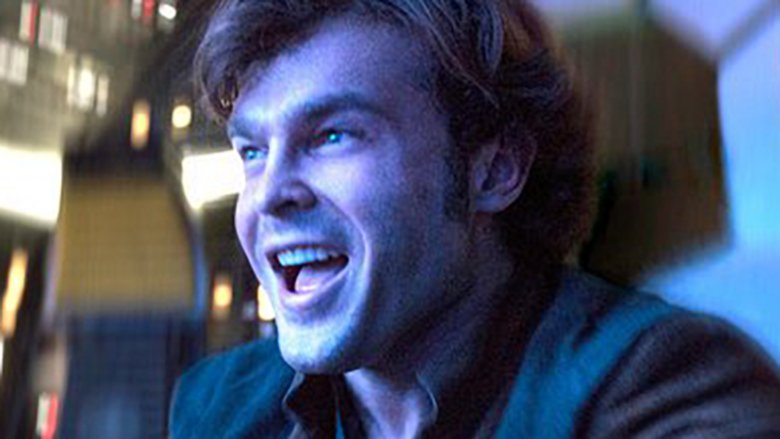 Though Lucasfilm passed up on Star Wars franchise creator George Lucas' vision for the current film trilogy, one important creative wasn't going to turn down input from the legend himself. Solo: A Star Wars Story director Ron Howard has revealed that Lucas offered insight that ended up altering the Han Solo prequel. 
As Howard recounted to Stephen Colbert during a recent appearance on The Late Show, Lucas visited Howard on the Solo set, where the two filmmakers chatted about a scene that Lucas had an idea for. Howard listened to Lucas' two cents, and subsequently changed the sequence to include his thought. 
"We were doing a scene and he was trying to stay out of the way, but he did lean over and he said, 'You know what Han would really do there?'" explained Howard. I said, 'What?' And he told me the joke, he gave me a little joke. And I said [to the crew], 'Hey, guess what? Here's what we're gonna do in the next take.' So I know when I hear a good idea."
It's safe to assume that the scene in question likely involves Alden Ehrenreich's young Han Solo facing off against an adversary — perhaps Paul Bettany's crime syndicate kingpin Dryden Vos — as that seems the perfect place for the iconic space-faring smuggler to make a tongue-in-cheek remark. 
Lucas, who created the character of Han Solo, originated by the inimitable Harrison Ford, wasn't the only person to have reworked Solo: A Star Wars Story in some capacity. The film underwent major changes when Howard took over for original directors Phil Lord and Chris Miller, who were fired from the project following creative differences and reported clashes with Lucasfilm's top brass, including president Kathleen Kennedy. 
"It was an unusual circumstance," Howard said of the changing-of-directors situation. "No movie, no set of creative people want to be a part of something like that. It was absolutely creative differences in this particular case."
Thankfully, it seems that Howard is a much better fit for Solo: A Star Wars Story than Lord and Miller were, and that he was willing to take even a tiny suggestion from Lucas and implement it immediately proves both his passion for the franchise and his professionalism on set. The fact that Lucas "doesn't spend time around these movies" but has still remained friends with Howard, whom he worked with on American Graffiti back in the '70s, substantiates that even more. 
"We've remained friends, so for me it was an incredible show of support and respect and it meant the world to me that he would go out of his way to show up [on set]," said Howard. 
Also starring Donald Glover as Lando Calrissian, Emilia Clarke as Qi'ra, Woody Harrelson as Tobias Beckett, Thandie Newton as Val, Phoebe Waller-Bridge as L3-37, Joonas Suotamo as Chewbacca, and plenty more, Solo: A Star Wars Story is due out on May 25.