Brian Cox Isn't Holding Back His Thoughts On Jeremy Strong's Method Acting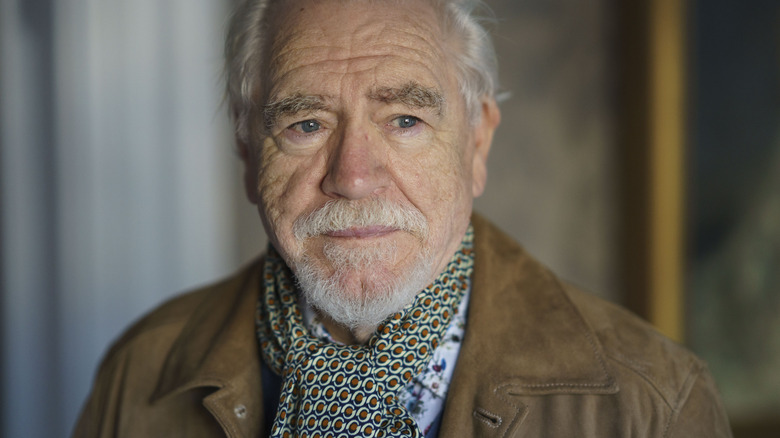 David Levenson/Getty Images
One can always count on actor Brian Cox to provide an interviewer with a great soundbite. He is not one to hide behind reticence and has, in recent years, been so honest about his time in Hollywood in interviews and in his memoir that he admitted he expected the publication of "Putting the Rabbit Back in the Hat" to lose him some friends. It seems to be a price he's willing to pay for his delightful bluntness. He was also brutally honest about his choice to refuse a role on "Game of Thrones" and how he almost became a part of the "Harry Potter" series of films.
Cox hasn't kept quiet about how he feels about his co-stars in a variety of TV and film ventures, and his autobiography included ripostes on actors such as Michael Caine, Edward Norton, and Johnny Depp. When it comes to his "Succession" co-stars, it's Jeremy Strong — who portrays Kendall Roy, eldest son of the Roy family — upon whom Cox has spilled the most ink. And he's done so once again in a recent interview with Town and Country Magazine, this time taking issue with Strong's preference for method acting, which requires the subject to stay locked into the personality of the character they're playing even when they're not on camera.
Cox thinks Strong's reliance on method acting is 'annoying'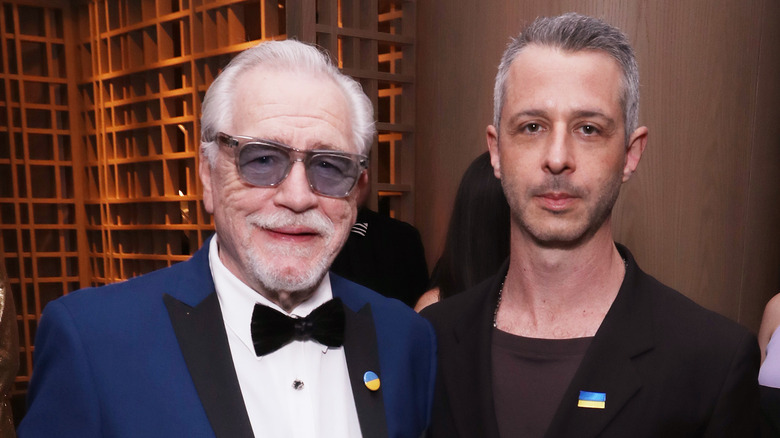 Randy Shropshire/Getty Images
The always-frank Cox did not mince words when it came to Strong's preference for method acting. During a February 2023 interview with Town and Country Magazine, Cox declared that he found Jeremy Strong's reliance on the process to be, well, a bit of an irritation.  "Oh, it's f****** annoying. Don't get me going on it," he told the magazine. It's not that Cox doesn't think his co-star is talented; quite the contrary, as he says Strong is a very good actor. But Cox seems to find method acting a limited way of understanding one's art, and also something that hampers an actor's ability to live a full life of their own. 
He notes that Strong seems to have a tendency to hold on to Kendall Roy once cameras stop rolling on the "Succession" set for fear of losing either the character or the moment, something Cox appears to be absolutely certain will not happen due to Strong's great acting ability. What Cox really seems to want his co-star to do is chill out a bit more. "When you've got the gift, celebrate the gift. Go back to your trailer and have a hit of marijuana, you know?" he concluded. 
It's a subject he seems to feel strongly about, and a topic that he previously brought up during a "Late Night With Seth Meyers" appearance in December 2021, where he admitted he's concerned about Strong's tendency to disappear into Kendall's skin. "He does get obsessed with the work. And I worry about what it does to him, because if you can't separate yourself — because you're dealing with all of this material every day. You can't live in it. Eventually, you get worn out."
Jeremy Strong thinks Cox has a right to his feelings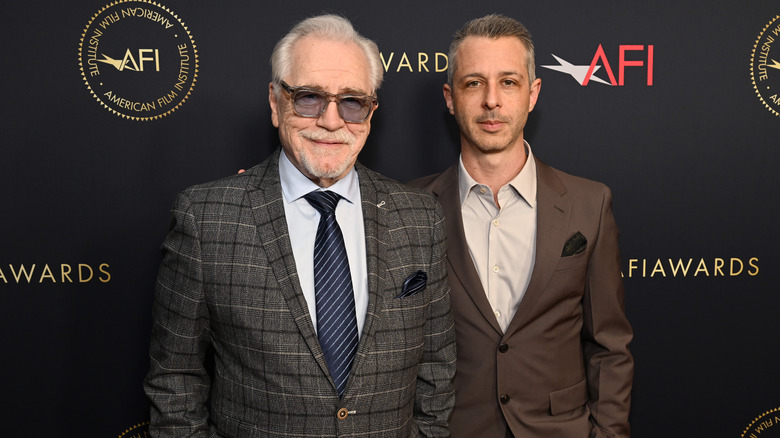 Michael Kovac/Getty Images
Jeremy Strong, for his part, has responded to some of Brian Cox's comments, specifically the ones he made for Strong's 2021 New Yorker profile. The 2021 peek into Strong's life and tendency to lean on method acting included quotes from several of his co-stars, including Cox. "I just worry about what he does to himself. I worry about the crises he puts himself through in order to prepare," Cox stated in part at the time. 
Strong told GQ Magazine in a March 2023 profile story that he's sanguine about Cox's thoughts about his chosen way of responding to his devotion to the method. "Everyone's entitled to have their feelings. I also think Brian Cox, for example, he's earned the right to say whatever the f*** he wants." Strong went on to compare the cast to the Roy family and families in general, explaining that there's underlying respect and love there, though they aren't always required to like one another. There's a statement that Cox would likely — and heartily — agree with.