Producer Terence Winter Digs Into What Sets Tulsa King Apart From Other Similar Stories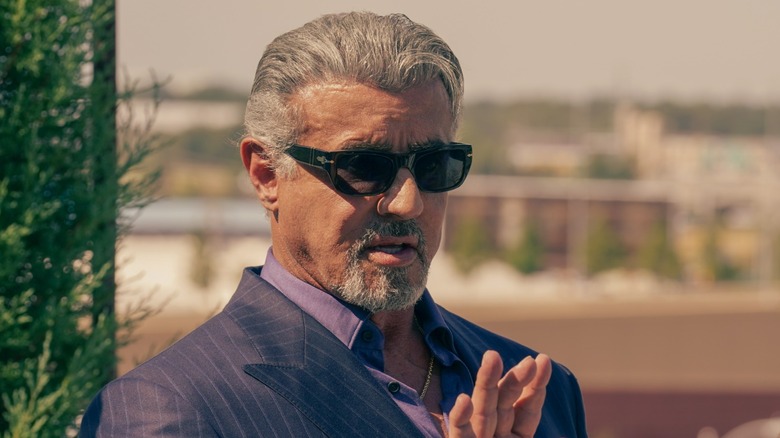 Brian Douglas/Paramount+
It sometimes seems like there's no door in the entertainment industry that Sylvester Stallone has left unopened. From "First Blood" to "Spy Kids 3: Game Over," the acting legend has seemingly touched every kind of genre imaginable. While the Paramount + series "Tulsa King" seems like territory Stallone has explored before, there is a distinction to the show that helps it stand out amidst a crowded field of crime dramas. 
Released in November 2022, Season 1 of "Tulsa King" has seen great success on Paramount +. The crime drama series follows the once mighty crime lord Dwight Manfredi (Stallone) who, following a prison sentence that lasted more than a decade, heads to Tulsa, Oklahoma to rebuild his empire. The show's gritty nature and Stallone's grizzled lead performance — his first ever in a television show — have helped the series garner positive reactions from viewers and critics alike while landing the show a highly anticipated second season. 
However, according to series producer Terence Winter, there's another factor to "Tulsa King" that has helped it stay on top of its contemporaries. 
Tulsa King is the best of both worlds
If anyone knows their way around the world of crime dramas, it's Terence Winter. From producing such shows as "The Sopranos" and "Boardwalk Empire" to writing the Oscar-nominated screenplay for "The Wolf of Wall Street," Winter's understanding of the genre knows no bounds. So when Winter came on to "Tulsa King" as a writer and producer, it would seem there'd be nowhere new for the entertainment veteran to go within the genre. Still, Winter — and "Tulsa King" — found a way.
Speaking with Deadline during the show's initial release, Winter is asked what keeps him coming back to mob dramas. While admitting to finding the people within that world endlessly fascinating, he also confesses that there is a certain level of difficulty in keeping things new and interesting. "The challenge with it is to find a fresh way in," he explains. "And that was the genius of [Taylor Sheridan's] original pilot, to take a guy like Dwight from New York and drop him in the middle of cowboy country. You take these two genres and mix 'em together. And that for me was like, 'Oh my God, that's brilliant. What a great playground.'"
Perhaps the crime drama's rugged western feel also explains why it was so hard to film. So difficult, in fact, that the next season of the show will no longer be filming in the state of Oklahoma after the rigorous experience faced while making Season 1.