How James Gandolfini Changed Tony's Character On The Sopranos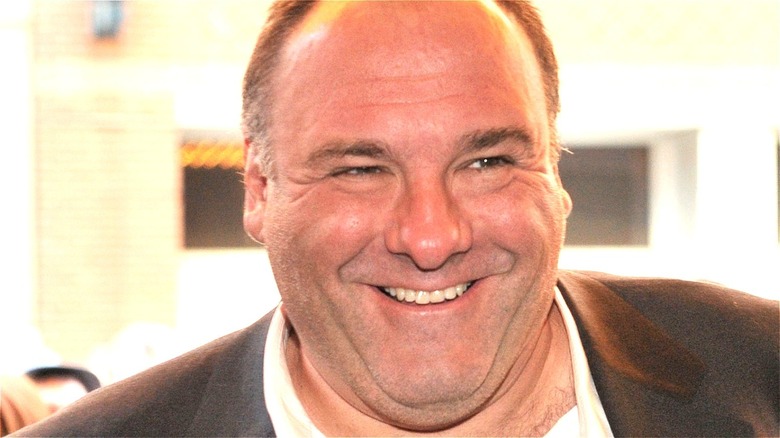 Sonia Recchia/Getty
These days, it's not uncommon to run into family and crime dramas as you peruse the television scene. However, few shows attempt to combine the two, and even fewer do it well. David Chase's "The Sopranos" is one of these rare cases, hence why it stuck around on HBO for six seasons and amassed a sizeable fanbase in the process. Now 15 years removed from its finale, it's not difficult to see why the series gained the traction that it did, especially with a lead as fascinating as Tony Soprano (James Gandolfini).
For the most part, audiences see the world of "The Sopranos" through Tony's eyes as he struggles to strike a balance between two very different ways of life. Not only is he a husband and a father, but he's also knee-deep in the New Jersey mob scene. As a result, he has to deal with all of the responsibilities and conflicts that come with each, sometimes simultaneously. Naturally, the clash of these worlds takes a heavy emotional and physical toll on Tony, affording Gandolfini the chance to really sink his teeth into his role.
James Gandolfini put in an unforgettable performance as Tony Soprano — one that endures in popular culture to this day. One could certainly argue that the tweaks the late actor made to his character went a long way in making this happen.
Gandolfini gave Tony Soprano a ruthless edge
HBO
As "The Sopranos" unfolds, viewers get glimpses of Tony Soprano's softer, more vulnerable side, typically through his therapy appointments. Dr. Jennifer Melfi (Lorraine Bracco) is able to chip away at the crime boss in ways that few — if any — other people in Tony's life can do, getting closer and closer to the root of his complex emotions. Nevertheless, he wears a durable emotional mask for much of the series and never shies away from getting violent if a situation calls for it. According to David Chase, this side of Tony came from James Gandolfini himself.
"Jim showed me early on how much of a prick that guy would have to be," Chase told Written By magazine (via Mental Floss) in 2007, revisiting an instance where Gandolfini unexpectedly went off-script. Instead of simply slapping Michael Imperioli's Christopher Moltisanti, as the script called for, an in-character Gandolfini aggressively grabbed him by the collar and nearly lifted him off of the ground. Initially stunned, Chase soon got what Gandolfini was going for. "That guy is surviving the mob. He's really a dangerous person. He's not a fun guy," he recalled thinking to himself.
Tony Soprano's ruthless side proved just the right contrast to his more subdued, contemplative one. Considering how revered the character and the show he comes from are today, it goes without saying that James Gandolfini made the correct call with his change.