Christopher's Grand Motorcycle Entrance In Gilmore Girls Was Really A Stunt Double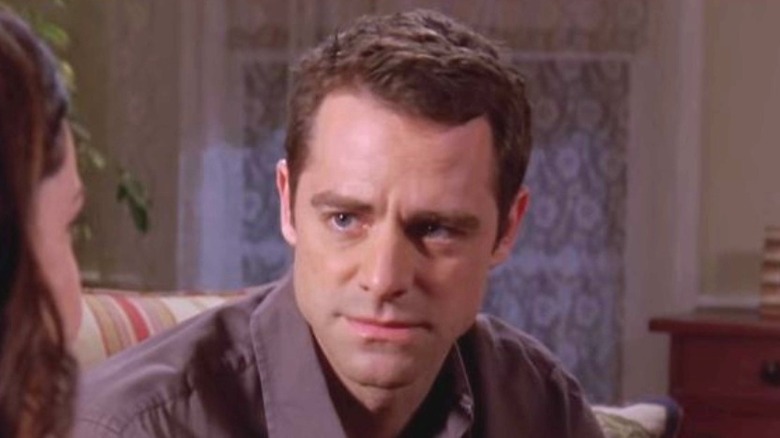 The CW
Most "Gilmore Girls" fans are well-versed in the love lives of the two leads, and we all have our favorites. While Luke Danes (Scott Patterson) tops the list for our favorite Lorelai Gilmore (Lauren Graham) boyfriend, a couple of Lorelai's relationships had an impact on the show. One of these is her high school boyfriend, Christopher Hayden (David Sutcliffe), who also happens to be Rory Gilmore's (Alexis Bledel) father. His unreliability often means that he pops in and out of the Gilmore's lives and ends up at the bottom of the "Gilmore Girls" boyfriend rankings.
Sutcliffe admits that he was one of the people that viewed Christopher in a negative light and understood the criticism. "I was always a little resentful of the writing when the new scripts would come out because he always seemed to be failing," he told Today. "I was like, 'Can't he win, can't he be a better guy?'"
One aspect of Christopher's character that seeped into Sutcliffe's own life was his love of motorcycles, but he admits that wasn't always the case, and he needed some help in his first motorcycle scene of the show.
He found the massive bike terrifying
While talking to Today, David Sutcliffe recalled viewers' introduction to his character when he pulled up behind them on the street riding a motorcycle. "I rolled in on a motorcycle, an Indian motorcycle, which I had no idea how to ride," he said. "Now I'm an avid motorcycle rider, but at the time, that massive bike terrified me." His fear about dropping the bike or tipping over was so great that he wasn't the driver we see pulling up. "They had a stuntman actually ride it in," he said before adding, "I rode it off."
Unfortunately for Sutcliffe, Season 7 — which was the only one in which he appeared in a majority of the episodes — is fans' least favorite, with some feeling that in a subpar season, Episode 18 was the one redeeming one of quality. Even so, fans of the character never have to worry about Christopher vanishing for good, as he was one of the many stars to return for the 2016 revival. As Rory's dad, he can always be depended on to make an appearance.