Every One Of The Gilmore Girls' Boyfriends Ranked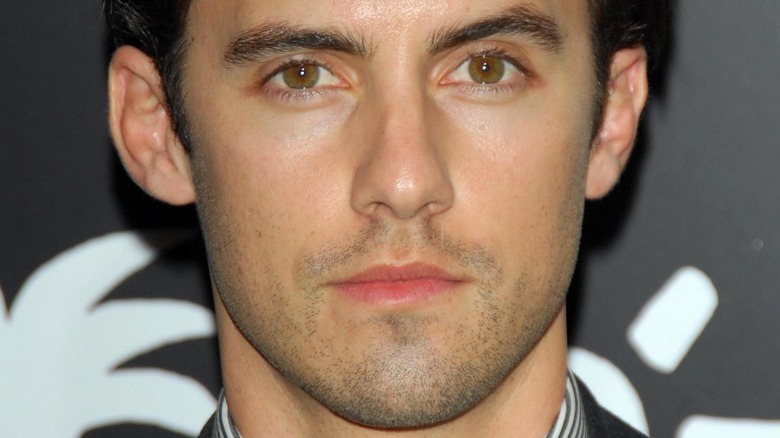 s_bukley/Shutterstock
Lorelai and Rory Gilmore have a whole lot going for them. They're incredibly quick witted, funny, and a couple of dark-haired beauties. Together they make up Stars Hollow's most iconic mother-daughter duo. (Granted, Stars Hollow is a pretty small town, so there's not a ton of competition for that title, but it's still kind of impressive, right?) Their love lives, though? Let's just say we're not exactly envious of the heartbreaks the two primary "Gilmore Girls" characters endure throughout the series. 
To be fair, the Gilmore girls aren't perfect and the sum total of their foibles rival those of the men they date. On one hand, these faults are what make the characters human and relatable. On the other hand, though, some of those humanistic traits in "Gilmore Girls" have us wondering why certain pairings ever happened in the first place — in some cases, more than once.
For the most part, each of the Gilmore women's romantic interests have drawbacks that bog down their good qualities. The dualistic nature of some "Gilmore Girls" boyfriends makes rating them from worst to best somewhat difficult, but nevertheless, we're going to give it our best shot. 
12. Christopher Hayden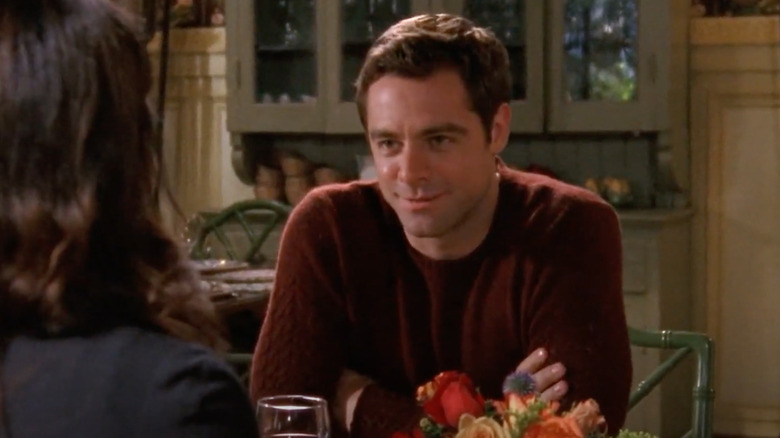 The CW/YouTube
While not every "Gilmore Girls" fan would put Rory's father and Lorelai's high school sweetheart at the bottom of this list due to his overall charm and significant place in the lives of the Gilmore ladies, he is certainly worthy of it. The best evidence against him his is he accepted little to no responsibility for parenting Rory, quite literally leaving a teenage Lorelai to live in a potter's shed behind an inn with her baby. This is even more deplorable when you consider that Christopher was from a very well-to-do family, and that he absolutely would have had the resources to help out.
He is, understandably, one of fans' favorite hated ships. You could argue that Christopher was young and needed to find himself, which he eventually does. He's sporadically involved in his daughter's life, especially when Rory's approaching adulthood and he becomes a father again upon the birth of Gigi. However, not only was Lorelai just as young as Christopher when she had Rory, but she stepped up to raise Rory without her parents' money.
Lorelai and Christopher have a star-crossed, seemingly on-and-off-again relationship that likens them to "Romeo & Juliet." Like the famous Shakespearean couple, the idea of Christopher and Lorelai together is much more romantic than the tragedy that unfolds when they're actually paired. Although, Lorelai and Christopher's relationship has Rory as its silver lining, whereas the ending of Romeo and Juliet's story lacks any unintended optimistic results, to say the least. There are some important differences between the two couples, for sure. 
If you or anyone you know is having suicidal thoughts, please call the National Suicide Prevention Lifeline by dialing 988 or by calling 1-800-273-TALK (8255)​.
11. Dean Forester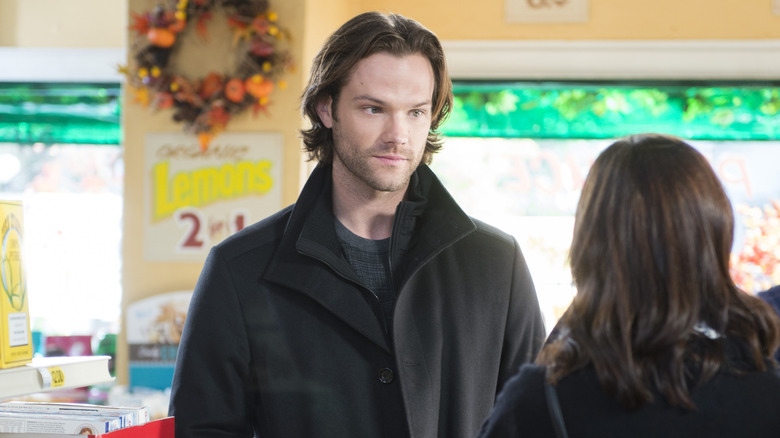 Netflix
When viewers are first introduced to "Gilmore Girls," they meet the adorable and mild-mannered Rory Gilmore who is almost immediately paired with the equally adorable, Labrador-like Dean Forester. There isn't much to dislike about Dean at first glance, but boy does that change later on in Season 1. Red flags about Dean pop up first when he is angered by Rory not immediately reciprocating the sentiment after he tells her he loves her. Jealousy rears its ugly head in a very big way when Jess arrives in the storyline. Considering Rory starts having feelings for the more intellectual bad boy, we can't exactly fault Dean for correctly suspecting that his relationship is in jeopardy. Still, Dean consistently handles situations poorly, showing his toxic and emotionally abusive side by publicly yelling at Rory frequently.
His worst transgression, though, is when he sleeps with Rory while he's married to Lindsay in the Season 4 finale. Dean cheats on his wife and turns Rory's first time into a whole affair. Of course, Rory isn't completely innocent in this either, but Dean is less than kind to her after his cheating behavior gets found out. The only thing that keeps him a mark above the bottom spot is that he does not impregnate and then abandon Rory to a potting shed. They're still officially one of TV's most toxic couples, though.
10. Rune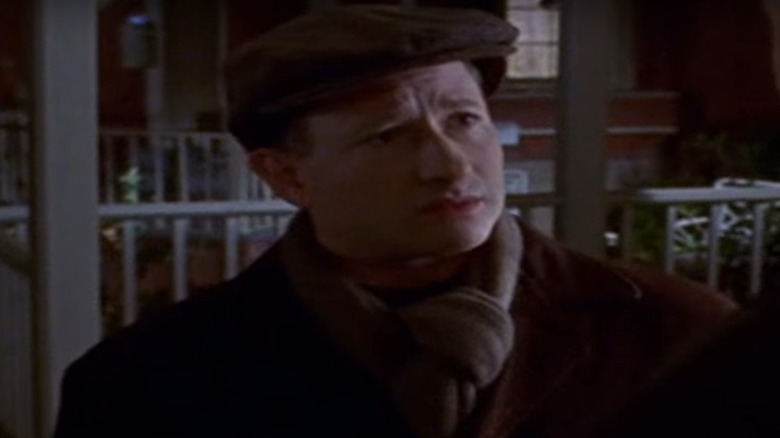 The CW/YouTube
Sure, he isn't an actual boyfriend, but Rune is one of the best worst Gilmore dates to happen in the series. Jackson's borderline unbearable cousin, Rune is set up with Lorelai as a blind date in order to keep him occupied so that Jackson and Sookie can go out together. Turns out, Rune is outwardly repulsed by Lorelai, who is typically fawned all over by men. He is especially put off but what he considers her towering height. Rune is on the shorter side and apparently very insecure about it, as he calls Lorelai a giant on their first and mercifully final date.
Rune and his contempt for Lorelai is so outrageously irrational and random that it totally works as a hilarious, short-lived gag. He only shows up on "Gilmore Girls" for two episodes, but they are an amusing couple of appearances and fans seem to love him. He still ranks as one of Lorelai's worst "boyfriends" because of how totally wrong they were for each other, but he's probably her funniest non-boyfriend.
9. Tristin Dugray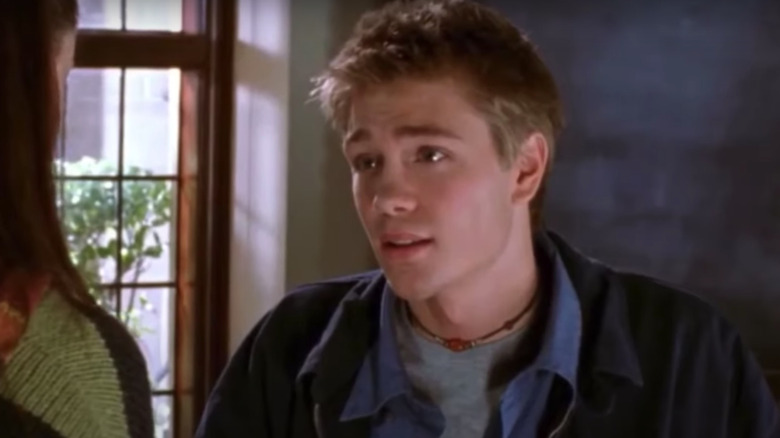 The CW/YouTube
Rory meets Tristin in the second episode of "Gilmore Girls" and it's an instant setup for the classic enemies-to-lovers trope. New at Chilton Preparatory School, Rory has trouble fitting in with students who have grown up in privilege together, and Tristin's teasing isn't helpful. According to Reddit, Tristin doesn't have much going for him in the way of good boyfriend material when it comes to Rory, apart from the fact that he's played by Chad Michael Murray. He calls her "Mary" as a dig on her seemingly pure nature and all-around innocence and gives her an all-around hard time when she is already uncomfortable in a new setting.
Despite treating her rudely and making her uncomfortable pretty much anytime he crosses her path, Tristin has a serious crush on Rory. Their enemies-to-lovers storyline might have come to fruition if Rory had believed Tristin's advances had been more than just bullying and borderline sexual harassment, but Dean manages to swoop in and secure the role of boyfriend before she figures Tristin's deal out.
While Tristin may have had potential to be a better partner to Rory than some of her later relationships if he had sealed the deal, his lack of forthcomingness and awful flirting decorum knocks him way down in the ranks.
8. Peyton Sanders
Peyton is a one-episode wonder who meets Lorelai at a charity auction she attends with her mother in Season 3. Lorelai seems to bond with Peyton over a wine mix-up, and gets his number from her mother, who in turn asks Peyton's mother for the digits. This is all slightly out of character for Lorelai, who has a strained relationship with her mother and typically rejects anything related to her former privileged life.
Despite being played by the delightful Jon Hamm, Peyton comes off as dull and completely undeserving of Lorelai's clever humor. In fact, the only reason she seems to be interested in him is his handsome appearance, as their conversation is more or less one-sided with Lorelai leading it with her typical banter. Reddit has a theory that Peyton is actually like Rune in the sense that he's not remotely interested in Lorelai, and is a bad date entirely on purpose, only agreeing to go in the first place due to the laws of propriety that he and Lorelai both grew up with. This actually checks out, because Peyton never really acts as if he's planning to court her until his own mother gets involved.
Whether Peyton is uninterested in Lorelai or is actually incredibly dull, it doesn't really matter. He serves as more evidence that Lorelai should never involve her mother in her love life, even if the man in question looks quite a lot like Jon Hamm.
7. Alex Lesman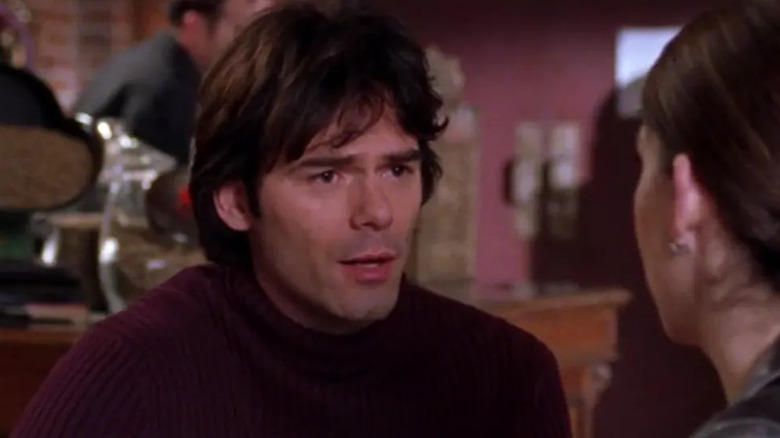 The WB/The CW
Alex is seemingly perfect for Lorelai. He's considerate of her feelings, also a single parent, and most importantly, he's investing in a coffee shop chain and could fuel her caffeine habit indefinitely. He also never raises any red flags or does anything to hurt his Gilmore girl — that is, if you don't count trying to take her fishing — unlike the majority of the men on this list. So why, might you ask, is he so low in the rankings? The man is so forgettable that we didn't even get a reason for his exit from the show, let alone a break-up scene. If it wasn't for the lasting mental image of Lorelai in outdoorsman gear, it would be as if he never existed in the first place.
Despite Alex going down in history among the unresolved "Gilmore Girls" storylines, fans seem to like the character and wonder why he didn't get to stick around. It's possible that having such a great guy in Lorelai's life so early on in the series wouldn't have made for great TV, but despite being a great human, he lacks in wit and banter. Lorelai needs someone to keep up with her signature rapid-fire witticisms, and Alex is not up for the job.
6. Paul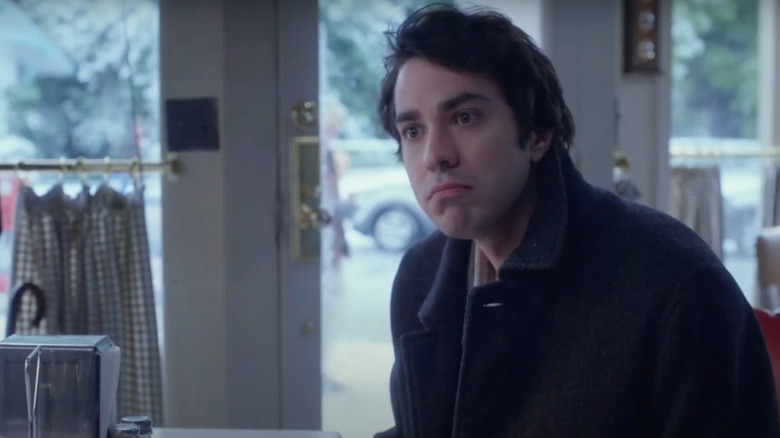 Netflix/YouTube
We're not talking about the dog Paul Anka here — rest assured, he'd be much farther up in the rankings. No, Paul is Rory's boyfriend in the series' revival "Gilmore Girls: A Year in the Life," and he is a throwaway character if we've ever seen one. In fact, Paul doesn't even get a last name. Let's take a second to note that even the dog has a last name — "Anka." Paul is so forgettable that it becomes a kind of gag, with Rory even forgetting to break up with him multiple times throughout the revival and the characters who interact with him immediately seem to forget who he is after he leaves their frame of vision.
It's hard not to feel sorry for Paul. He really doesn't do anything wrong, is pretty much Rory's only boyfriend who doesn't have some major drama associated with him, and he gets treated pretty terribly throughout the revival. He dates Rory for around two years, and she really doesn't seem that into him, even going so far as to cheat on him with Logan on an evidently routine basis. Rory also cheats on Paul with a man in a Wookiee costume. Fans don't learn much about Rory's long-term, painfully underwhelming boyfriend. Neither did Jack Carpenter, the actor who played him. "Yeah, no, I don't really know much about Paul either," he told The Hollywood Reporter.
Paul may fly under everyone else's radar, but he really gets the short end of the stick from the Gilmores. For that, he gets a pity rank-up and lands dead center on our list.
5. Jason Stiles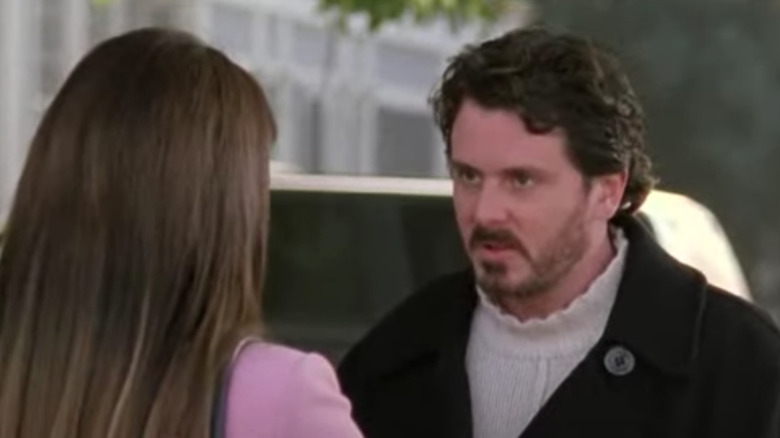 The CW/YouTube
If Lorelai had a male equivalent, it would be Jason. He's just as quick witted and can seemingly talk even faster than the famously loquacious Lorelai. Mix in the fact that he was raised in the same vipers' den of socialites, and there's every reason to expect the two characters to hit it off swimmingly. While they dated relatively seriously, Jason never really puts Lorelai first or prioritizes her in any meaningful way. In fact, their falling out and break-up comes about when he sues her father over a business deal gone sour. 
While Jason is like Lorelai in a lot of ways, he's also quick to get agitated, vindictive, and kind of a jerk. He's outwardly rude to Luke, doesn't mind burning bridges, and overall treats people pretty poorly. He and Lorelai probably could have been a decent match for each other if they both did a little growing together, but fans really seem to dislike him, and the couple's clean break is probably the right move for the show.
4. Jess Mariano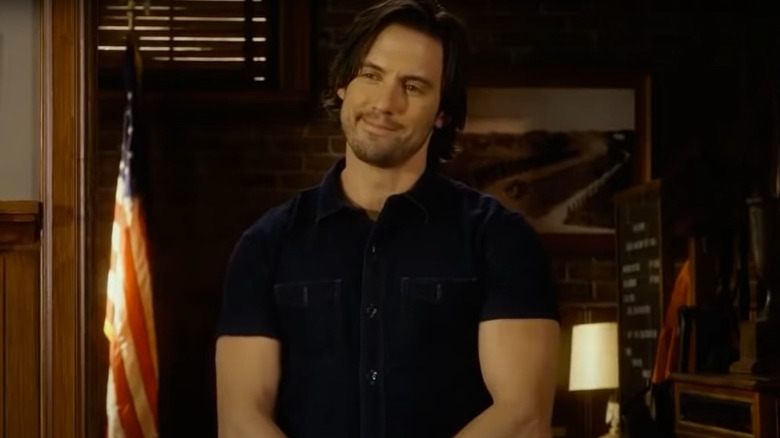 Netflix/YouTube
If Rory has a soul mate, it might be Jess. The two care deeply for one another and seem to be drawn to each other pretty much instantly upon his arrival in Stars Hollow. However, they always seem to be just a little out of sync as a couple. The reason for this might be that they are better suited as friends. In "Gilmore Girls: A Year in the Life," they operate more like advice-sharing buds; their erstwhile romantic chemistry has clearly diminished.
That is not to say that their feelings for each other weren't insanely intense at one time. They were as hot and heavy as two people who, as far as we know, never actually slept together could be. On the downside, Jess is actually pretty controlling over Rory during their time together. He was far from the best boyfriend, and a lot of fans feel as though he didn't deserve Rory after the way he handled situations in their relationship, most notably his reaction to her turning him down for sex.
Even so, it's hard not to root for Jess throughout the series. He is the underdog, the bad boy with a passion for literature, and the perfect mix of everything Rory is and is not. Out of all Rory's boyfriends, Jess is probably the most likely to remain on good terms and in her life. For this, he gets a solid spot on this list.
3. Logan Huntzberger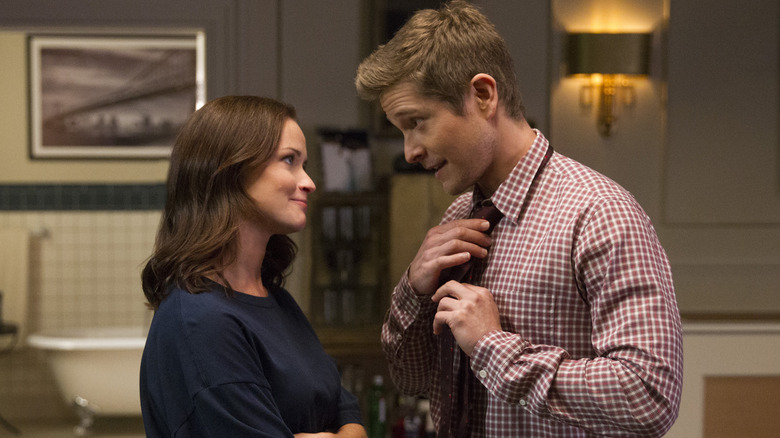 Netflix
Logan is a true mixed bag. He has a whole lot going for him, but also has a number of red flags and some serious points against him. On one hand, he truly goes out of his way to make sure Rory feels cared for. He also challenges her to be a better version of herself, takes her out of her comfort zone, and makes a genuine effort with her family. The other hand, though, is a lot darker. Not only does he jump into bed with a number of women the second Rory is out the door, but in "Gilmore Girls: A Year in the Life" he cheats on his then-partner with her. Logan's personality also leaves a lot to be desired; he's spoiled, cocky, and can be pretty manipulative.
Even though there's an almost equal amount of bad to cancel out all the good, there is a clear positive character arc for Logan throughout the series that turns him into a genuine cool guy and one that was all for committing to Rory. If "Gilmore Girls" had just ended after Season 7 — when Logan is at his boyfriend material peak — with no revival and no Logan-Rory affair, Logan would have earned the top spot on this list. He still sits pretty as Rory's all-time best boyfriend, though.
2. Max Medina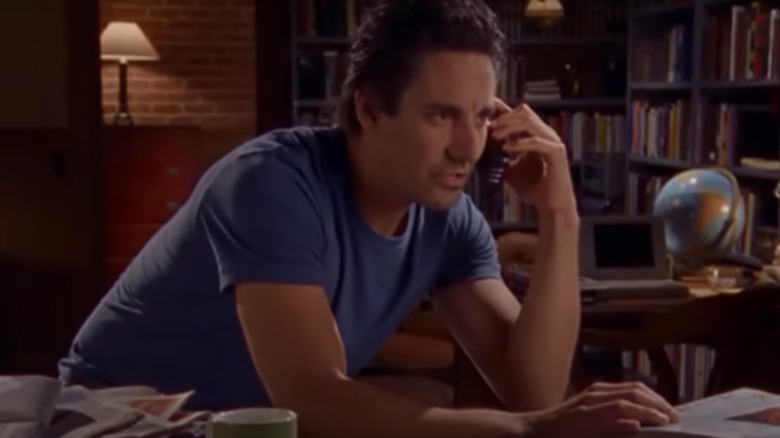 The CW/YouTube
Max Medina is a catch, and seemingly the perfect person for Lorelai to settle down with. In fact, he proposes to Lorelai, and they go through the motions of making their match official. On paper, he is basically everything a woman would want; he's great with kids, responsible, and thoughtful. These are probably the same reasons why he and Lorelai don't work out, even though some fans thought they made a near-perfect match.
Lorelai and Max are together near the beginning of "Gilmore Girls" and Lorelai just isn't ready to relinquish some of the independence she's accustomed to. She had spent Rory's whole life taking care of things on her own and being Rory's sole parent; Max came in hot and ready to take some of that load off her shoulders, even having opinions on how to finish raising the quickly maturing teen.
Max also doesn't fully embrace all of Lorelai's quirks, making him just slightly the wrong person at definitely the wrong time to hold down someone as self-sufficient and bold as Lorelai. As she once said herself, Lorelai wants to love Max and for him to be the one, but the pieces don't quite fit together. He is, however, a stand-up guy who does right by Lorelai, earning him a top spot on this list above all of Rory's love interests.
1. Luke Danes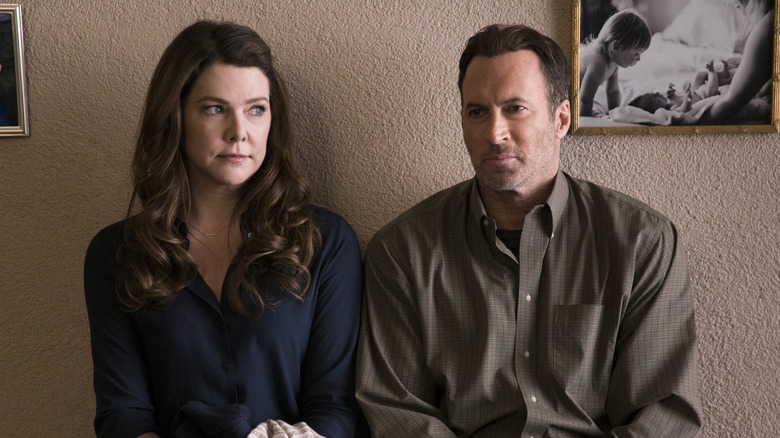 Netflix
Luke is number one since pretty much day one. He's always there for both Lorelai and Rory whenever they need anything, whether it be breakfast or a supportive shoulder to lean on. Sure, he's the grumpy man all the townspeople avoid crossing paths with, but he has a major soft spot when it comes to Lorelai and her daughter. Right from the beginning of the series, he appears to take them under his wing.
Luke also pays his dues. It's pretty obvious to viewers as early as the pilot episode that he has a thing for Lorelai hidden under all of that grumpiness. He watches Lorelai go through some bad relationships and fall for some people who aren't right for her and are sometimes downright rude to him — possibly because they can feel the pent-up romantic tension between the two unlikely besties.
Although he is the clear winner for best "Gilmore Girls" beau, Luke has some flaws. He's quick to anger, set in his ways, and his tragic romantic history left him emotionally closed off. After he and Lorelai finally work out the majority of the kinks in their relationship, though, Luke is able to heal and work on himself for the good of his partner, and we love to see a self-aware king.
Honorable Mention: Richard Gilmore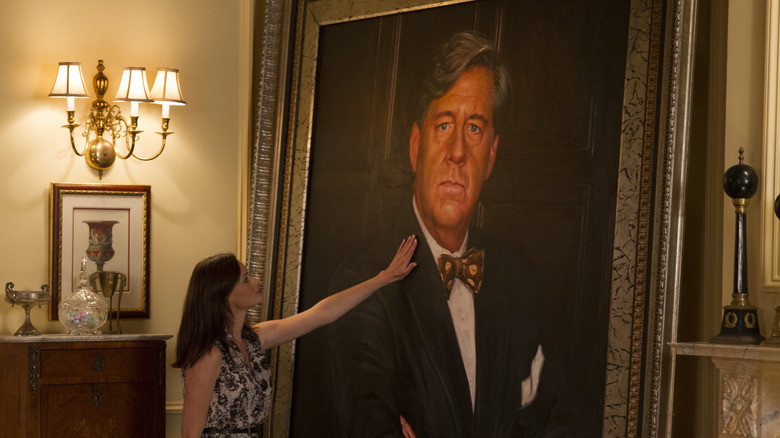 Netflix
While he may not be who you would typically think of as a Gilmore boyfriend, Richard was a Gilmore and technically, he was Emily's boyfriend before he married her. During his lifetime, Richard and Emily have a tight relationship, even if it doesn't always appear that way. His death causes the Gilmore matriarch absolute devastation. Like Emily, Richard operates as a de facto villain on the show as often as he does a warm, caring grandpa, so it's possible that fans didn't fully appreciate him until his actor Edward Herrmann passed away in 2014.
Like almost all the men on this list, Richard could be pretty toxic. However, as strained as his relationship is with Lorelai, Rory fond a real home with him, and at times their bond is a pretty endearing part of the series. It's also worth noting that Richard was the one man that all the Gilmore women had in common, who they all had some form of love for, and who returned that love in his own way.