Aquaman 2's Poor Test Screenings Had Viewers Walking Out (And Fans Blame Amber Heard)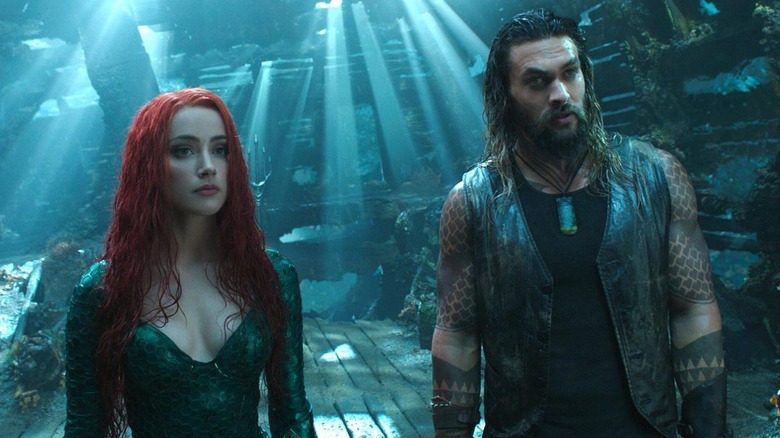 Warner Bros. Pictures
Hell hath no fury like a comic book movie aficionado scorned. The slate of movies that make up DC Comics' offerings have often been divisive among general audiences and purists alike. Movies like "Green Lantern," "Batman v. Superman: Dawn of Justice," and "Wonder Woman 1984," to name a few, certainly divided critics and fans upon release. This is probably why Warner Bros. has such a problem emulating the overwhelming success of the Marvel Cinematic Universe no matter how hard the studios tries. Of course, DC also has had its fair share of hits, like the original "Aquaman," "Shazam!," and the HBO Max show "Peacemaker."
The first "Aquaman" made a character that is derided in some circles for his ability to talk to fish into a bonafide superhero accessible to the public at large. However, the success of "Aquaman" shouldn't be noted without mentioning the charismatic performance of Jason Momoa and the efforts of famous director James Wan. However, with the long-awaited sequel "Aquaman and the Lost Kingdom" soon on the horizon, it seems as if DC is currently offering test screenings of the movie to see how well it will be received, and it definitely seems like there may be some murky waters ahead for the King of Atlantis if the comments are to be believed.
At the same time, according to many who've attended these early showings, Momoa isn't the problem. Supporting actress Amber Heard supposedly is.
Some people aren't impressed by Heard's work in Aquaman 2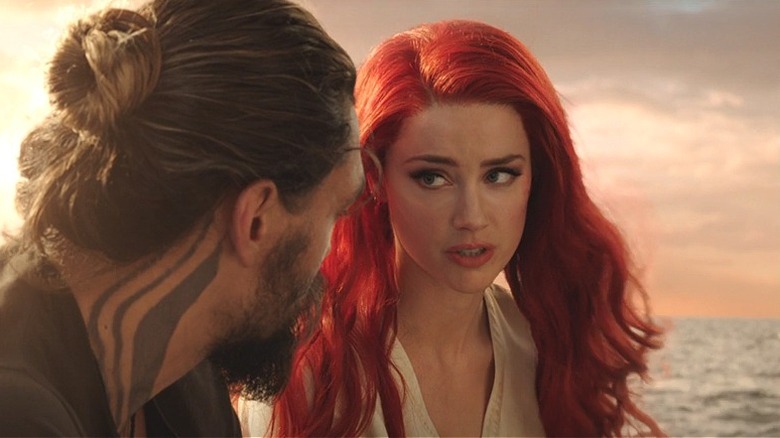 Warner Bros. Pictures
As reported by Dexerto, apparently, "Aquaman and the Lost Kingdom" is suffering from poor test screenings, with many saying that they can't even finish the movie. Of course, this kind of information invokes quite a strong response from some DC fans, mainly because of the well-publicized issues and negative furor surrounding Amber Heard, who plays Mera in the series. This comes after the public court drama between Heard and Johnny Depp, and social media commentators wasted no time levying the supposed poor performance of "Aquaman and the Lost Kingdom" squarely on Heard.
On Twitter, dylanwood8989 wrote, "If you've seen the latest reviews for 'aquaman 2'... it's pretty evident people don't take amber seriously anymore and simply no longer wanna see her on their screen." Others also felt similar, with KaliaWood17 saying, "It should come as no surprise that Aquaman 2 screenings are bad. Amber Heard CANNOT ACT. She also has no chemistry with the leading man. No film would prevail under those conditions." Other commenters believe the issue is that "Aquaman 2" has the same creators as "Wonder Woman 1984,"
If anything, these comments show that many are quick to blame Heard for any issue surrounding "Aquaman 2." It will be interesting to see the overall public perception when the movie finally becomes available.
How heavily does Heard factor into Aquaman 2?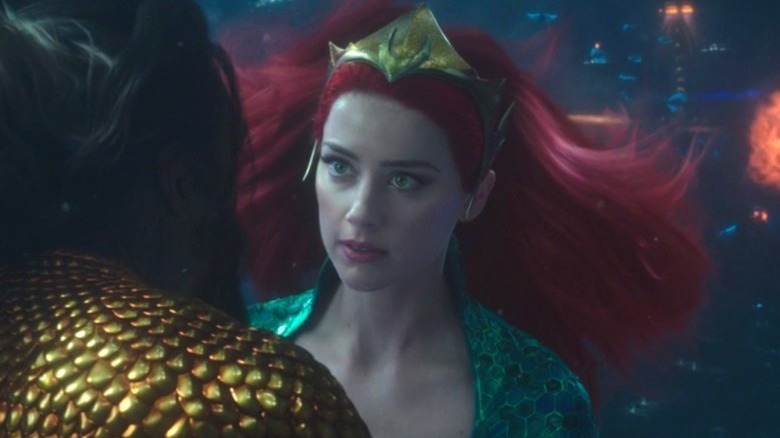 Warner Bros. Pictures
Ever since "Aquaman and the Lost Kingdom" was announced, questions pertaining to Amber Heard's involvement lingered. Would her personal issues result in her being axed from the production? Or has Warner Bros. ignored the press surrounding her, maintaining the preexisting course? Well, according to Heard herself, the truth is a mix of both. Evidently, she hasn't been totally removed from the "Aquaman" sequel, but she has claimed that her screen time has been greatly reduced.
"I fought really hard to stay in the movie. They didn't want to include me in the film," she claimed during a May 2022 court testimony. She goes on to explain that as production ramped up, she received several scripts that would change dramatically. While this is far from unheard of in the world of entertainment, Heard notes that the scenes removed were Mera-centric action sequences, signaling to her that Warner Bros. wanted to minimize her presence in the film as much as possible.
Despite Amber Heard's claim, it seems that Mera is indeed still a big part of "Aquaman and the Lost Kingdom" — at least a big enough part for those in attendance at test screenings to take notice. We'll find out just how prevalent she is in the story when the film opens on December 25, 2023.