Are Marlyne Barrett And S. Epatha Merkerson From Chicago Med Friends In Real Life?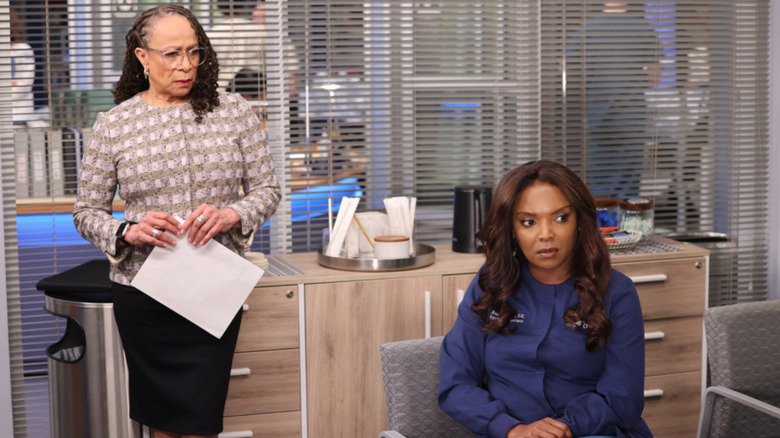 NBC Universal Television
Starring together on a hit TV show is no guarantee that you'll be friends in real life, and it's just as true for "Chicago Med" as any other. There's a long history of iconic TV duos who didn't get along, from David Duchovny and Gillian Anderson on "The X-Files" to William Shatner and George Takei's longstanding feud.
Of course, Marlyne Barrett and S. Epatha Merkerson are pros. Barrett had been a fixture on primetime TV since well before she was cast as Gaffney Medical Center's emergency chief charge nurse Maggie Lockwood, appearing on everything from "Law & Order: Special Victims Unit" to an episode of "The Good Wife."
Merkerson arguably needs less of an introduction. Though she's played Sharon Goodwin on "Chicago Med" for all of its seasons, she is better known for playing Lieutenant Anita Van Buren for 17 seasons on "Law & Order." Even real-life police officers help her take her groceries to her car.
Once again, these two are pros, and it shows in the rapport their characters have on the screen. Still, don't we all love to hear it when co-stars get along in real life?
Merkerson and Barrett are friends and regularly hang out in real life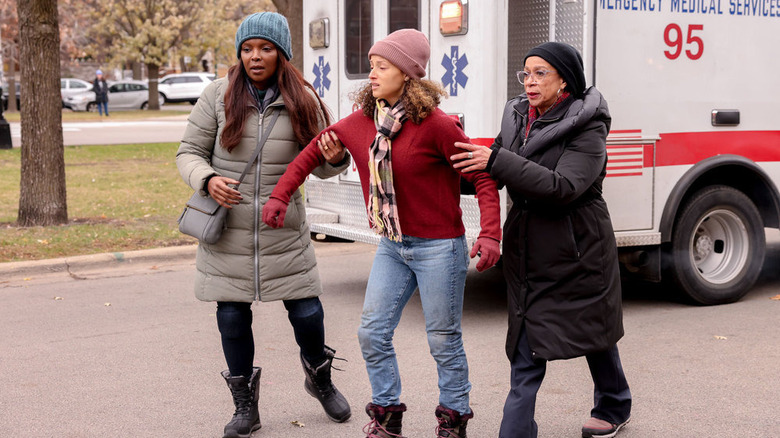 NBC Universal Television
Speaking with Nekia Nichelle during a #OneChicagoDay press junket, S. Epatha Merkerson and Marlyne Barrett spoke about their characters' close relationship on screen and were asked whether it carried over into real life. "We love spending time together," answered Barrett. 
When Nichelle asked what they do, Merkerson answered that the two do just about everything together. "We go listen to music, we've gone to movies, we go out for dinner, we go out for cocktails, everything!" she said. "But I think our main go-to is music."
Though their characters aren't constantly on screen together — with Barrett's Nurse Lockwood and Merkerson's Administrator Goodwin working in different departments of the hospital — there have been several moments when Goodwin and Lockwood show care and compassion for each other. A prime example is in Season 5, when Lockwood, emotionally fragile and making questionable decisions in the wake of her cancer diagnosis, is convinced by Goodwin to start doing her chemotherapy at Gaffney, rather than continue through another hospital. The storyline highlights the community of "Chicago Med"'s ER and the pair's friendship, and it's always great to see friendships transfer over to the behind-the-scenes.