Ghosts' Rose McIver Only Watched The First Few Episodes Of The Original UK Show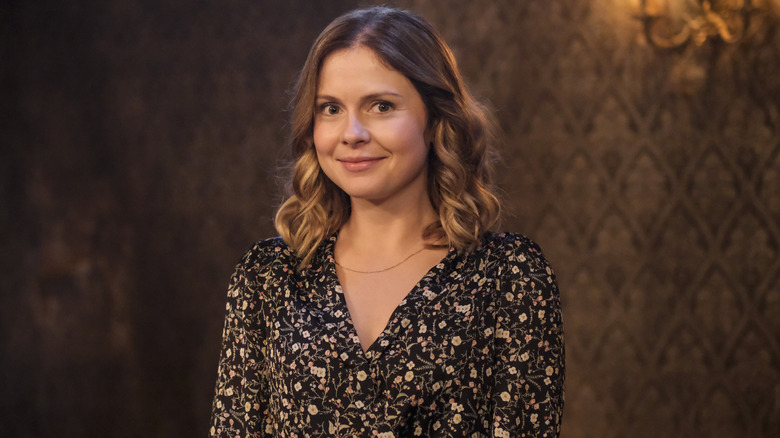 Bertrand Calmeau/CBS
When it comes to shows that take a cockeyed look at the thin veil between life and death, Rose McIver is no beginner. Yes, she's made a name for herself as Queen Amber in Netflix's "Christmas Prince" franchise, but those familiar with her impressive IMDb will also remember her as Olivia "Liv" Moore, the zombified police medical examiner who led the cast of "iZombie" for five seasons on the CW. In fact, McIver has joked that she may be bound to play roles involving the undead for the rest of her career, but it would make sense that "iZombie" has prepared her for her current role on CBS's "Ghosts."
"Ghosts" has proven a hit, with its second season already hitting 100% on Rotten Tomatoes, and its audience rating is at an impressive 93%. It has also been renewed for a third season. There is something to be said for the simplicity of the premise: a sitcom that takes place in a haunted house, in which only one of the living — McIver's Samantha — can see the many ghosts, each of whom is from a wide swathe of time periods going back more than a thousand years.
But while McIver may have been well-prepared by her time on "iZombie," in other ways, and for very understandable reasons, she was very pointedly unprepared for "Ghosts."
Rose McIver didn't want her performance to be an 'imitation'
As many fans of the current CBS iteration will know by now, "Ghosts" is an American remake of a British sitcom that ran for four seasons on BBC One. The premise is very much the same, with the action switched from a stately Upstate New York manor to a vast historic mansion in the British countryside, and the ghosts representing various points in British history rather than American.
In an interview with Variety, Rose McIver said that she had only watched a few episodes of the British original. "At some point I'm going to dive in and finish it," she said, "but I really wanted to have some good momentum going with what we were creating, without feeling like we were just trying to do an imitation."
McIver was quick also to say that she loved what she had watched, and appreciated that the UK version laid out something of a roadmap for her character. But she also didn't want to find herself unconsciously shaping Samantha like Alison (Charlotte Ritchie), her character's counterpart in the original BBC version. It's an understandable and smart decision, particularly considering the long string of hit British shows whose American remakes ended up failing dismally. Clearly, McIver understands that remakes require their own original spin. Otherwise, they simply have no reason to exist.