The Original Avatar Was Almost Rated R (& Why That Would Have Been A Mistake)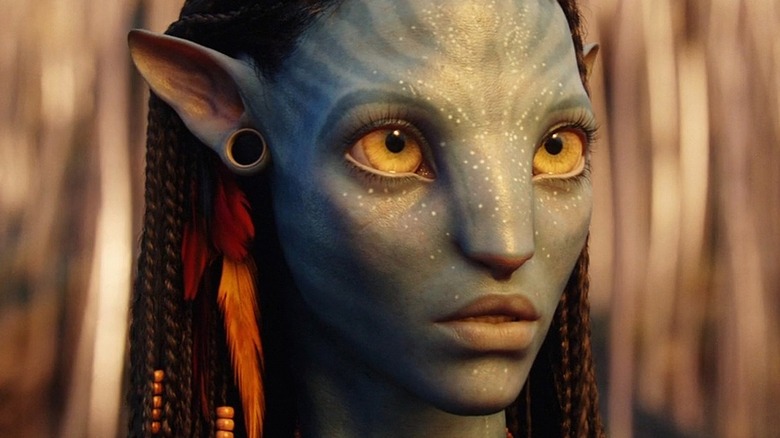 20th Century
It may be common knowledge nowadays that James Cameron's "Avatar" became a worldwide phenomenon after its release in 2009, but it's easy to forget what a gamble the film was at the time. Having had the idea for the sci-fi fantasy epic long before it was put into production (via ABC), "Avatar" gave James Cameron the ultimate opportunity to throw just about everything he's passionate about on the big screen. From classic sci-fi novels (via Entertainment Weekly) to aspects of Asian culture (via Insider), the world of "Avatar" is one rich with inspiration and detail. On top of that, the film was a major move forward for visual effects, with its groundbreaking use of motion capture performance and 3D filmmaking used to bring Cameron's expansive vision to life. 
Such ambition caused concern in the industry, however. Before its release, there were many questioning if "Avatar" would flop at the box office (via Slate), in large part due to its massive budget that exceeded $200 million. And while we know today that the film far surpassed such expectations, one creative decision from Cameron and company might have ultimately saved it from becoming the financial disaster some were expecting. 
Avatar may have not made box office history with an R-rating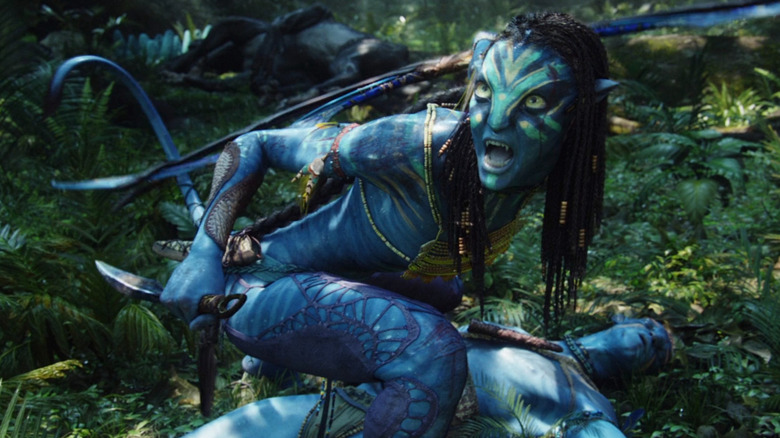 20th Century
Audiences packed theaters worldwide to see James Cameron's long-gestating passion project, which led to "Avatar" becoming the first film to cross the $2 billion mark (via Collider). Today, it remains the highest-grossing film of all time, with its many re-releases earning the film an accumulated gross of over $2.9 billion (via Box Office Mojo). That's a lot of green, even for Pandora. 
But its historic legacy could have played out much differently. Director Robert Rodriguez, during a 2018 interview with ScreenRant about the Cameron-produced "Alita: Battle Angel," revealed that Cameron had different plans for his 2009 sci-fi adventure, saying,  "... part of what Jim [Cameron] did on Avatar originally, he wrote that to be an R-rated movie. He knew he needed to pull some stuff back so it could be for all audiences, PG-13." While "Avatar" contains its fair share of intense moments, the film's PG-13 rating not only made it so that the film never made pushed things too far but also so that it could have a better chance of succeeding. 
While Cameron's own mature movie ventures, such as "Aliens" and "Terminator 2: Judgement Day" have more than turned a profit, it would be too risky for the already ambitious "Avatar." Given its massive budget, the film needed to bring in as wide an audience as possible to ensure its success. Safe to say, Cameron made the right decision.