Jeremy Renner Shares His Road To Recovery After Life-Threatening Accident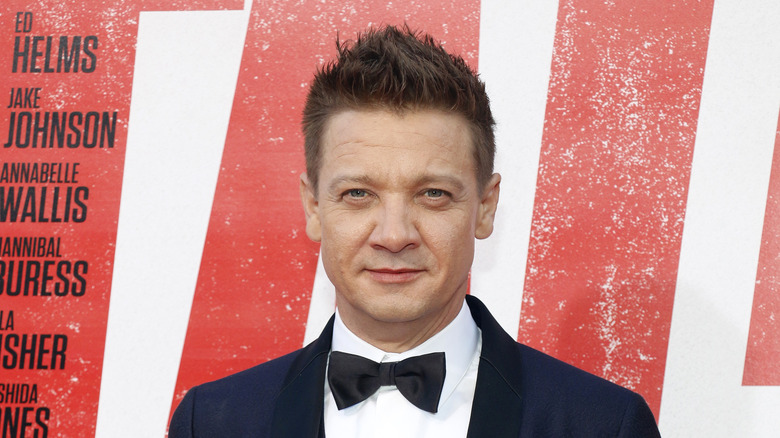 Tinseltown/Shutterstock
It was hard to not fear the worst when news broke of Jeremy Renner's severe accident on New Year's Day. Initial reports were that he was in critical condition, which was understandable given that the accident at his Lake Tahoe, Nevada home had involved a snow plow that weighed in excess of seven tons. When Renner –- Academy Award nominated actor, Hawkeye of the Marvel Cinematic Universe, and most recently recognized for his leading role as Mike McLusky in "Mayor of Kingstown" -– finally posted to his Instagram from the Intensive Care Unit on January 3, a great many likely breathed a sigh of relief.
Still, even as Renner returned home to watch the premiere of Season 2 of "Mayor of Kingstown," it sounded like he had a fairly significant road to recovery ahead of him. On January 21 he announced that he had broken more than 30 bones in the accident. The picture that accompanied this particular Instagram post showed him receiving physical therapy. Still, Renner's own public take has been surprisingly upbeat. "These 30 plus broken bones will mend," he wrote, "grow stronger, just like the love and bond with family and friends deepens." Now, Renner has shared some more about what his recovery is going to look like, and it's understandably intense. 
Jeremy Renner posted footage of his leg getting electro-therapy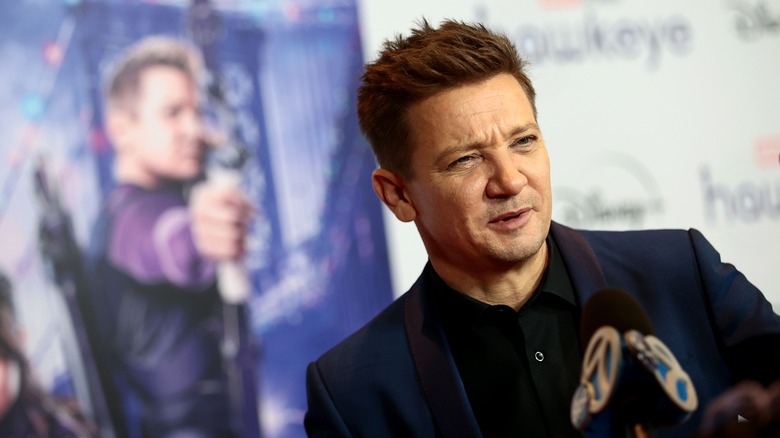 Dimitrios Kambouris/Getty Images
On February 19, Renner posted a video on his Instagram Story — since retweeted through the Jeremy Renner fan account @JRennerNet — of his leg receiving electro-therapy. It's a slightly strange video, if only because, due to the angle and subject, it's a little difficult at first to know what one is looking at. With the Beatles' "Lady Madonna" playing in the background, we see Renner's leg with several electrical nodes on it while the muscles of his leg shake. "Electric stimulation workout out and muscle strength," the text reads.
According to WebMD, the treatment shown in Renner's video is technically known as electrical myostimulation. It is performed by placing electrodes on the skin. An electrical current is sent from a battery into the electrodes through the muscles, with the aim of helping increase muscle mass after an accident and, in turn, helping to speed the healing process along. 
Reporting briefly on the video, Deadline pointed out that Renner also continues to plug for his acting work as much as he can through social media. What's more, it sounds like just about everyone in the MCU is pulling for him. So while it looks like his recovery will be a fairly intense one, it also appears that Renner is anxious to get back to work.