Jeremy Renner Is In Critical Condition After Scary Snowplow Accident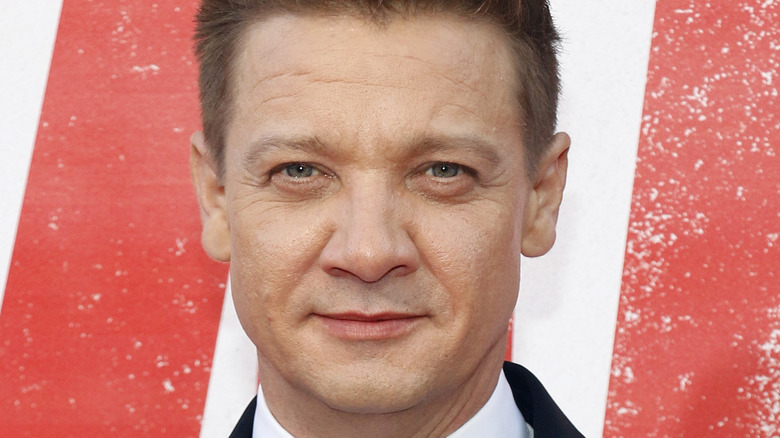 Tinseltown/Shutterstock
Updated: January 3, 10:15 a.m. EST.
"Avengers" star Jeremy Renner became a household name thanks to his role as Clint Barton, aka Hawkeye, one of the Marvel Cinematic Universe's original Avengers. Hawkeye debuted as a minor character in 2011's "Thor," before joining the God of Thunder (played by Chris Hemsworth), Iron Man (Robert Downey Jr.), Black Widow (Scarlett Johansson), Captain America (Chris Evans), and the Hulk (Mark Ruffalo) to take on Loki (Tom Hiddleston) in the 2012 team-up movie "The Avengers." Renner reprised his role for 2015's "Avengers: Age of Ultron," 2016's "Captain America: Civil War," and 2019's "Avengers: Endgame" before taking center stage in his 2021 titular Disney+ series, "Hawkeye," alongside Hailee Steinfeld's Kate Bishop.
It was widely reported on January 2 that Renner had been in a snowplowing accident in Reno, NV on New Year's Day and was airlifted to a nearby hospital (per TMZ). At the time, precise details were omitted, but a representative for Renner shared that the actor had significantly injured himself in a "weather[-]related accident," making this the second serious injury Renner has suffered in the last six years. He is currently "in critical but stable condition."
Jeremy Renner suffered significant injuries while plowing snow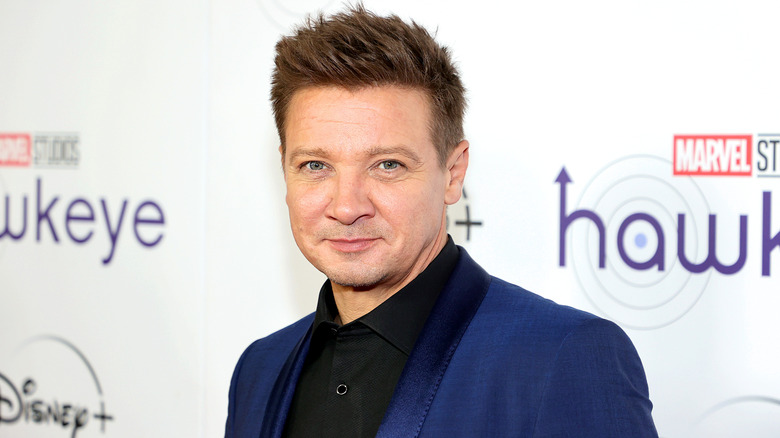 Theo Wargo/Getty Images
A representative for Jeremy Renner told Variety, "We can confirm Jeremy is in critical but stable condition with injuries suffered after experiencing a weather[-]related accident while plowing snow earlier today. His family is with him and he is receiving excellent care." 
Deadline received an official statement from Renner's team, which read, "We can confirm that Jeremy has suffered blunt chest trauma and orthopedic injuries and has undergone surgery today, January 2nd 2023. He has returned from surgery and remains in the intensive care unit in critical but stable condition. Jeremy's family would like to express their gratitude to the incredible doctors and nurses looking after him, Truckee Meadows Fire and Rescue, Washoe County Sheriff, Reno City Mayor Hillary Schieve and the Carano and Murdock families. They are also tremendously overwhelmed and appreciative of the outpouring of love and support from his fans."
The Daily Mail reported that Renner's leg was run over by his snowplow, resulting in significant loss of blood. TMZ also revealed that a neighbor (who luckily happens to be a doctor) arrived shortly after the incident and fashioned a tourniquet on Renner's leg.
MCU members are wishing Jeremy Renner the best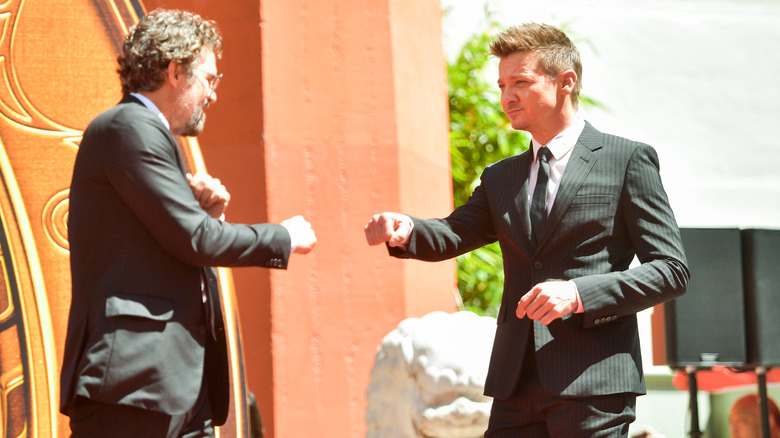 Matt Winkelmeyer/Getty Images
TMZ also noted that Jeremy Renner's Snowcat was hauled away by police around 8:00 p.m. on January 2. Equipment this dangerous has many safety protocols, and according to the outlet, should not have injured Renner if he was the only person operating the vehicle — which he was. The Snowcat will likely be thoroughly examined to see why safety features failed. The "Hurt Locker" star had just shared a video to his Instagram story operating the Snowcat, writing, "Nearly done with sledding the hill for the kids." Renner has shared videos of himself on Instagram in the past operating dangerous snow-related machinery. In 2015, he posted a picture of himself operating a Snowcat, but it's unknown if it's the same one from the New Year's Day accident.
Several MCU bigwigs have commented on Renner's accident, including James Gunn and "Avengers" co-star Mark Ruffalo. The former tweeted, "My heart is with Jeremy Renner." According to People, Ruffalo wrote, "Prayers up for our brother @jeremyrenner on a full and speedy recovery," on his Instagram story on January 2.
This is the second significant injury the actor has sustained in the past six years. In 2017, he fractured his right elbow and left wrist while shooting "Tag" (via Variety). Speaking in 2017 of his injury on the set of "Tag," Renner stated that it wouldn't deter him from portraying high-action characters on-screen in the future. "There will be an effect to it, but it won't stop me from doing things that I need to be doing," said Renner. "I'll heal fast. I'm doing everything I can to heal faster."
Stick with Looper for more updates on Jeremy Renner's condition.