Raquel Welch: The Complete History Behind The Hollywood Icon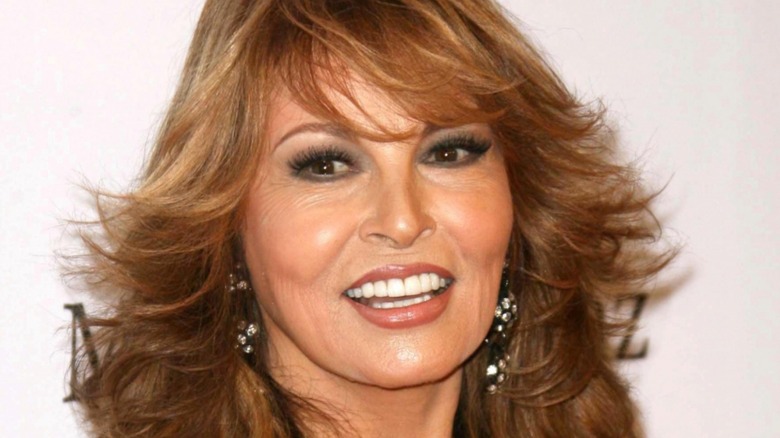 s_bukley/Shutterstock
The legendary Raquel Welch passed away on Feb. 15, 2023, just after Valentine's Day, after a short illness. She was 82 years old. A stunningly beautiful woman, Welch was also widely regarded as a sex symbol for her entire career. Her final role was in the single-season 2017 series "Date My Dad," in which she starred as the main character's mother-in-law, Rosa.
A Hollywood starlet doesn't become a legend from only her looks, however. Welch was an agent of change who said she had longed to be taken seriously from her iconic role as Loana in "One Million Years B.C." onward. She said she was shocked to become a sex symbol and pin-up model, but she nevertheless championed women's liberation and the sexual revolution, all while changing beauty standards in America throughout the 1960s and '70s, in a post-Marilyn Monroe era.
To younger generations, she was probably most recognizable as the pampered ex-wife (and mother to Linda Cardellini's Chutney) in the trial at the end of "Legally Blonde." To Gen X, she is almost definitely remembered as the pin-up girl in Andy Dufresne's (Tim Robbins) jail cell the night he escaped Shawshank Prison. But to the men and women of the '60s and '70s, Welch was a star. Let's look at her life and career and celebrate her journey from beauty queen to Hollywood icon.
Her father was Bolivian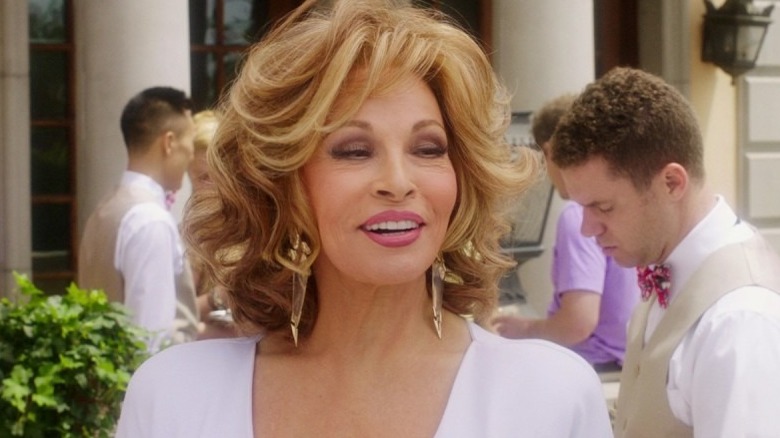 Lionsgate
Raquel Welch was born in 1940 in Chicago. Her mother was a midwestern woman of English descent, and her father was an aeronautical engineer from Bolivia who emigrated to the U.S. during the Great Depression. The family moved to Southern California a few years later, and that's where young Raquel (full name Jo-Raquel Tejada) was raised.
Though she kept the surname of her first husband for professional use, successfully avoiding stereotypical typecasting for Latinas, she was quoted as saying "The essence of who I am is Latina." Evidence of that can be found in the simplest of sources: her name. As a child and again as a young woman looking to break into show business, Welch was passionate about her first name and insisted she be called Raquel despite numerous attempts to Anglicinize her identity.
Her name and her stunning good looks, so far removed from the blonde-haired, blue-eyed beauties often held up as the Hollywood ideal, gave her what was referred to as an exotic air — a designation both limiting and broad — that led to many roles in American westerns and the booming Cinema Italiano industry of the 1960s and '70s. She never lost sight of who she was, though, and in 2001 received the Imagen Lifetime Achievement Award for her positive portrayals of the Latino community, and expanded the number of Latina roles she took into the 21st century.
She was a dancer
Welch studied the vigorous art of ballet for 10 years, from ages 7 to 17. It was at this time, however, that she was told her body type wasn't right for ballet – a demeaning critique often applied to minorities and to anyone with curves.
Welch had the last laugh, though, staging her own Vegas act in the 1970s, where she opened for Elvis, and earning praise from critics in her 1981 Broadway run starring as the lead in "Woman of the Year" for her enthralling musicality and dance ability. Her performance was so enjoyable, in fact, that when Lauren Bacall (for whom Welch had filled in) left the production, Welch was asked back to fill in, which she did for six months.
Welch went on United Service Organization tours with Bob Hope, singing and dancing for the troops, whom she always vigorously supported. And she performed with Cher on the latter's variety show in 1975. She even got to perform an off-the-wall "Space Dance" for her own CBS television special that aired in 1970, "Raquel!" The moves may be outdated and the look might be corny, but her training is evident in the lines and grace of her shaping. Furthermore, Welch took every opportunity to upend the expectations people had of her, be it as a sex symbol, a single mom, or a song-and-dance girl. Whatever role was in front of her, Welch pushed herself to be more than what the pictures showed.
She had a long and winding road to Hollywood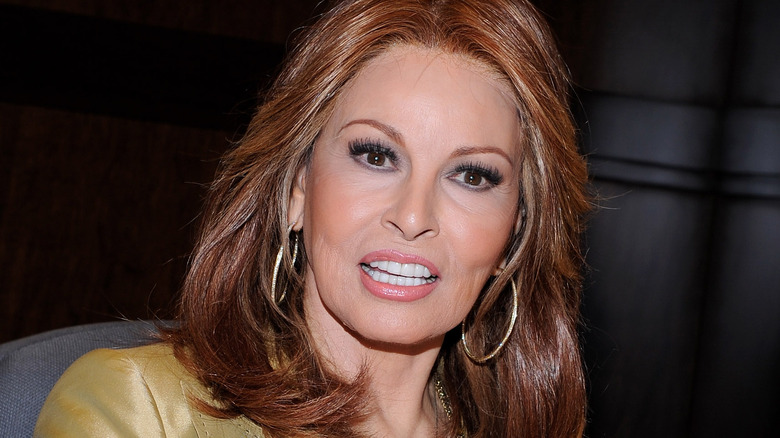 Michael Buckner/Getty Images
A frequent beauty queen in her teen years, Raquel Welch got a job in a profession that frequently favored good looks in those days — a TV weatherperson — while she studied drama at San Diego State University, but she soon left school when it was too hard to balance her studies against work and her life as a new wife and mother (she and high school sweetheart James Welch married in 1959, then had children Damon and Tahnee Welch, born 1959 and 1961, respectively).
Following the demise of her first marriage, Welch moved to Dallas and struggled to get by while modeling and waitressing. Her plan was to move to New York to pursue a life on the stage, but she instead moved back to California and settled in the Los Angeles area. She started auditioning and was named a Deb Star in the early 1960s as an up-and-coming actress to watch. Her manager (and future husband), Patrick Curtis, worked with her to build Welch as a sex symbol. The juxtaposition of this image against her real life was not lost on Welch, who wrote in her autobiography, "The irony of it all is that even though people thought of me as a sex symbol, in reality I was a single mother of two small children!"
She had a breakout role in Fantastic Voyage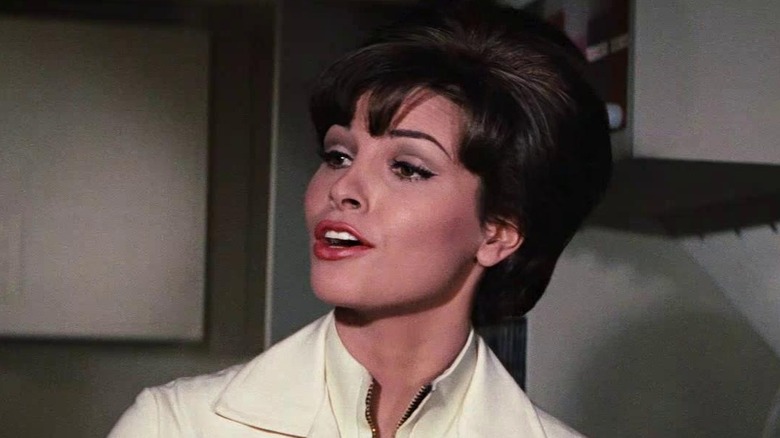 Twentieth Century Fox
In 1966, Raquel Welch got her big break starring in "Fantastic Voyage," a science-fiction film about a team of scientists who board a submarine and are miniaturized in order to be injected into the body of a dying man so they can save him. It earned $12 million at the box office and received good reviews from critics.
The film has special effects that were enormously impressive for the time, but possibly its greater attraction was its female lead. The film launched Welch immediately to stardom. "A woman has no place on a mission of this kind," Colonel Donald Reid (Arthur O'Connell) says in the film, and the film's advertising even refers to Welch as a "beautiful girl" rather than a grown woman and mission technician. While the movie's characters and marketing may have underestimated her, Welch never underestimated herself; and audiences responded. The film became an iconic work of 1960s sci-fi, and along with Welch's next genre spectacle, "One Million Years B.C.," it helped start her career.
She donned a doeskin loincloth in One Million Years B.C.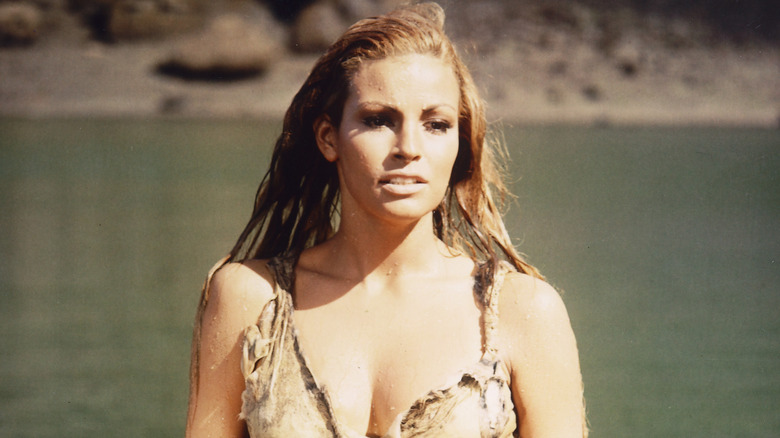 Twentieth Century Fox
Hired to a contract with 20th Century Fox, Raquel Welch began her movie career in the waning years of the studio system, in which actors worked with a single studio for the length of their agreement but could be loaned to other studios for a fee or in trade, much the same way NFL teams draft players. Following "Fantastic Voyage," Welch was lent to the U.K.'s Hammer Studios for work on "One Million Years B.C."
Unlike her last role, she barely had lines in this one at all, but her face and her body became the defining images of the film thanks to the publicity poster of her towering on the screen wearing nothing but a doeskin bikini and matching boots (hence the moniker "fuzzy britches" in "The Shawshank Redemption"). The poster became an instant pin-up favorite around the world, and Welch became known as one of the sexiest women of all time. Playboy named her the Most Desired Woman of the 1970s, and in 2016, The Daily Mail voted Welch as having the best bikini body ever. Welch was conflicted about the label of "sex symbol" — sure, it made her a star, but she also wanted to be recognized for her talent and her independence rather than just her looks.
She resisted pressure to go nude for films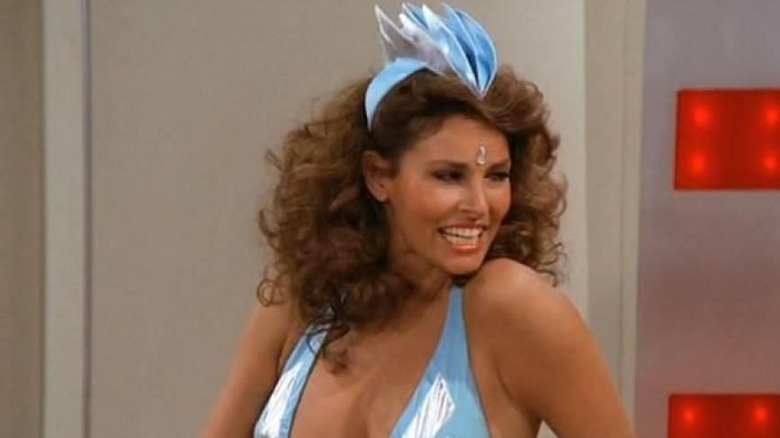 ABC
Raquel Welch came to fame in the era of sexploitation films which, while never mainstream themselves, pushed the nudity and sexuality boundaries in mainstream cinema. Toplessness and other mild nudity became prevalent over the two decades, with actresses of all skill levels and ambitions. Sometimes exploitative, sometimes artful, sometimes grossly gratuitous, nudity was nevertheless becoming more and more common. Welch, however, never went nude in a film. She even refused to go nude when she posed for Playboy in 1979 — a decision to which Hugh Hefner replied by calling her "boring." But Welch herself said that she found merit in leaving something to the imagination. She thought it was sexier to reveal a little without giving it all away.
In addition, Welch credited her parents and her upbringing for instilling the moral code in her that her body was private and not to be shared with the world; she felt it was something you shared as an act of love for someone, and she stuck to those beliefs. She never berated other women who posed or acted in the buff, but Welch refused to do it herself. She always knew who she was and what she was comfortable with, and that gave her a lot of presence and staying power in an industry that often pressures and controls its female stars.
She pushed society's boundaries as well as her own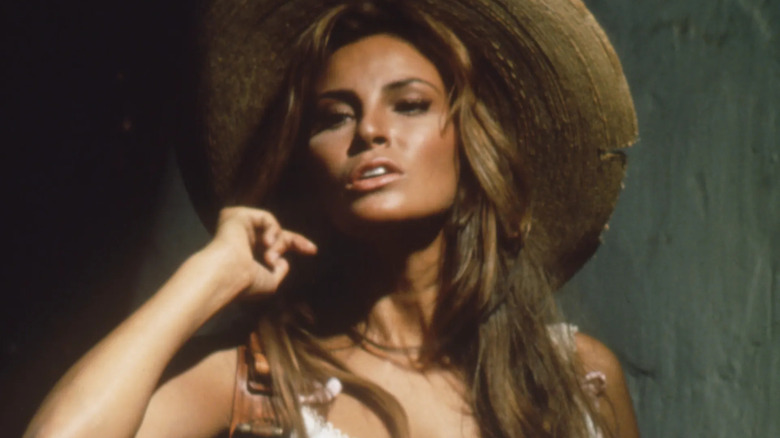 20th Century Fox
In the 1969 movie "100 Rifles," Welch's character embraces Lyedecker, played by former NFL great Jim Brown. Their interracial sex scene sparked controversy, especially since the film premiered at the end of the 1960s civil rights era — only two years after "Guess Who's Coming to Dinner?"
Equally controversial was her turn in the 1970 film "Myra Breckenridge," in which she plays the titular character, a transgender woman. She approached the part hoping it would fuel more dramatic roles for her in the future, but the film wasn't received well. While the language and attitudes of the film haven't aged well, Welch's bold fearlessness in the role — and in taking the part in the first place — is unmatched.
Not content to stay just a pretty face in the industry, Welch continued pushing her boundaries. Her starring turn in 1971's "Hannie Caulder" cemented her as one of the few women to ever have the lead role in a western — the film industry had just left an era of John Wayne westerns, after all. In 1982, she starred as a Blackfoot woman in the TV movie "The Legend of Walks Far Woman." Welch wasn't Native American, but at the time she was praised for the attempt to tell different stories than the ones she was usually offered. She continued to embrace those alternative stories throughout her career, and in 1987 made great strides again as a mother with amyotrophic lateral sclerosis in the TV movie "Right to Die." Her performance was nominated for a Golden Globe.
She played a roller derby hotshot in Kansas City Bomber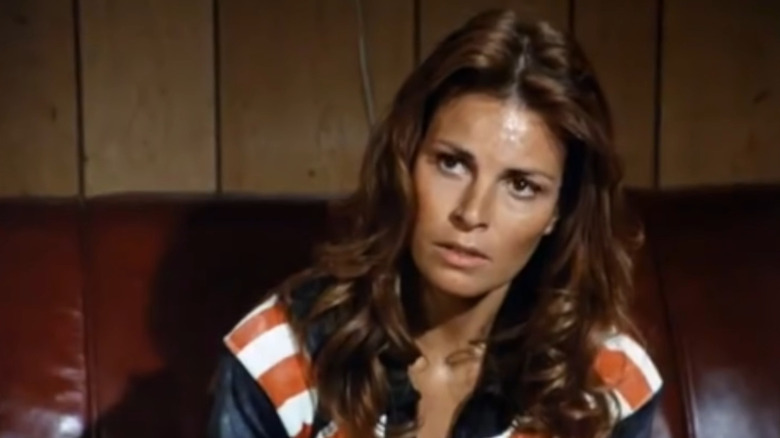 Metro-Goldwyn-Mayer
Welch's eagerness to stretch and seek out meaning beyond the status quo epitomized the psychology of the Women's Movement of the era. During the sexual revolution of the 1960s, women asserted themselves as individuals with their own desires, challenging the normative ideas around sexuality. As the 1970s carried on, second-wave feminists fought for more social and workplace equality. Welch's films, particularly 1972's "Kansas City Bomber," embodied the kind of female empowerment long missing from American film. In the film, she plays a single mom following her dreams of roller derby stardom. Her character, K.C. Carr, is tired of the pattern of manipulative men in her life and of people all around her dismissing her abilities and desires, and she rediscovers and asserts her own power, finally claiming a single — if fleeting – victory in the end.
Raquel Welch always connected with the heart and mind of the single mother, being one herself at a very young age, and she'd had to make a name for herself on her own terms in an industry that almost never let women dictate their paths. In that way, "Kansas City Bomber" was an ideal vehicle for her. But at the same time, Welch conflicted with feminist movements at the time. She said she supported the movement and how it changed attitudes toward sexuality, but she was also dismissed by many feminists at the time due to her status as a sex symbol.
She took on MGM and won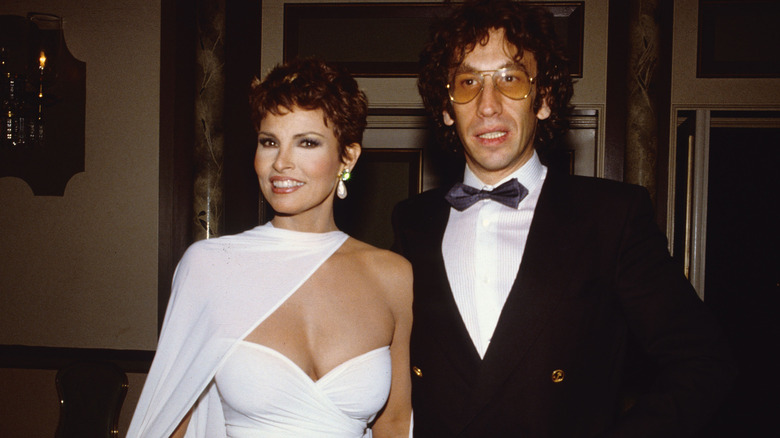 Yvonne Hemsey/Getty Images
In 1981, the John Steinbeck novel "Cannery Row" was being adapted by MGM with Raquel Welch attached to star, but soon after filming began Welch was unceremoniously fired and replaced by Debra Winger. Raquel Welch sued for breach of contract. Not only was it a landmark case for actors' rights, but her firing was a distinct example of sexism and ageism in the film industry. Welch, who was 40 at the time of the suit, alleged that the studio intentionally used her name and star power to finance their film, planning to fire her after funding was secured. Lawyers for MGM, meanwhile, openly argued that Welch's lawsuit was based in vindictiveness because her status as a 40-year-old actress meant she was no longer wanted by casting directors.
Welch $10.8 million — twice as much as the film's ultimate box office returns. The victory had unintended consequences for Welch, however, as she was essentially blacklisted by the industry and was never offered the lead in a major motion picture again. "That's not the outcome I was looking for," she told The Hollywood Reporter. It may not have been the result she hoped for, but it called out the atrocious double standards actresses were being held to.
She was a businesswoman and entrepreneur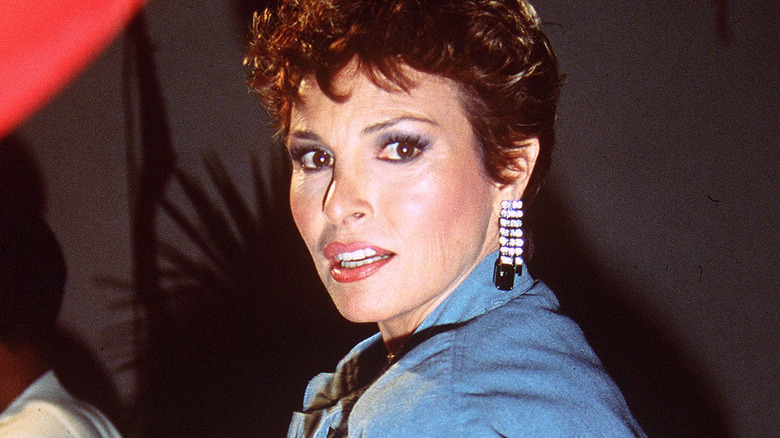 Kypros/Getty Images
With Hollywood no longer calling, Raquel Welch turned her attention intermittently to the stage and more permanently to the burgeoning new world of personal fitness. Welch released her fitness book, "Raquel: The Raquel Welch Total Beauty and Fitness Program," in 1987, along with a VHS program based in hatha yoga and the principles of an alcohol-free, non-smoking lifestyle. The program went multi-platinum as women everywhere tried to look like Welch.
Being a fitness guru was hardly enough, though, as Welch also released a line of wigs that became very successful, constantly updating and reestablishing her image. She was always ready to take the assets she had and make the most of them.
Not all of Welch's business ventures succeeded — she had skincare and jewelry lines that didn't spark — but she knew how to best present her own image, and in 2007 she returned to modeling as part of MAC Cosmetics Beauty Icon series.
The passing and legacy of a legend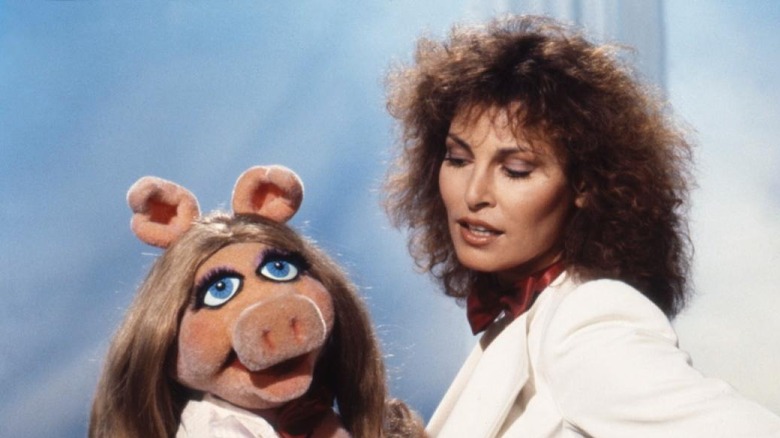 ITC Entertainment/CBS Television
Following a brief illness, Raquel Welch died Feb. 15, 2023, but her impact and legacy will live in perpetuity on film. For over 50 years, Welch used her beauty, her drive, and her gumption to carve a place for herself in Hollywood history. She left an iconic role and image for every generation that knew her, from her early success with genre films to television appearances on "Mork & Mindy," "Sabrina the Teenage Witch," and "Seinfeld." Her influence went far beyond the superficial. She was remembered upon the news of her death by many across Hollywood for her charm and grace as well.
Welch was witty and had a flair for comedy, confirmed by her Golden Globe win for 1973's "The Three Musketeers" and her perfectly pitched turn as a wealthy divorcée in 2001's "Legally Blonde." She embraced the camp of '60s sci-fi and singing feminine anthems with muppets.
Welch also pushed the boundaries of what was accepted and expected in society at every step of her career, retooling what sorts of roles women could fill in film and in life. Her most radical move, though, may have simply been having the courage to speak openly and analytically about her career goals, ambitions, and critiques. She may have been seen as a sex symbol for the ages, but Welch was never coy.