Seinfeld Writer David Mandel Praises Julia Louis-Dreyfus' Layered Comedic Style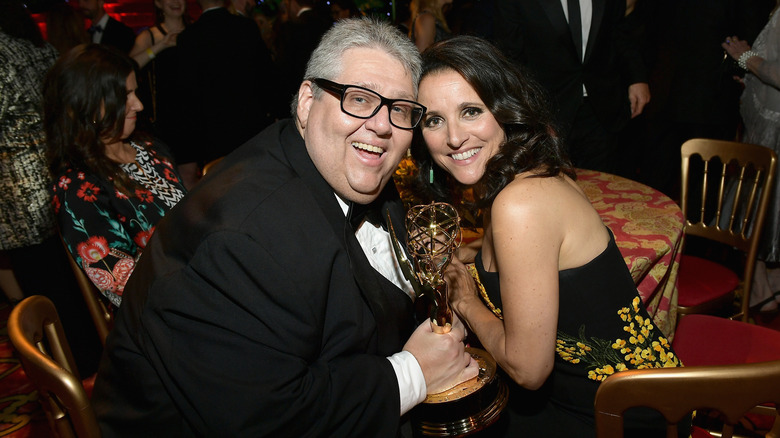 Matt Winkelmeyer/Getty Images
In his profile of Julia Louis-Dreyfus for Variety, Matt Donnelly describes the actresses' trophy shelf — a collection of Emmy Awards, a Peabody, and the Mark Twain Prize for American Humor — as sagging under the weight of its own splendor. Louis-Dreyfus may have asserted herself as a generational talent in shows like "Seinfeld" and "Veep," but before all that, she was a naive 21-year-old cast member at "Saturday Night Live." She endured the show's sexist and drug-fueled environment, ultimately calling her time on the show — from 1982 to 1985 — a "pretty brutal time but a very informative time." That experience later helped to shape her time on "Seinfeld."
Louis-Dreyfus' career has benefitted from the aid of good collaborators, one of whom is David Mandel. Mandel also got his start at "SNL," ultimately moving up the comedy ranks as a writer and producer for "Seinfeld," and later "Curb Your Enthusiasm" with "Seinfeld" co-creator Larry David. Louis-Dreyfus and Mandel reunited when he took on the role of "Veep" showrunner for its final three seasons. Naturally then, Mandel knows the spectrum of Louis-Dreyfus' comedic skills better than most.
Julia Louis-Dreyfus can play up multiple emotions to devastating, hilarious effect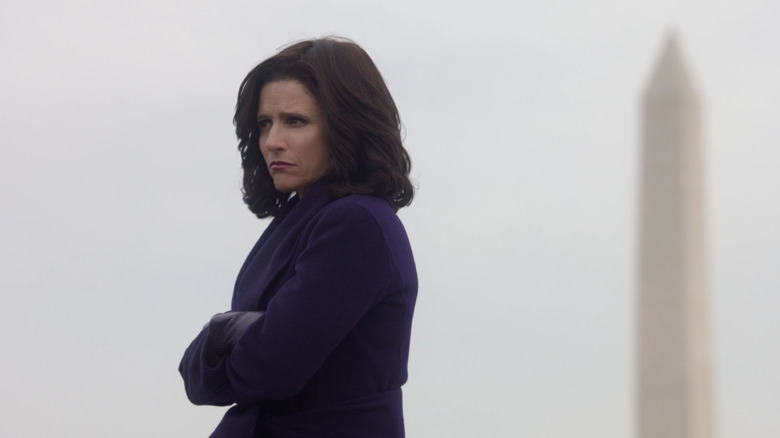 HBO
Anyone can recite a joke, but for David Mandel, Julia Louis-Dreyfus possesses the ability to layer her performances, resulting in uniquely multifaceted characters. "There are 1,000 layers to Julia," he told Variety. "At any given time, she's playing 30 or 40 things in a scene, which allows her to be likable and unlikable, incompetent and very skilled." Mandel noted that Louis-Dreyfus used this to great effect in "Veep," where her Selina Meyer character was somehow cutting and cynical while, against all odds, remaining deeply sympathetic. "Especially during 'Veep,'" Mandel continued, "we dug into the psyche of Selina Meyer and took her to some very dark places. She was able to play that tragedy while being f***ing hilarious."
Louis-Dreyfus doesn't only exhibit that skill in straight comedies. Director Nicole Holofcener, with whom Louis-Dreyfus collaborated on 2013's "Enough Said" and the upcoming "You Hurt My Feelings," remarked that the actress' ability to play up multiple emotions at once makes her a chameleonic performer -– one that's just at home in indie romantic comedies, as she is as the scenery-chewing Valentina Allegra de Fontaine in "Black Panther: Wakanda Forever." "She's pretty much right for most things," Holofcener said. "Don't tell her I said this, but she can do funny and sad at the same time."