How Julia Louis-Dreyfus' Experience On SNL Helped To Shape Seinfeld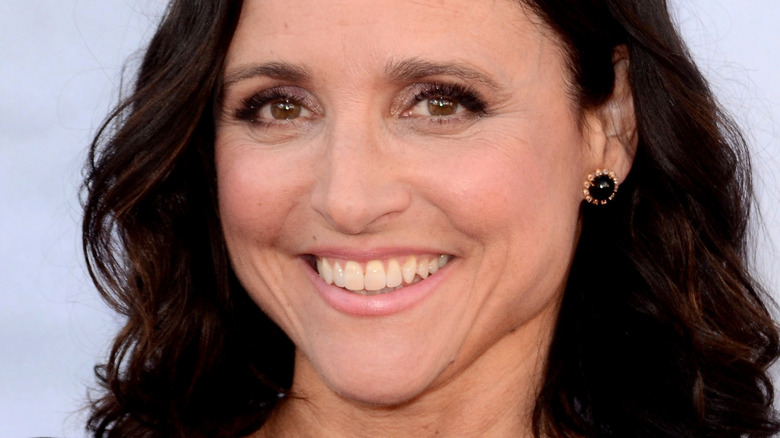 Kathy Hutchins/Shutterstock
It's hard to imagine "Seinfeld" without Elaine Benes (Julia Louis-Dreyfus), the ex-girlfriend of Jerry Seinfeld who remains a staple in his friend group. Aside from the rotating door of Jerry and George Costanza's (Jason Alexander) love interests, she's the female force to be reckoned with on the show. There are countless unforgettable Elaine moments, such as her exclamation of "Stella!," the "square to spare" debacle, and her iconic dance moves. She has a tell-it-like-it-is personality and is happy to be one of the guys. For her work on "Seinfeld," Louis-Dreyfus took home an Emmy Award.
When Louis-Dreyfus took on the role of Elaine, she was no stranger to the world of comedy. In fact, she became a regular on "Saturday Night Live" seven years before the sitcom even aired. Louis-Dreyfus may have been the youngest female cast member on "SNL" (via People), but she held her own amidst her mostly-male co-stars, who included the likes of Eddie Murphy, Joe Piscopo, and Brad Hall, the latter of whom would become her husband.
From "A Dysfunctional Thanksgiving" to "Wrong Number Break-Up," Louis-Dreyfus lent her comedic chops to a number of memorable skits throughout Seasons 8, 9, and 10. She even returned in 2006 to host "SNL." For Louis-Dreyfus, her years spent on that New York stage inspired her to form a rule about what projects to accept moving forward. It's a simple rule, but one that ultimately helped shape "Seinfeld" into a beloved pop culture phenomenon.
Julia Louis-Dreyfus thrived in a fun, collaborative on-set environment
In an interview with Vanity Fair, Julia Louis-Dreyfus revealed that after "Saturday Night Live," she set a goal for herself to only accept jobs that were fun. "As simplistic as that sounds, that's not something that's always so easily attained," Louis-Dreyfus said.
Much of the fun of "SNL" was due to the collaborative environment among the cast and creators. It was a similar atmosphere on the set of "Seinfeld" where, if a more comedic line or way to present the material was presented, the latter option was used. Louis-Dreyfus thrived in this type of setting and accepted the enjoyable challenge of putting her own flair on the character of Elaine Benes.
"If it made us laugh, it made it into the show," Louis-Dreyfus said. "So that was true of rehearsal, it was true of the writing process, it was true of improvising. And we were just trying to make each other laugh, and that was a really good, shall we say, equation for a kind of excellence."
Such a light-hearted environment also allowed Louis-Dreyfus and Jerry Seinfeld to form a close off-screen friendship, which remains strong. He even honored his former co-star in 2018 when she received the Mark Twain Prize for American Humor (via YouTube). That same year, Seinfeld told ET, "She was the sparkle of the show that really made it the right chemistry, the right formula. Without her, I really don't think the show would have been successful."