New Ant-Man And The Wasp Poster Features Michelle Pfeiffer, Teases Trailer Coming Tomorrow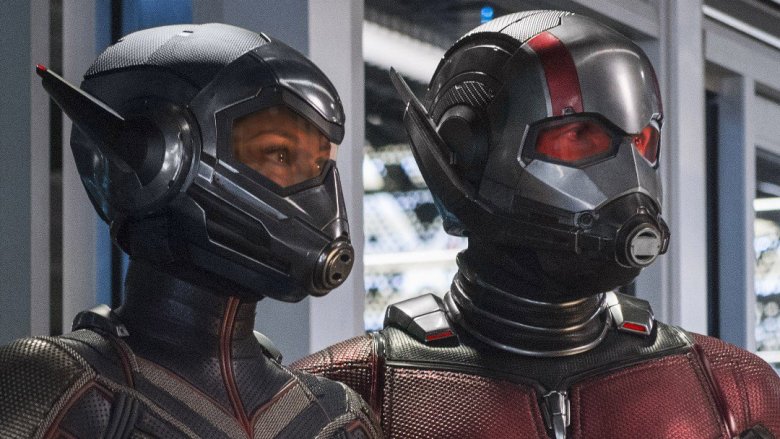 Leaving fans with little time to catch their breath after Avengers: Infinity War, Marvel has unveiled a new poster for its next cinematic universe installment, Ant-Man and the Wasp.
The Wasp herself, Evangeline Lilly, shared the one-sheet on Twitter, where she also announced that Marvel Studios is set to drop the "official, full-length" trailer for the Ant-Man sequel tomorrow (May 1). 
Shown below, the poster gives fans a look at the entire ensemble, including Paul Rudd's titular Ant-Man (a.k.a. Scott Lang), Lilly's Wasp (known outside her suit as Hope van Dyne), Hannah John-Kamen's villainous Ghost, and even Michelle Pfeiffer's Janet van Dyne, the original Wasp whose ambiguous whereabouts push the follow-up flick's plot forward. 
Janet's inclusion in the promotional material confirms popular speculation that her time spent in the Quantum Realm hasn't stopped her from aging, or from snagging a sweet costume of her own. Though the poster doesn't show off the design of Janet's suit in its full glory, it's safe to assume that she's rocking threads similar to those she wore back in the 1980s when she first went subatomic.
Here's the official synopsis for Ant-Man and the Wasp: "From the Marvel Cinematic Universe comes Ant Man and the Wasp, a new chapter featuring heroes with the astonishing ability to shrink. In the aftermath of Captain America: Civil War, Scott Lang grapples with the consequences of his choices as both a superhero and a father. As he struggles to rebalance his home life with his responsibilities as Ant-Man, he's confronted by Hope van Dyne and Dr. Hank Pym with an urgent new mission. Scott must once again put on the suit and learn to fight alongside the Wasp as the team works together to uncover secrets from the past."
The 20th entry in the Marvel Cinematic Universe, Ant-Man and the Wasp has Peyton Reed on board as director, as well as a cast that features Michael Peña as Luis, Walton Goggins as Sonny Burch, Bobby Cannavale as Paxton, Judy Greer as Maggie Lang, Laurence Fishburne as Bill Foster, Michael Douglas as Hank Pym, Randall Park as Jimmy Woo, Tip "T.I." Harris as Dave, David Dastmalchian as Kurt, and Abby Ryder Fortson as Cassie Lang.
Ant-Man and the Wasp will fly into theaters on July 6.