The Rookie's Season 5 Episode 15 Tribute To Annie Wersching Has Fans Emotional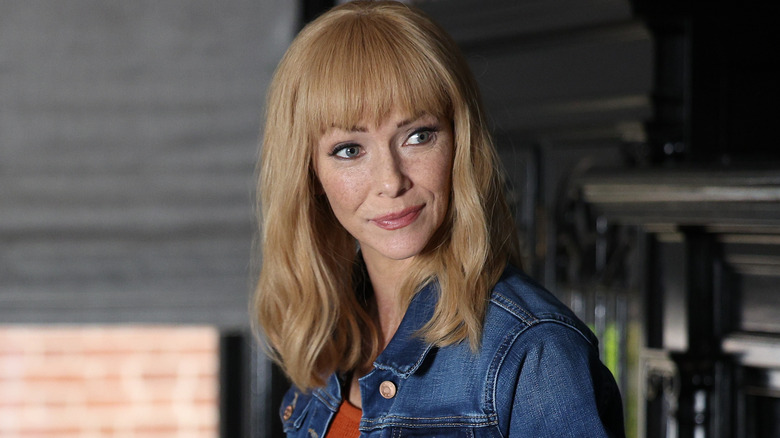 Raymond Liu/ABC
The late Annie Wersching appeared in a number of notable TV properties over the course of her career, including "The Vampire Diaries," Bosch," and a stack of the biggest procedurals, but the actress' recurring role on "The Rookie" particularly holds a special place in many fans' hearts. From the procedural's second season all the way up to several episodes of the recent Season 5, Wersching portrayed the villainous Rosalind Dyer, a manipulative yet altogether charismatic serial killer and a nemesis of John Nolan.
Wersching's death at the age of 45 after a protracted battle with cancer devastated fans, including those who enjoyed her performance on "The Rookie." That impact was made even more significant when it became clear that the actress' last appearance as Rosalind in Season 5 of "The Rookie" would mark her final acting credit. Now, the series has once again made fans emotional with regard to Wersching, as the latest episode of Season 5 included a moving tribute to the star.
Fans loved The Rookie's honoring of Wersching
Roughly two weeks after Annie Wersching died in late January 2023, "The Rookie" honored the late actress in Season 5, Episode 15, titled "The Con." While her character doesn't directly play into the narrative of the installment — Rosalind took her bow from "The Rookie" in Season 5, Episode 4 — the conclusion of the episode nevertheless includes a dedication to the actress along with a picture of her. "In loving memory," the tribute reads.
After the episode aired, numerous fans took to social media to voice their appreciation for the show's honoring of Wersching. "Thank you from the bottom of my heart for remembering Annie in the newest episode," @WerschingNet tweeted. For other fans, the tribute reiterated the overall tragedy of the situation. "It hurt when I saw it," @DLarryHoffman tweeted. "I didn't realize it was her till the notice came up, then it hit me. It could be the last time we see this talented, lovely woman on our screens. Now she's gone. A wife and mother...gone too young."
"The Rookie's" in-memoriam for Wersching in Season 5, Episode 15 comes after the production released a statement on Twitter mourning the death of the actress. "We are deeply saddened to hear about the passing of Annie Wersching, who brilliantly portrayed 'Rosalind Dyer,'" the tweet reads. "Annie's light both on and off screen will always be remembered & our thoughts are with her loved ones."