Harry Potter's Gemma Jones Describes The Set As 'A Big Club'
The environment on TV and film sets tends to be different depending on a number of factors, but true "Harry Potter" fans know that the set of the fantasy films was a place where the actors built lifelong friendships. Many of them, like the ones who portrayed the main trio, met each other during the movies' production, while others, especially the veteran actors, already knew each other prior to walking on set.
So for most of the actors who took part in the movies, the magical sets are not only nostalgic but also sentimentally treasured. Knowing this, it is unsurprising that it was a spectacular experience for the cast and crew to be reunited on the sets where it all began for "Harry Potter 20th Anniversary: Return to Hogwarts." When asked what it was like to come back, Emma Watson told Vogue, "Like heaven, honestly. I am just so happy they still exist! Most film sets are torn down the minute a scene is finished. I am so happy they are still there for people to enjoy, me included."
Even for the actors you forgot were in the "Harry Potter" movies, the experience was nevertheless memorable for them. One such actor is Gemma Jones, who played the sweet Hogwarts nurse Madam Pomfrey in "Chamber of Secrets," "Half-Blood Prince," and "Deathly Hallows – Part 2."
One big magical club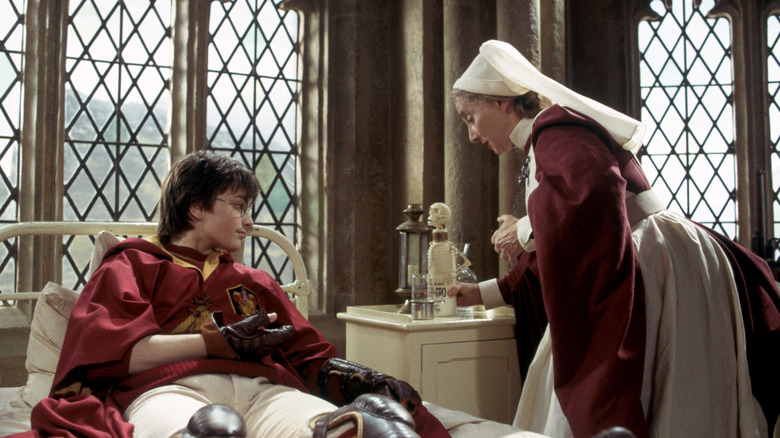 Warner Bros.
Even for those who didn't grow up and go through puberty while shooting the movies, the experience was nevertheless enchanting, chiefly due to the fact that there was a club-like energy about the people working on the Hogwarts sets. "I was proud to be part of it," Gemma Jones expressed in an interview with Keswick Film Club. "Because all of the children acting in the film had to be educated, our days were sometimes very long. There was a lot of sitting around in each other's caravans and having a jolly good time gossiping in-between set-ups. It was like a big club, because so many of us knew each other. That was very enjoyable."
It is undeniable the weight that working on "Harry Potter" has in the memories of all those who had a part in it. Although different individuals experienced those years in their own unique way, it definitely left a lasting mark on everyone. For Jones, it was "a big club". For Watson, "it was [her] kindergarten, school and university." But for all, it was a magical adventure.