Reese Witherspoon Wanted Her Own My Cousin Vinny Moment In Legally Blonde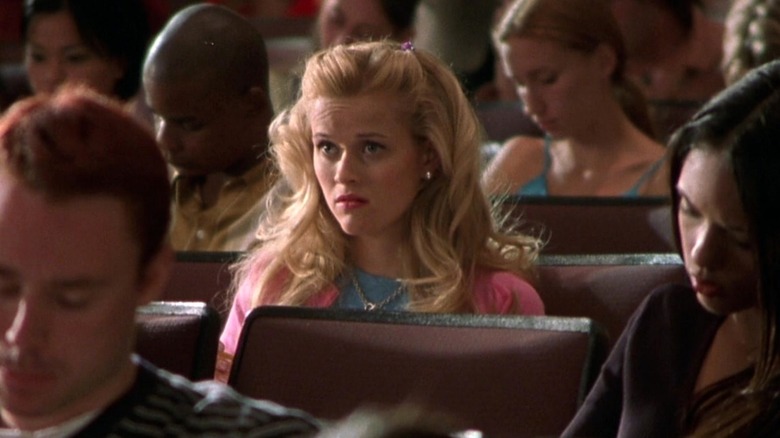 MGM
When "Legally Blonde" hit theaters back in 2001, not only did it crush at the box office, but it launched Reese Witherspoon's career to another level. Only a couple years later, her character, Elle Woods, continued her story in the 2003 sequel, and a third installment is on the horizon. The first film even got a live theater makeover as "Legally Blonde: The Musical" premiered on Broadway in 2007. When reflecting back on her time making the original movie, Witherspoon explains that there was a specific moment that she wanted her character, Elle, to experience, which reflected a pivotal sequence in the hit comedy, "My Cousin Vinny."
For those who aren't familiar, "Legally Blonde" follows Elle, who is first portrayed as a typical sorority sister, focused more on fashion and fun than any sort of future career. After finding out that her boyfriend, who is aiming to be a successful politician, won't propose to her simply because he believes Elle is incapable of being anywhere near his intelligence or career aspirations, she proves him wrong by being accepted to Harvard Law School.
What fans might not know is that the original script was designed to lean more towards being a raunchy R-rated comedy. Jessica Cauffiel, who played Elle's best friend Margo, told the New York Post, "The first script was very raunchy, to be honest, in the vein of 'American Pie.' It transformed from nonstop zingers that were very adult in nature to this universal story of overcoming adversity by being oneself." This change in the film's tone may have helped push Witherspoon to zero-in on what she thought would be the perfect career-changing moment. And for that, she had to tap into her inner-Marisa Tomei.
Elle's big moment was inspired by Marisa Tomei
For Reese Witherspoon's character in "Legally Blonde," despite finding her way into Harvard Law School, there needed to be one big moment that finally quieted anyone who still doubted her abilities. As Witherspoon revealed on "The Drew Barrymore Show," she wanted to have a similar moment that Marisa Tomei had at the end of "My Cousin Vinny." "She came in and testified about this very technical jargon about a car or a carburetor," Witherspoon said. "And I said to the writers, 'I want to have a moment like that where I say something very specific that only Elle Woods would know it.' "
The moment in court Witherspoon is referring to comes towards the end of "My Cousin Vinny," when Tomei's character, Mona Lisa, saves the day with her surprise expert testimony. In "Legally Blonde," Elle cross examines Chutney (Linda Cardellini), who is accusing her stepmother of shooting her father. Just when Elle seems like she's about to fail and prove all her doubters correct, her fashion expertise turns everything around. "And it was inspired by Marisa Tomei," she explained.
Fans know that Elle's knowledge of hair perms was what ended up exonerating her client. Chutney, who claimed she was in the shower when her father was killed, also revealed that she had just gotten home from getting a perm. Elle determined that it wouldn't be possible for the witness to be in the shower, since you need to wait over 24 hours after a perm before getting it wet. This leads to an immediate confession by Chutney that she wanted to murder her stepmother, but inadvertently shot and killed her father instead.