Michael Douglas Says Working With Michelle Pfeiffer Was Like Being An Old Couple On Ant-Man 3
Despite having similar names and having been former '80s icons, Michael Douglas and Michelle Pfeiffer never worked together until 2018's "Ant-Man and the Wasp". At that point, both actors had appeared in notable comic book movies — Douglas in 2015's "Ant-Man" and Pfeiffer in 1992's "Batman Returns," for starters — but the pair had never managed to sync up their schedules and combine their considerable star power. 
Naturally, when the two actors learned that they would be appearing on-screen as the original Ant-Man and the original Wasp respectively, Douglas became excited about working with Pfeiffer (and perhaps about benefiting from some de-aging technology, too). "I was so excited when I heard about [being cast with Pfeiffer]," Douglas told CinemaBlend at the time. "And then of course to hear the fact that, 'Oh by the way, you'll both be like 30 years younger.' I thought, 'Oh, Michelle Pfeiffer 30 years younger, too. She looks great now!'" The cherry on top was that the two shared immeasurable chemistry, causing critics to take note.
Considering Douglas' and Pfeiffer's successful outing, it makes sense that they were excited about working together again in "Ant-Man and the Wasp: Quantumania." The two even said as much, with Douglas going so far as to compare them to ex-lovers.
Douglas felt comfortable working alongside Pfeiffer again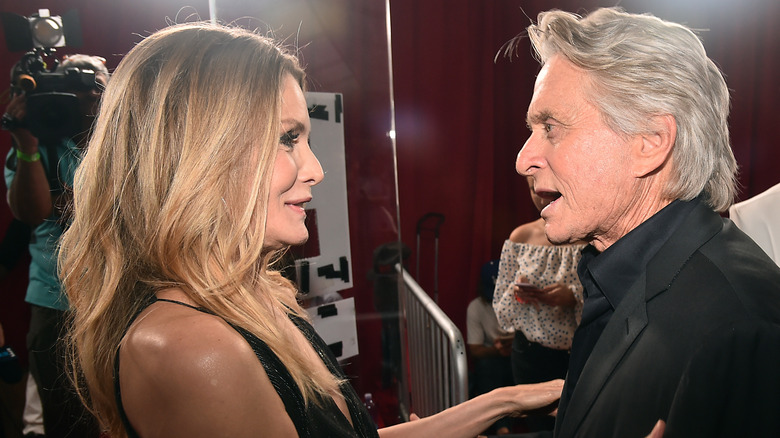 Alberto E. Rodriguez/Getty Images
As Hank Pym and Janet van Dyne, Michael Douglas and Michelle Pfeiffer faced new on-screen challenges in "Ant-Man and the Wasp: Quantumania". But they didn't have any trouble falling into step off-screen, according to Douglas. In a joint interview with Extra, Douglas compared his working relationship with Pfeiffer to those of on-screen pairings during Hollywood's Golden Age.
"It's a comfort factor," he said of working with Pfeiffer. "You understand the old days, why actors and actresses did a lot of movies together. The comfort factor of you know that person, you don't have to go through those formal introductions and then try to understand how each other works, or this or that. You just kind of settle in like an old couple that have been together."
Technically, the two are a couple in the movie, so it's an apt simile. But Douglas also noted that Pfeiffer's talent and positive attitude contributed to his good experience during filming. "As you get older and older ... you only want to work with pleasant people that are talented," he explained.  Surely, that's not a knock against any of his former co-stars, but it's certainly high praise for Pfeiffer. Hopefully, that synergy will pay off — again — in their latest movie.