Michelle Pfeiffer Says Working On Superhero Movies Is A 'Mixed Bag'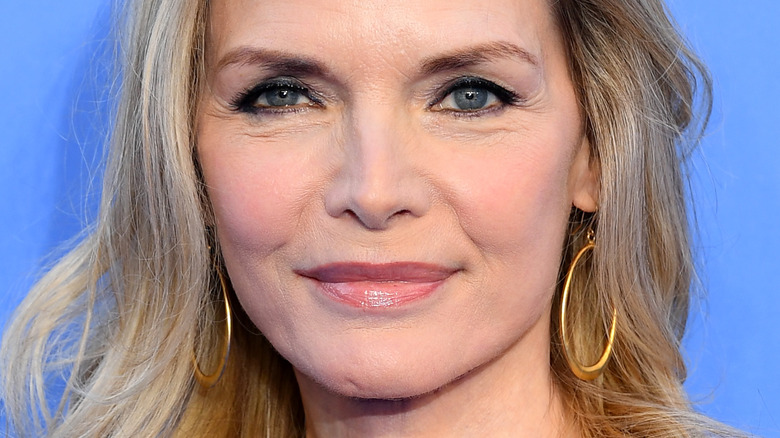 Joe Maher/Getty Images
From "Avengers: Endgame" to "Batman Returns," Michelle Pfeiffer is no stranger to lending her talents to Certified Fresh superhero movies (via Rotten Tomatoes). There is no denying the actress had success playing characters from the pages of comic books in films throughout her career, but she firmly believes the experience has pros and cons.
Over the years, Pfeiffer has proven herself to be a well-rounded talent in the acting game starring in many impressive titles, including "Dangerous Minds," "Scarface," "The Witches of Eastwick," and "What Lies Beneath." She has also competed for the Best Actress honor at the Academy Awards twice for her performances in "Love Field," and "The Fabulous Baker Boys," and also received a nomination for Best Supporting Actress in 1989 for her work in "Dangerous Liaisons" (via Oscars.org). And despite having a modest amount of credits in TV, she has made her presence known on the small screen with a Critics Choice Awards nomination for "The First Lady" and an Emmy nomination for her turn in "The Wizard of Lies."
But many would argue that her biggest claims to fame are as Selina Kyle, aka Catwoman in "Batman: Returns," and Janet Van Dyne in the third "Ant-Man" movie. Being part of an iconic Caped Crusader motion picture and the MCU is nothing short of impressive, but it turns out that suiting up as a comic book-based persona has its ups and downs.
Pfeiffer isn't a fan of the costumes
It's no secret that making movies is a rewarding experience full of hard work, and superhero flicks are no different but come with their own daunting challenges. Going to great lengths to attain the stunning visuals fans enjoy from the popular movie genre can be rewarding at times and also an uncomfortable endeavor to endure, at least according to actress Michelle Pfeiffer. "Look they're a mixed bag. You know, like, the outfits, are always super uncomfortable, and you forget it's like childbirth a little bit," the actress told Jimmy Fallon on The Tonight Show (via YouTube). "But it's — you know, "Ant-Man" is such a fun one to work on. It's such a great group of people." When it comes to the superhero movie game, Pfeiffer believes there is a mix of both good and bad that come with the job.
But when it comes to the wardrobe, she hasn't had an easy time fitting into the fatigues of her characters, like the Catwoman suit she wore in "Batman Returns." "It was the most uncomfortable costume I've ever been in. They had to powder me down, help me inside, and then vacuum-pack the suit," Pfieffer told The Hollywood Reporter. "The face mask was smashing my face and choking me...we had a lot of bugs to work out."
The actress fought memorable battles on and off set with the costume to really sell the Catwoman character to audiences. Hopefully, her return to the Quantum Realm in the MCU film "Ant-Man and the Wasp: Quantumania" will be a less tumultuous ordeal as far as the suit situation is concerned.