Michael Douglas Says The Ant-Man And MCU Films Gave Him A Welcome Break From R-Rated Flicks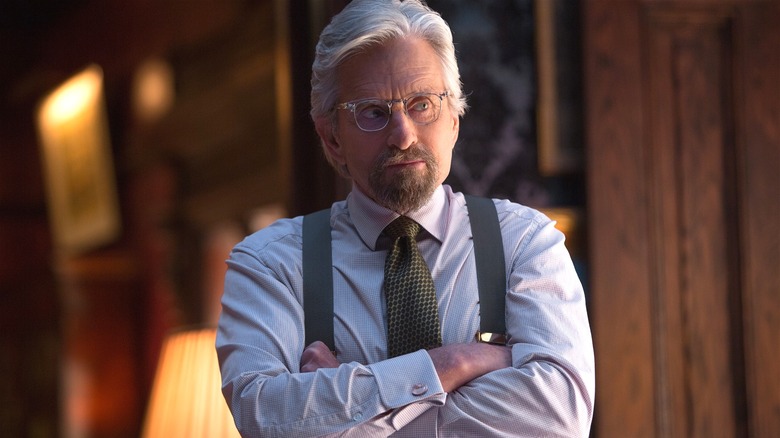 Marvel Studios/Disney
The newest Marvel film, "Ant-Man and the Wasp: Quantumania" — the sequel to 2015's "Ant-Man" and 2018's "Ant-Man and the Wasp" — is quickly approaching its release date of February 17, 2023. Directed by Peyton Reed and written by Jeff Loveness, the film follows Scott Lang aka Ant-Man (Paul Rudd) and Hope van Dyne aka Wasp (Evangeline Lilly) as they are transported to the Quantum Realm alongside their families — which includes Scott's daughter Cassie (Kathryn Newton). There, they must face off against Kang the Conqueror (Jonathan Majors).
Another major character is Hank Pym (Michael Douglas), Hope's father and a former S.H.I.E.L.D. agent, entomologist, and physicist. Notably, Hank was the original Ant-Man after he created the suit. Douglas has appeared in all three "Ant-Man" movies as well as 2019's "Avengers: Endgame."
At a recent presser for "Ant-Man and the Wasp: Quantumania," Douglas discussed his role in the MCU films and admitted that they have given him a welcome break from R-rated films. Here's what the actor has to say on the subject.
Douglas likes that the MCU connects him with younger audiences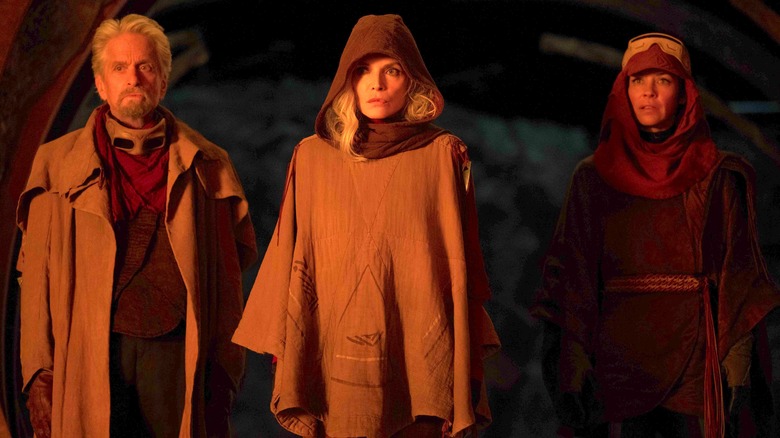 Marvel Studios/Disney
Michael Douglas recently appeared alongside his castmates at a presser for "Ant-Man and the Wasp: Quantumania," which Looper attended. During the discussion, Douglas revealed that working on the "Ant-Man" and MCU films has given him a refreshing break from R-rated films. When asked to describe the appeal of the "Ant-Man" films, Douglas listed the humor and the fun elements before adding, "They seem to relate to all different ages." He then went on to talk about his own career which has been full of many films centered toward adults. For reference, some of Douglas's most famous films — "Wall Street," "Fatal Attraction," "Basic Instinct" and "The War of the Roses," to name a few — are all rated R.
Moreover, a break from R-rated films means that younger audiences know about Douglas's work and want to connect with him, which the actor has enjoyed. Douglas explained, "Someone like myself who is mostly referenced to R-rated movies. This has really been a pleasure to have younger gents coming up [to me] and enjoying what's going on."
"Ant-Man and the Wasp: Quantumania" will be released to theaters on February 17.