Emily Wickersham's Favorite NCIS Episode Saw Her Role Take On More Authority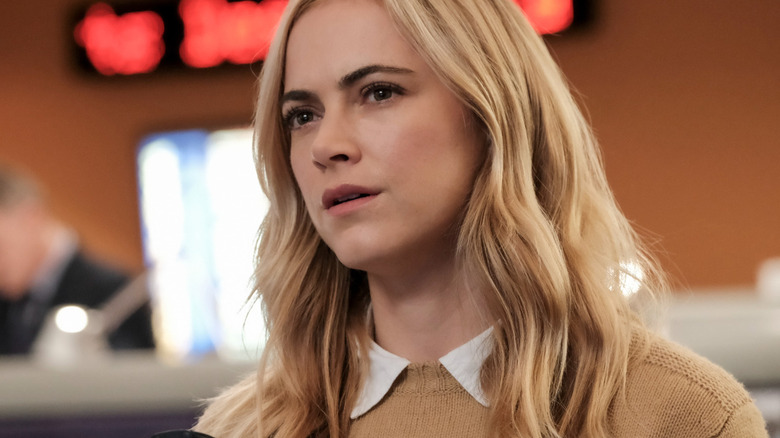 Eddy Chen/CBS
With "NCIS" currently in the middle of Season 20, it's hard not to marvel at the longevity of one of TV's most beloved procedural crime dramas. The series that initially began as a spin-off to "JAG" managed to spawn its own group of shows, with "NCIS: Hawai'i" as the latest. But it's challenging to have a show on for so long without any significant changes, especially concerning the show's cast. Fan-favorite characters like Timothy McGee (Sean Murray) and Jimmy Palmer (Brian Dietzen) are still around. Yet, throughout the years, others have made their exit.
One such departure was special agent Eleanor Bishop, played by actor Emily Wickersham. Wickersham was with NCIS until she left after Season 18. Equipped with skills from her days as NSA Analyst, Bishop didn't take long to showcase just how well she fit in with Gibbs' (Mark Harmon) team after her debut in Season 11. Bishop's talents included dealing with encrypted data, fluency in several languages, and even hand-to-hand combat experience. It all made her appear like a powerhouse of an employee. During Season 15 of "NCIS," Bishop even showcased her leadership capabilities while the team was most vulnerable. In addition, it's that particular episode Wickersham listed as one of her favorites.
House Divided put Elle Bishop in charge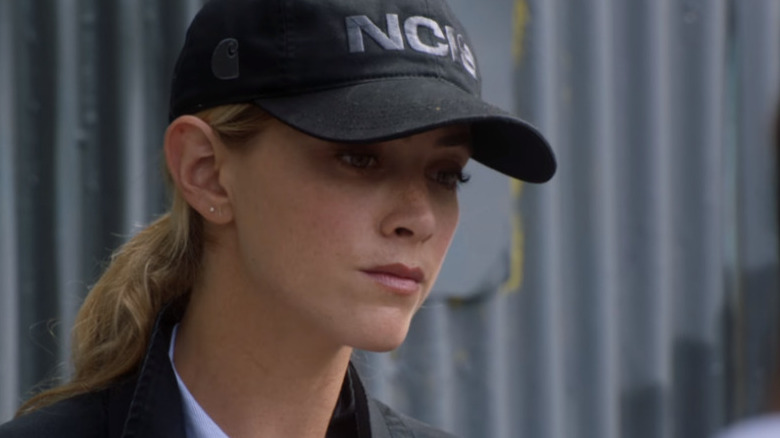 CBS
Season 15's "House Divided" episode picks up the mystery of what happened to Gibbs and McGee following the end of the Season 14 finale. The last we saw the two, they set up a hopeless last-stand defense against terrorists in a Paraguay jungle. In "House Divided," two months have passed, with the duo considered missing by their NCIS co-workers. The good news is that they are still alive. The bad news is that their captors have chosen to give them a brutal imprisonment full of torture. The rest of the NCIS team is trying to do their best to operate without them, which includes a stressed Eleanor Bishop, who is left in charge in the wake of Gibbs' absence.
The first scene we see of Bishop in the episode is her having to navigate leading the investigation to find Gibbs as well as signing off on never-ending paperwork. It's not easy being the boss, and it's even more complicated when walking in the shoes of Gibbs. But despite the hardships for Bishop, Wickersham noted to TV Insider that "House Divided" is one of her favorite episodes as fans got to see another side of the character. "Selfishly speaking, this is one of my favorite [episodes] because Bishop takes on the boss role," Wickersham said to TV Insider. "I like bringing out her authoritative side." 
Despite all the dire action, the episode features plenty of memorable boss Bishop scenes, such as ordering Nick Torres (Wilmer Valderrama) and Clayton Reeves (Duane Henry) to a humorous floor tent meeting to strategize on their case. They really just sit down in the middle of the office, but it does get their collective minds working.
Wickersham also liked the undercover action of High Tide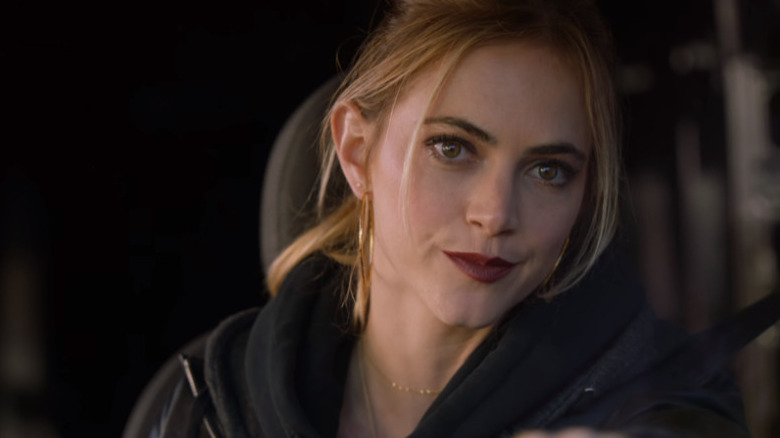 CBS
"House Divided" wasn't the only Season 15 episode Emily Wickersham liked. In a 2018 interview for CBS News, the actor also listed the episode "High Tide" as another personal favorite. And if the episode shares any similarities with "House Divided," it's that we got the chance to see another side of Eleanor Bishop. In the episode, Bishop and Torres are forced to go undercover as a criminal couple to solve a case. Bishop clearly gets a bit of a rush from being able to perform undercover work, even at one point remarking how she understands why Torres does it.
Fans also see her convincingly act more like some of the villains she's helped put away. And it's almost meta when broken down. Wickersham plays a character in an episode that is forced to act as another person. Basically, "High Tide" significantly deviated from the norm for Bishop, which is why Wickersham is so fond of the episode. She told CBS News, "You know that episode, in particular, was one of my favorites because my character actually doesn't get to go undercover that much. And I was able to play like two other characters in that episode, which is so different from going into work and just doing the regular Bishop stuff week to week."