NCIS Season 20 - What We Know So Far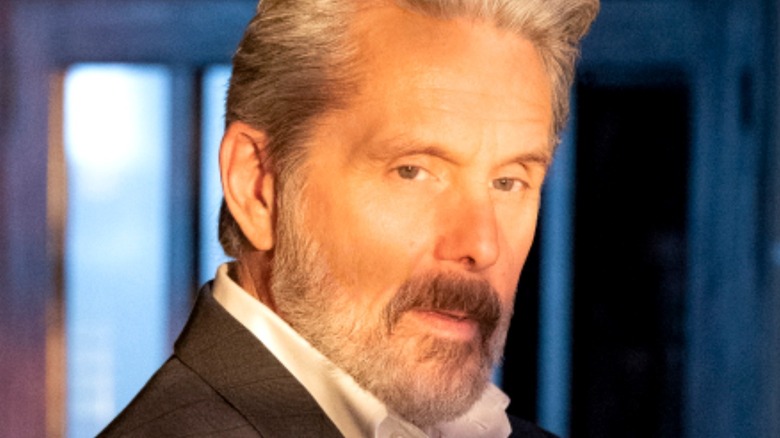 Robert Voets/CBS
There are only three things dedicated procedural fans can expect out of life — death, taxes, and a fresh season of CBS' "NCIS" awaiting them every single fall. The iconic series was renewed in March of 2022, which guaranteed that it will live long enough to deliver at least one more year's worth of crime-solving thrills. The show was renewed for good reason, too, as TV Line reports that it's still CBS' most popular program, pulling in an average of 11 million viewers per installment.
It's a juggernaut that's hard to beat, one that even survived the Season 19 departure of Mark Harmon, who played Special Agent Leroy Jethro Gibbs. Around the midseason mark of "NCIS" Season 19, fans were subsequently introduced to the man who has effectively functioned as Gibbs' replacement since his departure, NCIS Supervisory Special Agent Alden Parker (Gary Cole). The "NCIS" Season 19 finale centers around Cole's mysterious Parker and fans of the show were eventually left with their jaws on the floor after a shocking last-minute plot twist left them fearing for his safety.
With the series having premiered on September 19, 2022, here's everything we know so far about "NCIS" Season 20.
What is the plot of NCIS Season 20?
In the Season 19 finale of "NCIS," titled "Birds of a Feather," viewers learn that Alden Parker's ex-wife, Vivian Kolchak (Teri Polo), has been kidnapped, which leads the NCIS team to the house of Frank Ressler, Parker's ex-FBI partner. They find Ressler dead, which initially leaves the team with two problems on their hands. The team then realizes that someone is trying to frame Parker for Ressler's murder. In case that wasn't bad enough, forensic evidence even suggests that Parker was on the scene after bits of his skin are discovered underneath Ressler's fingernails.
While the team works to locate Vivian, both her kidnapping and Ressler's death end up connecting back to the sudden reappearance of Raven, an anonymous bioterrorist and extremist who was introduced earlier in the season. Although Parker eventually offers to surrender to the FBI as well, his allies encourage him to go on the run with Vivian. Unfortunately, the season finale ends by strongly hinting that Vivian and Raven might be in cahoots, which puts Parker in some serious danger.
As noted by TV Line, the premiere installment of "NCIS" Season 20 picks up just a day or two after the end of the series' previous season. Gary Cole's Parker is, therefore, still be on the run when "NCIS" Season 20 begins. His team, meanwhile, is still be busy trying to determine who might have been interested in setting him up in the first place. Their efforts to clear his name result in them enlisting the help of none other than "NCIS: Hawai'i" leads Jane Tennant (Vanessa Lachey) and Ernie Malick (Jason Antoon).
Who stars in NCIS Season 20?
The entire core cast of "NCIS" returns for the show's latest season. That means longtime "NCIS" stars like Sean Murray, Brian Dietzen, and David McCallum reprise their roles as Timothy McGee, Dr. Jimmy Palmer, and Ducky, respectively. Wilmer Valderrama, Diona Reasonover, and Rocky Carroll also return for "NCIS" Season 20. 
Meanwhile, coming off his important role in the "NCIS" Season 19 finale, Gary Cole returns as Special Agent Alden Parker on CBS' flagship drama. Katrina Law similarly reprises her role as Jessica Knight, which means fans of the series will, indeed, get to see Law's Jessica further explore her growing relationship with Dietzen's Jimmy in "NCIS" Season 20. Unfortunately, it's unclear right now whether or not Mark Harmon will make any guest appearances as Leroy Jethro Gibbs in the "NCIS" season. 
When discussing Harmon's future on the show, CBS Entertainment president Kelly Kahl did, notably, tell TV Line in May, "Everyone is aware that the door is open if [Mark] ever wants to pop in for an episode, or multiple episodes." Taking that into account, it looks like fans will just have to live with not knowing for sure if and when Harmon might show up in "NCIS" Season 20.
Is there a trailer for NCIS Season 20?
CBS released an extended trailer for "NCIS" Season 20. The trailer in question teases the new seasons of both "NCIS" and "NCIS: Hawaiʻi," which appear to be fittingly action-packed and intense. Indeed, while it's hard to pick up any specific plot details from the teaser, the 90-second trailer does make it clear that the characters in both "NCIS" and "NCIS: Hawaiʻi" definitely aren't going to be able to take it easy this season.
That doesn't, however, mean there won't be some moments of humor and levity scattered throughout "NCIS" Season 20. The season's trailer does spotlight a fun moment, for instance, when Katrina Law's Jessica Knight is forced to wonder whether she likes drinking rum more or less than punching bad guys in the face. The trailer also implies that the core "NCIS" team is only going to grow more attached to Gary Cole's Alden Parker throughout the series' new season. Parker even notes at one point in the teaser that his fellow "NCIS" heroes are "not just my team. They're my family."
Where to watch previous seasons of NCIS
There's no better time than now to rewatch some old episodes of "NCIS." The good news is that it's pretty easy to do just that, too.
All 19 seasons of "NCIS" are currently available to stream on Paramount+, which means that anyone subscribed to the streaming service already has access to all of the long-running CBS drama's previous episodes. Meanwhile, those who aren't existing Paramount+ subscribers can also sign up for the service, which offers an "Essential" subscription plan that charges $4.99/month and a "Premium" plan that costs $9.99/month. Both plans, notably, offer one-week free trials.
Elsewhere, Netflix does have the first 15 seasons of "NCIS" available on its platform. That, of course, won't help any of the "NCIS" viewers out there who either need to catch up on its most recent episodes or simply wish to refresh themselves on the events of its latest season. However, anyone who might be interested in revisiting some of CBS' older "NCIS" episodes can feel free to visit the show's Netflix page and browse around.