Bohemian Rhapsody Trailer, New Images Drop At CinemaCon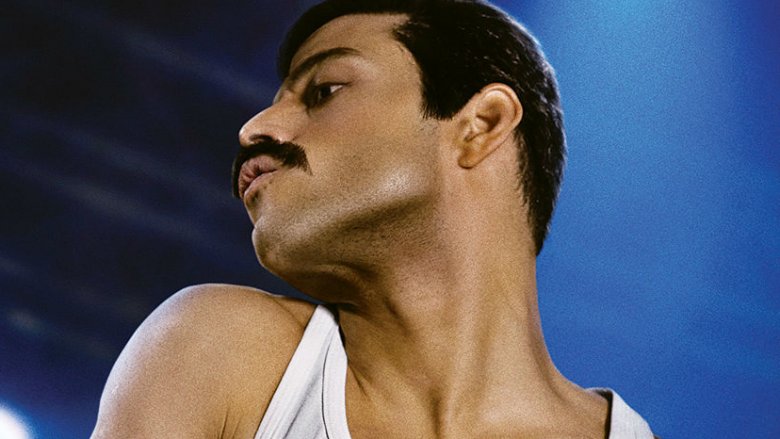 Rami Malek and studio 20th Century Fox had themselves a real good time at CinemaCon, unveiling the first trailer for and brand-new images from Bohemian Rhapsody, the upcoming biopic centered on legendary rock band Queen. 
Malek, who portrays the late, great Queen frontman Freddie Mercury, ushered in the Bohemian Rhapsody goodies during Fox's film slate panel presentation on Thursday. The footage hasn't yet been released online (though we suspect that will change in the coming weeks), but The Hollywood Reporter has the inside scoop on what was shown. 
According to the outlet, the footage opens on what is perhaps Queen's most popular song: "Bohemian Rhapsody," the track from which the film takes its name. Viewers see Malek as a young Freddie Mercury asking if he can be the lead singer of a band, to which one of his future bandmates quips back, "Not with those teeth, mate." The remainder of the clip is comprised of vignettes of Mercury and the band rocking out in their early days, still discovering what Queen should really sound like. "If I go any higher, only dogs will hear it," Mercury laughs. Also featured are the glamorous later years, when Queen finds fame onstage, and Mercury being questioned about his life outside the recording studio. The whole thing ends on a powerful note: Mercury taking the stage for the iconic 1985 Live Aid concert, the sound of "We Are the Champions" fueling his steps. 
Elsewhere in the presentation, snaps from Bohemian Rhapsody were shown, which can be viewed at the bottom of this article. They spotlight Malek as Mercury — thick mustache, aviator-frame sunglasses, and all — and the whole band (Joe Mazzello as John Deacon, Ben Hardy as Roger Taylor, Gwimlym Lee as Brian May) working their magic during the 1985 Live Aid gig. 
Malek opened up about the pressures of playing such a massive cultural icon, "When I got this role, I thought, 'Oh, my God, this could be a career-defining performance.' And then two minutes later I thought, 'This could be a career killer.'" He added, "[Mercury] gives everyone watching permission to embrace their imperfections and sing as loudly as they can. That is what he did for me."
Queen guitarist Brian May has actually seen the movie already, and emailed Malek to express how much he loved it. May reportedly told the actor that Bohemian Rhapsody brought him to tears, and that if Mercury were alive today, he would be "proud" of the film. 
Though Bohemian Rhapsody has faced some serious drama behind the scenes, with director Bryan Singer getting fired in December of 2017 following unexplained absences and unprofessional behavior before Eddie the Eagle filmmaker Dexter Fletcher took over, it seems that everything has been smoothed over and that the flick has the potential to be something incredible. 
Bohemian Rhapsody also stars Lucy Boynton as Mary Austin, Mercury's lifelong companion; Aiden Gillen as John Reid, Queen's manager from 1975 to 1978; Tom Hollander as Jim Beach, who stepped up as Queen's manager in 1978; Aaron McCusker as Jim Hutton, Mercury's lover; Allen Leech as Paul Prenter; and Mike Myers in an undisclosed role.
The film is set to open on November 2.