Jon Favreau Opens Up About How Star Wars And The MCU Inform Each Other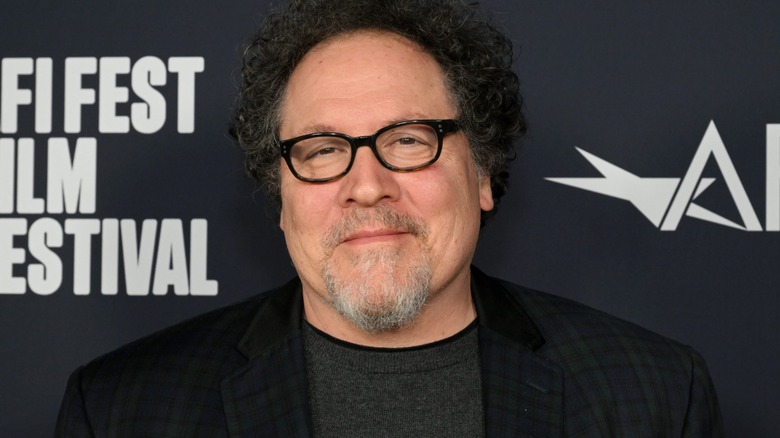 Michael Kovac/Getty Images
The force appears to be stronger than ever with "The Mandalorian" mastermind Jon Favreau, who has been enjoying the fruits of his "Star Wars" labor for nearly half-a-decade now — with Season 3 of his flagship Lucasfilm series debuting on March 1, the "Ahsoka" spinoff coming sometime later in 2023, and a rumored "Mandalorian" side project with Dave Filoni that's reportedly in the works. But let's not forget where Favreau first earned his chops in the world of big-budget producing: Disney's Marvel Cinematic Universe. 
The longtime "Avengers" EP may be a Lucasfilm man now, but Favreau says in a new February 2023 interview that the MCU is still always in his heart — and mind, apparently — despite the fact that he's now primarily working on "Star Wars" stuff. As a result, Favreau admits that the two universes often overlap and inform one another, whether it be through storytelling or the technological side of things. And this is especially true when it comes to TV and streaming. 
"With television, we're very lucky that we don't have to rush things through into an hour-and-a-half, two hours. We get to tell stories slowly," Favreau told CinemaBlend in May 2022. 
One of the biggest ways "Star Wars" and Marvel fans often find themselves doing the Spider-Man pointing meme is the fact that they each have great content to watch now on both the big screen and Disney+, with streaming projects becoming a major part of the overarching plot and lore at Lucasfilm and Marvel Studios, to the point where it's just as important to watch the TV shows as it is the movies. And in order to pull it all off, Favreau claims there's an extra special someone at Marvel he's been brainstorming with while working on his "Star Wars" projects. 
Favreau speaks to Kevin Feige regularly, says there's 'a lot of overlap' between Marvel and Star Wars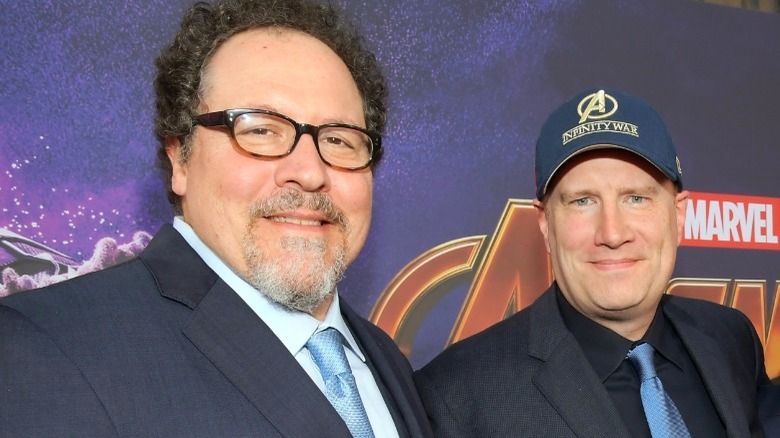 Charley Gallay/Getty Images
Opening up to Variety in a February 2023 interview, Jon Favreau described how he speaks to Marvel Studios president Kevin Feige on a regular basis about various things pertaining to both "Star Wars" and the MCU. Favreau said: "I speak to [Marvel Studios president] Kevin Feige regularly, and we're always watching each other's stuff." According to him, the duo's longtime work relationship on "The Avengers" films and "Iron Man" movies is something they both cherish and keep alive to this day — and oftentimes, the creative camaraderie will come across on screen. 
"There's a lot of overlap, and certainly in the fan base," Favreau told Variety. "I think one informs the other, that's just the nature of storytelling, on the technological side as well as stylistically."
When it comes to influences and similarities that Marvel and "Star Wars" share, most can be seen in the realm of TV and streaming. Specifically, Marvel's practice of turning TV characters and plots into bigger stories and movie-related things — like Jonathan Majors' He Who Remains going from "Loki" baddie to Phase 5 supervillain, aka Kang the Conqueror — is an approach that Favreau and Lucasfilm are looking to take as well. He told Variety, "There's always an opportunity when you have a set of characters and stories that people connect with that you could cross media into different areas. Marvel does it quite effectively. It's just a matter of where our time should be spent and what the appetite of the audience is. With all these stories we' re telling, it definitely is a full-time job just keeping this going with what we're doing now."