1923's Julia Schlaepfer Recalls The Tugboat Scenes' Freezing Filming Conditions
Episodes 5 and 6 of Taylor Sheridan's Paramount+ series "1923" saw stars Brandon Sklenar and Julia Schlaepfer, aka Spencer and Alex, go through a harrowing tugboat mishap that put the America-seeking love birds in a frightening situation of life-and-death — with Alex being trapped inside the capsized boat and Spencer having to save her. Throughout Episode 6, "One Ocean Closer to Destiny," we see the stranded characters trying their best to survive on top of their destroyed vessel, which was heading for the Suez Canal and eventually London as the couple attempts to seek passage to the US. 
Bobbing around the Mediterranean may sound like a great day of shooting for the actors, but according to Schlaepfer — who spent much of her time in the water — the experience was quite the opposite. First off, the scenes weren't even shot in the actual ocean, per Schlaepfer and previous media reports. An exterior water tank was instead used in the island country of Malta. The world-renowned water SFX facility ultimately allows Hollywood productions to have more control over the conditions and scenery during their shoots, but it doesn't make things any easier for the stars involved — especially when they're shooting in the dead of winter.
'We just shivered in the water tank the whole week'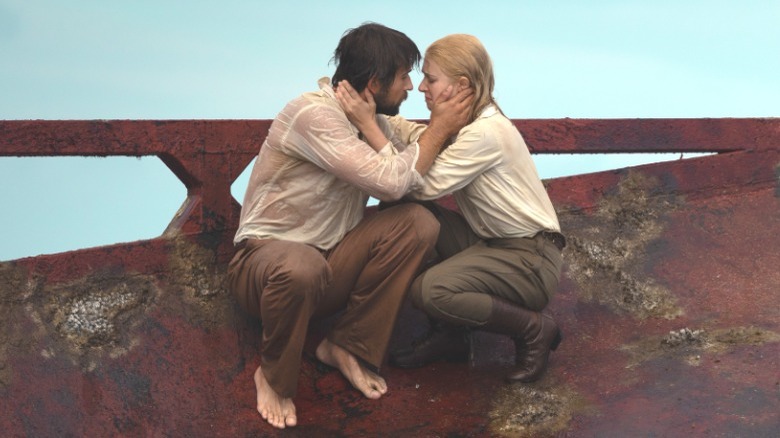 Paramount+
Speaking to Deadline in a recent interview, Julia Schlaepfer described how she and Brandon Sklenar were put through a frigid week of "1923" tugboat shoots, which brought the two stars closer together, but also left them both feeling miserable at times. 
"All of that was in Malta, which actually has one of the biggest film water tanks in the world," Schlaepfer said. "It was freezing. It was their winter time. We all thought it was going to be warm because Malta sounds like Italy — very warm. We just shivered in the water tank the whole week, but it was a great bonding experience and so much fun."
The first season of "1923," which is slated to have eight episodes, has been focusing on Spencer and Alex's story alongside the show's main Dutton-related plot, involving Harrison Ford's Jacob Dutton and Helen Mirren's Cara Dutton. Spencer, who has been living in Africa as a big game hunter, is Jacob and Cara's nephew. The last two episodes are set to see if he and Alex ultimately have what it takes to make it back to Montana and the land he must help his family protect.