Even Julia Schlaepfer Is Feeling Anxious About Alex's Last Words In 1923 Episode 6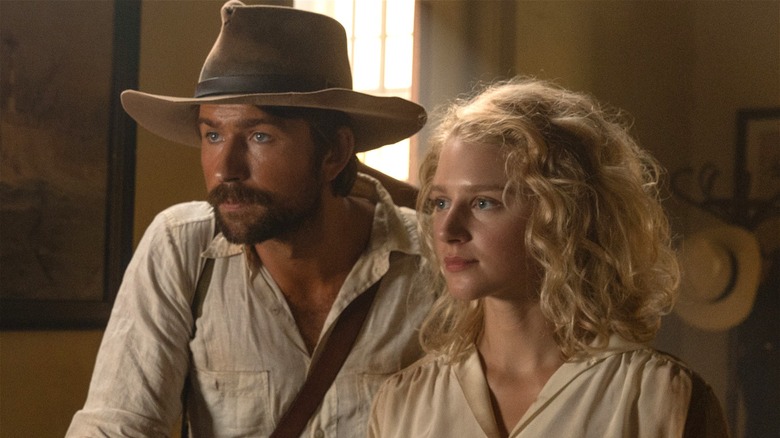 Emerson Miller/Paramount+
Contains spoilers for "1923" Season 1, Episode 6 – "One Ocean Closer to Destiny"
With six episodes of Taylor Sheridan's "1923" officially in the books, fans of the greater "Yellowstone" universe continue to devour every juicy narrative morsel said verse has to offer. Thankfully, the morsels Sheridan and team are serving up with "1923" are every bit as tasty, if not tastier, than those delivered in either "Yellowstone" or "1883."
Like the latter project, "1923" is also a prequel to the flagship "Yellowstone" series. It debuted in late 2022 to considerable fanfare, in no small part due to the presence of iconic stars Helen Mirren and Harrison Ford, who play Cara and Jacob Dutton, respectively. While that pair appear to be living up to their superstar billing, two of their less famous co-stars are earning equal raves for their own work on the show. Those stars are Brandon Sklenar and Julia Schlaepfer, who portray tortured Dutton offspring Spencer and his new partner, a freethinking aristocratic Brit named Alexandra.
The burgeoning romance between Spencer and Alex has become the very definition of "whirlwind" through the first six episodes of "1923," with the pair enduring all manner of danger in their journey across the African continent. They faced death once again in the most recent episode, narrowly surviving a harrowing boat wreck. Near-death experiences aside, Alex has been adapting to a new way of life exceedingly well. Still, her potentially not-so-cryptic proclamation at the end of the episode has both "1923" fans and Schalepfer herself fearing for the character's future.  
Fans think Alex's amorous Dutton addiction might be the end of her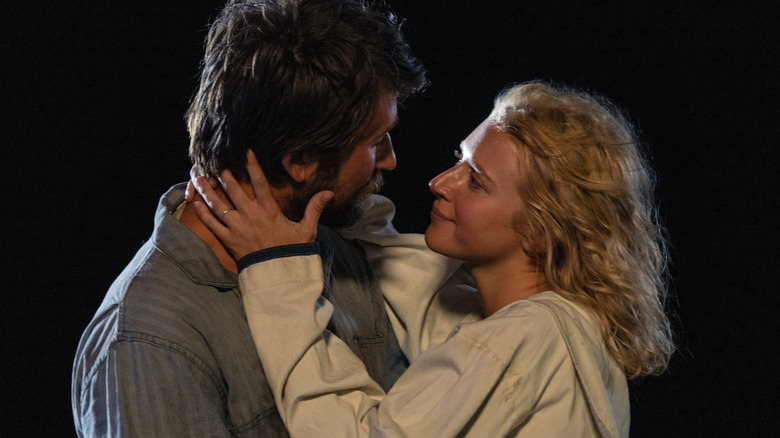 Emerson Miller/Paramount+
Twitter user @tom_ahs recalled that after surviving the boat crash, Alexandra proclaimed boldly to Spencer Dutton: "I go where you go, even if it's the death of me." That user noted in the second half of their tweet, "I have a horrible feeling this was a foreshadowing moment for Alex." They are far from the only viewer in the greater Twittersphere now worried for Alex's life, with @ileadfarmer writing, "That last line fills me with a sense of dread, foreshadowing that she'll die long before his journey (and this story) ends...Don't do this to us Taylor Sheridan."
Meanwhile, over on Reddit's official "1923" discussion thread, the discourse is similarly gloomy, with u/TheDriftersEscape one of the few "1923" fans who seem eager to endure whatever Taylor Sheridan throws their way in regards to Alex. They first affirmed how much they enjoyed the latest episode before adding, "And Oooooh the last line of the episode...Sheridan's not playing fair but he's doing it right, haha." In response to that post, u/efvalantine kept the worry train chugging with the comment, "UGH THAT LAST LINE fills me with dread but Sheridan doesn't shy away from ripping my heart to pieces so I guess it's only natural!!!! ouch!!!"
For their part, u/MeetingConstant513 agrees, posting, "Unfortunately last line from Alex did seem like a foreshadow
I will just hope that Taylor is smarter than killing off a good character that has great chemistry with the show." That comment naturally begs the question as to whether the fan has watched either of the series that preceded "1923." Nonetheless, Julia Schlaepfer has also admitted she's acquainted enough with Sheridan's work to know every word he writes matters.  
Alex would hardly be the first main character Taylor Sheridan has killed off in the Yellowstone realm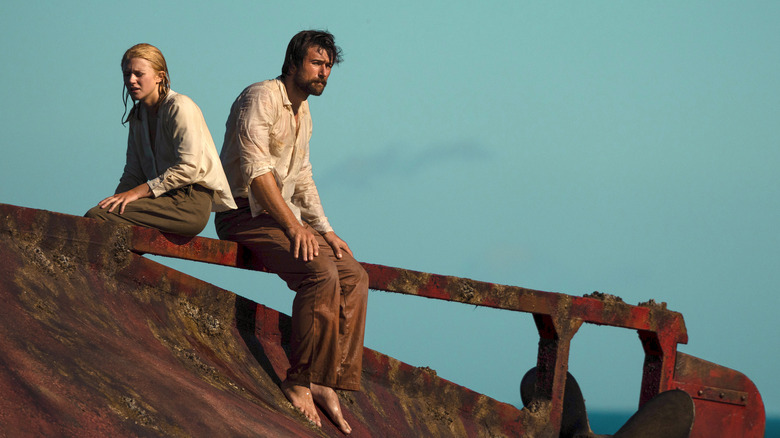 Emerson Miller/Paramount+
For the moment, going where Spencer Dutton goes merely means heading to Montana to touch base with his besieged family. And even as perilous as that journey has already been, per Julia Schlaepfer's comments to Deadline, Alexandra's end may not be as imminent as "1923" fans think. "I want her [Alex] to meet the whole family," she said, adding, "I can't tell you, but it will take some time. They've got to cross the ocean and they have to cross the country." Not to read too much into things, but from those words, it seems Alex will likely find her way to the Yellowstone Dutton Ranch very much alive.
Still, as "Yellowstone" fans know, being in bed with the Duttons tends to get complicated — if not deadly — very quickly. Schlaepfer indeed admitted to being keenly aware of that as well, telling Deadline, "Taylor doesn't write anything that he doesn't mean!" She later added that reading Alex's ominous Episode 6 proclamation filled her with as much dread as anyone. "When I first read that, I was like uh-oh," she said, noting, "I'm truly going on not knowing what is going to happen to her. ... I definitely think it means there are a lot more obstacles they are gonna have to go through before the end of the story."
Given Sheridan's reputation for offing characters in the greater "Yellowstone" universe, the trepidation is hardly unwarranted. And yes, that's particularly true after Sheridan offed even "1883" fan-favorite lead Elsa Dutton (Isabel May) in the series' own heartbreaking Season 1 finale. Sheridan would no doubt be wise to avoid so quickly repeating that sort of twisting narrative dagger. But only time will tell.