Godzilla: King Of Monsters Casts Rampage Star As Ghidorah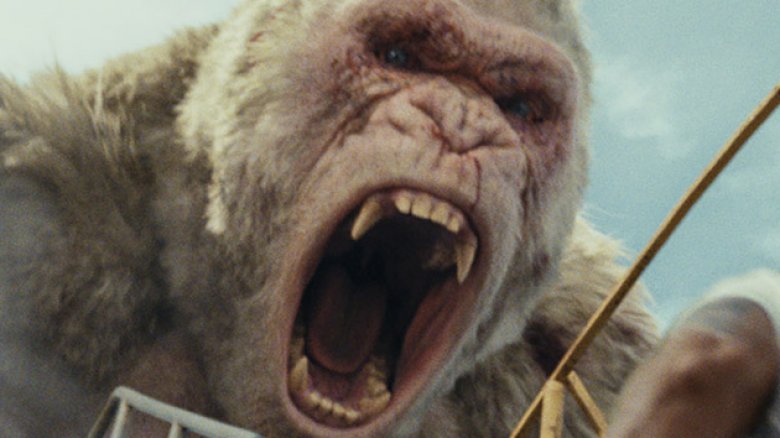 Warner Bros.
One actor from Rampage is set to keep on rampaging in the Godzilla sequel.
Jason Liles, who made waves for his well-received performance as George the albino gorilla in the blockbuster video game adaptation from Warner Bros., will next use his motion-capture skills to bring an infamous monster from the Godzilla canon to life, according to a report by The Wrap.
While the posters for Rampage may all talk up Dwayne Johnson, the real star of Rampage is Liles, who method-acted his way through the unorthodox role after spending months studying primate behavior. 
Now, he'll get to apply the beastly skills he learned to the role of King Ghidorah, the three-headed winged monster who was originally introduced in a 1964 movie called — fittingly enough — King Ghidorah, the Three-Headed Monster. 
Prior to his star-making turn in Rampage, Liles had motion-capture roles in Men in Black III and Death Note. 
Naturally, considering Ghidorah's many-headed nature, Liles will be working with several other motion-capture actors to bring the creature to life — which should, if nothing else, make for some really incredible behind-the-scenes material.
Liles joins a cast that includes Kyle Chandler, Vera Farmiga, Millie Bobby Brown, Zhang Ziyi, Charles Dance, Sally Hawkins, Bradley Whitford, O'Shea Jackson, Ken Watanabe, and Thomas Middleditch.  
In addition to King Ghidorah, humanity will also have to contend with kaiju classic characters Mothra and Rodan, all of whom will go toe-to-toe with Godzilla on a global stage as they battle to become the king of the monsters.
Directed by Krampus director Michael Dougherty, Godzilla: King of Monsters is set to slam into theaters on March 22, 2019.