Leslie Grace Found Out About Batgirl's Cancelation In The Worst Way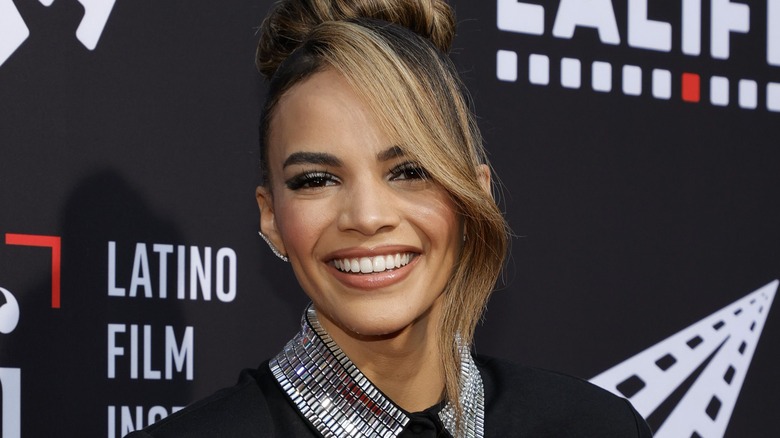 Amy Sussman/Getty Images
The future of the DC Universe looks much clearer now that James Gunn and Peter Safran have announced their DC reboot plans. "The Flash" movie is set to mark a reset for Warner Bros. Discovery's superhero film and television slate, and it'll pave the way for projects such as "The Brave and the Bold" and "Superman: Legacy." This is exciting in many ways, but it's also frustrating as Leslie Grace's "Batgirl" remains stuck in limbo with no release date in sight.
Despite being almost finished and ready for release, the $90 million film was shelved indefinitely after Warner Bros. merged with Discovery and introduced some changes to the company's business model. Still, the explanation for "Batgirl's" cancelation rings hollow, with executives claiming that the decision came about as the result of a "strategic shift" regarding the studio's plans for DC.
Furthermore, it seems that Warner Bros. Discovery reps didn't even bother informing some of the cast members about their plans. In a new interview, Leslie Grace revealed that she learned about the film's cancelation in the worst possible way.
Leslie Grace wasn't told about WBD's plans to scrap Batgirl
It seems that Warner Bros. Discovery executives didn't even give Leslie Grace and her co-stars a courtesy call to let them know that "Batgirl" had been shelved. In a recent interview with Variety, Grace and Brendan Fraser, who played Batgirl and Firefly, respectively, revealed that they found out about it via the press. "I found out like the rest of you," Grace said. "And then my phone just started blowing up."
Fraser, meanwhile, thought the news was a joke at first. He said he knew that changes were being discussed regarding the film's release plans, but he didn't expect it to be canned. "I know that the filmmakers and producers were expecting to hear from the studio about the film, and the anticipation was, 'How do we broaden the movie out to take it from a streaming format to a theatrical release?' But as we all know, it was the complete opposite."
As of this writing, it's unknown if the film will ever be released. Peter Safran said "Batgirl" is currently "unreleaseable," though he's confident that the character will feature in the DCU at some point.