Alan Rickman Compared Filming Harry Potter To A Military Campaign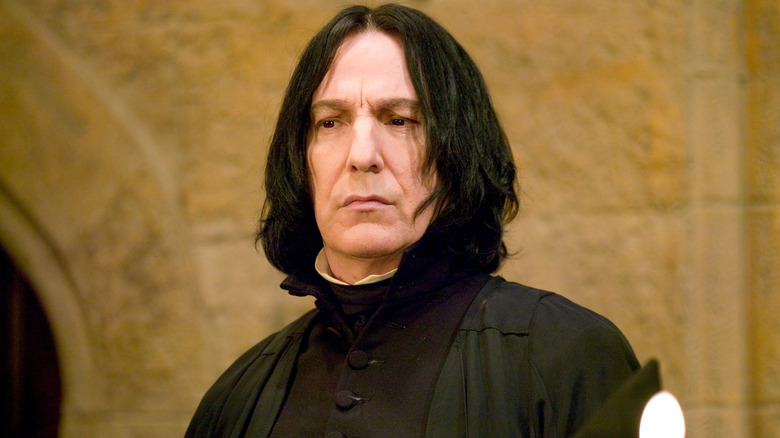 Warner Brothers
Hogwarts can't be an easy place for anyone to work. As if running a normal boarding school for teenagers isn't hard enough, there's quite literally a whole spell of new dilemmas that arise when everyone at the school is a wizard. Having the power of sorcery is nevertheless a crucial one to cultivate correctly, and a dedicated few take on the task of doing that and then some in the "Harry Potter" books. Such enchanted educators that were brought to life in the film adaptations include Albus Dumbledore (Richard Harris and Michael Gambon), Rubeus Hagrid (Robbie Coltrane), and Minerva McGonagall (Maggie Smith), as well as the infamously divisive character of Severus Snape (Alan Rickman). 
While he comes off as cold-hearted and hostile — even arguably downright cruel — Snape has a lot of complex emotions and motivations under the surface, and he puts a lot on the line for the well-being of Hogwarts and its star student, Harry Potter (Daniel Radcliffe). While the character of Snape is no doubt a tortured soul who endures a rough go of it throughout the series, his actor, the late Alan Rickman, also didn't have a walk in the park. In fact, Rickman probably would have had an easier time teaching wizardry than shooting the "Harry Potter" movies, according to the actor's memories of the set.
Rickman didn't know how they all kept it together
While the "Harry Potter" series had long ago proven its popularity amongst countless readers, transferring those pages onto the big screen for a dedicated fanbase and newcomers alike was a tricky balancing act. And actor Alan Rickman, who starred as Hogwarts professor Severus Snape for all eight "Harry Potter" films before his death in 2016, was more than aware of this fact — and once revealed the immense pressure the cast, crew, and producers felt while shooting the series.
A 2015 Empire interview with the "Die Hard" actor recalled the arduous on-set experience. "It was like being in an army camp, because the pressure on the producers was so intense," he says. "They had a clipboard for the stuff they had to hit every day. And sometimes there were 300 children on set." The pressure on set was so extreme that Rickman even compared the mindset to an even harsher environment. 
"It's a military campaign to get the adult actors there, because half of us were doing something else at the time," said Rickman who, during the film franchise's initial run, also starred in such movies as "Love Actually," "Sweeney Todd: The Demon Barber of Fleet Street" and "Alice in Wonderland" (via IMDb). "I don't know how they got us all there." Nevertheless, much like the tall order of teaching at Hogwarts, Rickman and company pushed through to create an iconic franchise that fans still love today.