Harry Potter's Alan Rickman Played A Hilarious Prank On Daniel Radcliffe During A Serious Scene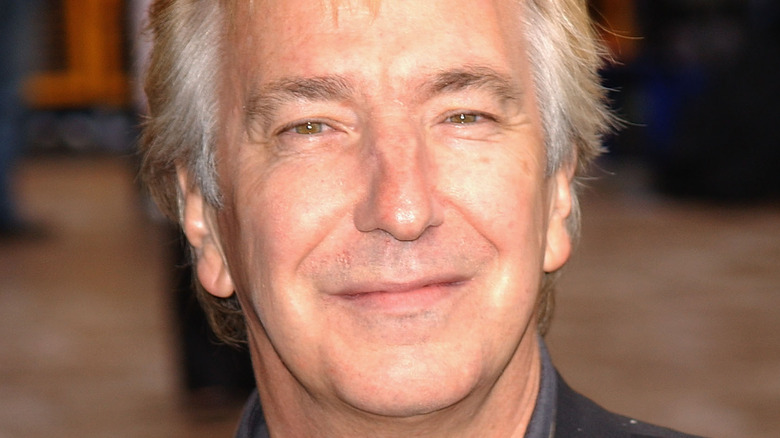 David Westing/Getty Images
The late Alan Rickman's brilliantly grim Potions professor, Severus Snape, is the imperious classroom tormentor of Daniel Radcliffe's earnest young wizard throughout the "Harry Potter" series. A classically trained veteran of Britain's Royal Shakespeare Company (via TV Guide), Rickman is also internationally known as the villainous Hans Gruber in 1988's "Die Hard," as well as for playing the equally vile Sheriff of Nottingham in the 1991 film "Robin Hood: Prince of Thieves."
Although Rickman portrayed the glowering Snape in all eight of the "Harry Potter" movies, he wasn't particularly eager to continue reprising the role as the franchise went on to conquer the moviegoing world (via The Guardian). As revealed in his diaries, published six years after his death in book form as "Madly, Deeply: The Diaries of Alan Rickman," the actor often questioned whether to continue portraying Snape but always decided to carry on as one of the most unforgettable instructors at Hogwarts School of Witchcraft and Wizardry. And even though he played a relentlessly humorless character in his many "Harry Potter" appearances, it turns out Rickman himself had a keen sense of comic devilry when it came to pulling pranks on his co-stars.
Rickman pranked Radcliffe big time while shooting the third Harry Potter film
During a Reddit Ask Me Anything session, "Harry Potter" star Daniel Radcliffe recalled a uniquely memorable gag instigated by Alan Rickman during the making of "Harry Potter and the Prisoner of Azkaban."
"In the 3rd film – there's a shot in the [G]reat [H]all of all the kids sleeping," Radcliffe said. "And the camera starts very very wide, and comes in so that it's an inch from my face." The scene in question features all the kids at Hogwarts bedded down in sleeping bags as Snape and Professor Dumbledore (Michael Gambon) quietly walk among them, speaking in low, reverent tones about the magical nature of dreams. What happened next, however, is something less than enchanting.
"Alan Rickman decided he would plant one of those fart machines in my, uh, sleeping bag," Radcliffe recalled. "And they waited until like -the camera had come in for this huge DRAMATIC developing shot, and then unleashed this tremendous noise in the [G]reat [H]all." As Rickman said later on "The Tonight Show" (via Buzzfeed), "All over the floor, there are kids sitting up out of the sleeping bags, and they're all going, 'It wasn't me.'" And while Radcliffe admits he was embarrassed when it happened, he came to appreciate Rickman's prank, admitting, "It was really really funny."