Young Sheldon Season 7 Needs To Be Its Last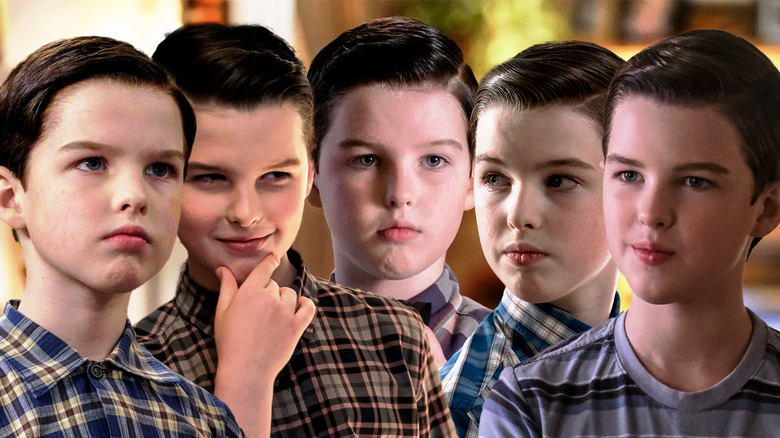 Static Media
What's the most common remark "Young Sheldon" fans often receive from non-fans, after revealing themselves as a viewer of the acclaimed sitcom? Stop if you've heard this before — "Wait, is that thing is still on?" 
Snide comments about the existence of "Young Sheldon" have honestly gotten older than the series star itself, at this point. They're also incredibly unwarranted, as it's consistently one of the highest-rated network hits on a weekly basis. That extends to wholesome live chatter each week, as viewers are clearly enjoying the nostalgic throwbacks and maturing storylines. Furthermore, the very title of "Young Sheldon" implies the series can't expand as endlessly as its esteemed parent program, "The Big Bang Theory," and in fact — when we look at the larger narrative — we're rapidly approaching the point where he will finally age up, and not be considered "young" anymore. 
Yes, after six heartwarming and illuminating seasons, we speculate that the seventh season will be the last. Or it should be, at least. 
While the prequel series started out fairly removed from its predecessor, recent episodes have started alluding to the formative tragedies we know and dread. These events in question both revolve around Sheldon's (Iain Armitage) father, George (Lance Barber). Fans of "The Big Bang Theory" will remember the tragic backstory he revealed about his father's premature death in that series, and it's only going to hit harder now that he's a TV dad we've come to know and love for six seasons. With that in mind, George's death is going be devastating on a level that will require the series call it quits, in order to preserve its legacy (and avoid jumping the shark the way "The Big Bang Theory" did).
George's extramarital affair will force Sheldon to mature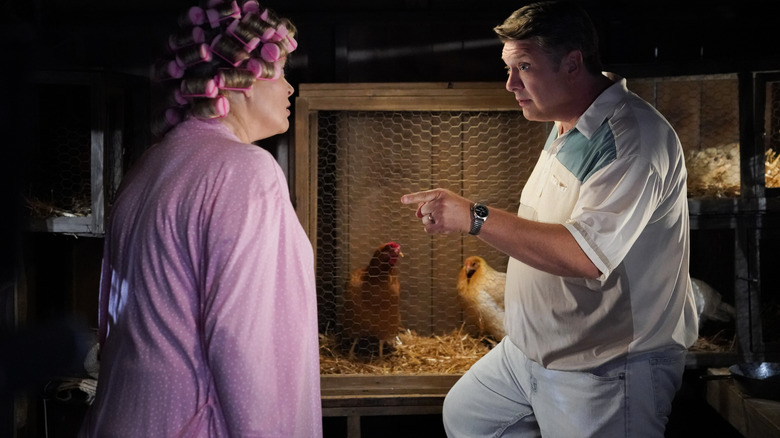 Robert Voets/CBS
Season 6 of "Young Sheldon" has easily been the most dramatic of the lighthearted sitcom, even considering George's first heart attack. Last season, we dove deep into the character's changing identities with both Mary (Zoe Perry) and George losing their jobs. Georgie (Montana Jordan) continued preparing to become a father with his "will they, won't they" mom-to-be, Mandy (Emily Osment). Flying under the radar is Sheldon's "Meemaw" (Annie Potts) and her illegal gambling ring, with a growing cover business. 
Among these developments, we also have the tense interactions between George and his neighbor Brenda (Melissa Peterman), who will probably play a large role in Sheldon's adolescent development. After a heated argument with his wife Mary, George emotionally seeks comfort in Brenda, who coincidently has recently divorced from her husband — a trend which continues with secret shed conversations. This simmering pot begins to bubble when Mary gets a new job at the local bar with Brenda, and she learns about her "secret married boyfriend" from Brenda's friends, signaling it may all boil over soon. In Season 6, Episode 11, "Ruthless, Toothless, and a Week of Bed Rest," Sheldon's twin sister Missy (Raegan Revord) drops an explosive reveal by telling George that Brenda's son Billy (Wyatt McClure) saw them together in the shed.
While Season 6 already felt like a penultimate season of television — with transitional storylines like Sheldon furthering his higher education, Georgie having a baby, and Missy expressing her emotional maturity — this jaw-dropping moment propels the consequences of George's secrecy into reality. It's likely his affair isn't too far off at this point, which gifted Sheldon his signature knock, along with a dash of emotional trauma.  
Sheldon's father's death will be the final nail in the coffin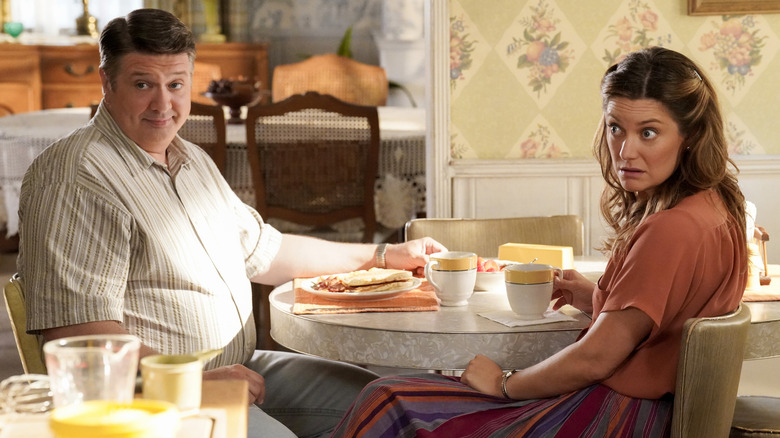 Robert Voets/CBS
After seeing his father in such a compromised situation, Sheldon will emotionally regress, further adding to his stunted ability to perceive other's feelings. Additionally, his home life will become far more chaotic once Mary learns about George's infidelity. This underlines the adult Sheldon's lack of trust and intimacy, which we see him slowly overcome with Amy (Mayim Bialik) in "The Big Bang Theory." It also indicates the end of an era as the Cooper family begins to fall apart.
Here, the series will inevitably set the stage for the finale. George's new stressors will send him to an early grave, which marks the other monumental event from Sheldon's childhood. It's also the breaking point for Sheldon and his future estranged siblings, as we learn from "The Big Bang Theory." In Season 11, Episode 3, "The Sibling Realignment," Georgie (Jerry O'Connell) confronts Sheldon for leaving home so soon after their father's death. He rightfully calls him out for being selfish as their family was in pieces after George's death. Georgie had to step up and take care for his mother and sister, on top of his own family, while Sheldon moved out to California for graduate school. 
It goes without saying that once Sheldon moves away from home, he won't really be considered "young" anymore, even if he's 14. These life-changing events will make him seem older, while also adding a few thousand miles between him and his family. After this, it's hard to imagine how the show could continue past Season 7, without defying its basic premise. 
Instead of more Young Sheldon, how about a spin-off about Georgie?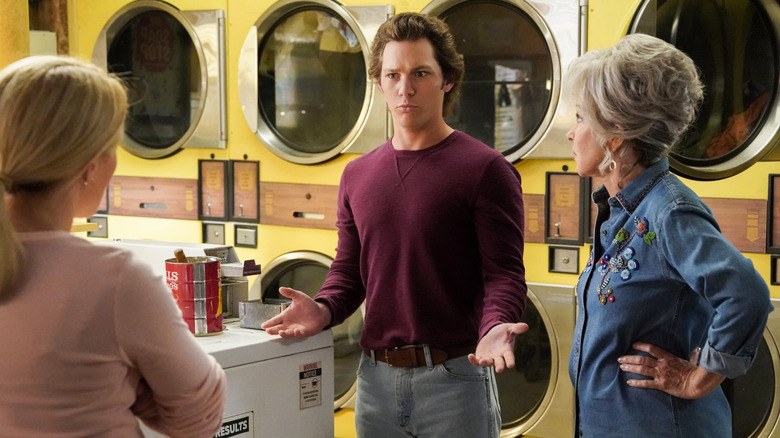 Robert Voets/CBS
The meatiest evidence that suggests the end is nigh for "Young Sheldon," however? Back in 2021, CBS confidently renewed the series for three more seasons, with Season 7 as the seeming endpoint. That seems telling.
Season 6 has also been a palate cleanser from Sheldon's know-it-all antics, which usually hog the center spotlight. With Georgie's baby mama drama, fans have even started calling for a spin-off. This is an intriguing idea to keep the series alive, though it will definitely need to veer away from its "Young Sheldon" title (may we suggest "The Coopers," as a possibility?). A spin-off of a spin-off isn't an unheard-of concept, either, even if it's a bit rare. 
In this form, we could still see Armitage — in guest spots — as the brilliant young grad student through guest appearances, or even over the phone, similar to Parsons' voice over role on the prequel. This format has already been tested on the series, with Sheldon staying overnight in his college dorm room. Let's consider this a backdoor pilot for the proposed Georgie spin-off, which is hard to imagine as a dud, especially with Potts and Osment's characters keeping Georgie in check. The timing couldn't be better, either. With the family mourning the loss of their patriarch and adjusting to life without Sheldon around, the main focus could easily shift to Georgie's new little one. The possibilities are endless, with Meemaw refusing to be referred to as a "great" Meemaw, Mary absolutely ecstatic over becoming a grandma, and Missy flourishing as a caring aunt. 
George's death is something the series has been hinting at since its earliest days, and it's time to finall throw that dart at the bullseye. Not that we want to lose the warmhearted football coach, but all good things must come to an end — even "Young Sheldon."