Rose McIver Explains Why Ghosts' Filming Pace Doesn't Allow For Rehearsals
Bertrand Calmeau/CBS
"Ghosts" is a series that explores mortality in an approachable way that's both thoughtful and entertaining. The sitcom focuses on a young married couple named Jay and Sam Arondekar (Utkarsh Ambudkar and Rose McIver), who think they've hit the jackpot after inheriting a beautiful country estate from a dead relative. After a near-death experience leaves Sam with the ability to interact with the ghosts living on the property, the couple realizes that their home is a bit more crowded than they thought. For McIver, dealing with fantastical and supernatural beings is par for the course. She previously portrayed the iconic fairy Tinker Bell on "Once Upon a Time" and acting with the undead on "iZombie" set her up for success on "Ghosts."
"Ghosts" has a much more light-hearted approach to the afterlife, evident by the fact that McIver laughed out loud when she read the show's first script. A main source of the show's humor comes from the fact that Sam can see and hear the ghosts while Jay cannot, an aspect of the story that makes for great banter between all characters living and dead. Since the series features an ensemble cast, which includes talented actors like Rebecca Wisocky, Danielle Pinnock, Asher Grodman, Brandon Scott Jones, Román Zaragoza, Sheila Carrasco, Devan Chandler Long, and Richie Moriarty, it would make sense that rehearsal is key to producing the show. However, McIver says the show's filming pace doesn't leave any time for practice. 
Ghosts has a hectic shooting schedule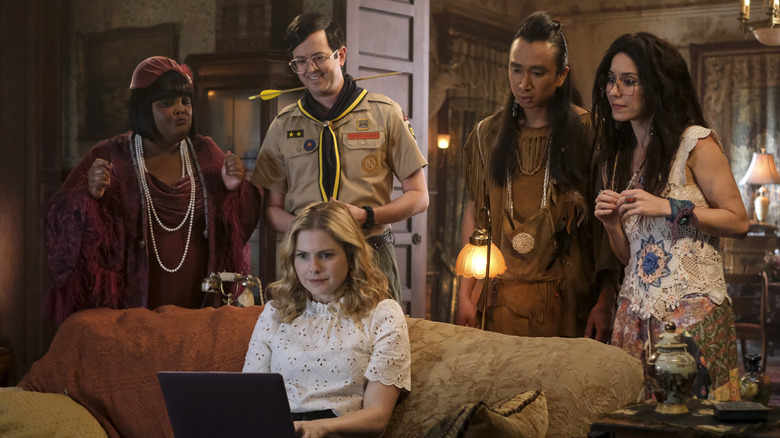 Bertrand Calmeau/CBS
No matter what's happening on "Ghosts," it's always fun to watch how the ghosts are constantly clashing. All of them lived in different time periods and they all have wildly different personalities as a result. Everyone has to have their say, even in death, and the actors' delivery of the rapid-fire dialogue is pretty impressive. Seems like a skill that might require rehearsal, but apparently not. In an interview with Variety, McIver explained that the show's fast-paced shooting schedule is to blame for the lack of rehearsal time. 
"What rehearsal process? We wish! We move pretty fast," the actor told the outlet, explaining that the crew had to race to finish all 22 episodes of Season 2 before last Christmas. "I think there are good and bad things about that. I love rehearsal because I feel like I can be looser and funnier when I have everything as prepared as I can before. It's nice to have some stuff lined up before you jump and hope that the theater will catch you. But I do think that there is something very fresh and surprising and impulsive that happens when you're working without [rehearsing], and that really suits some of the people involved."
In the same interview, McIver elaborated on how challenging it is to shoot two versions of each scene, one with ghosts, and one without. Despite these hurdles, the show managed to snag a Season 3 renewal, with or without rehearsal.